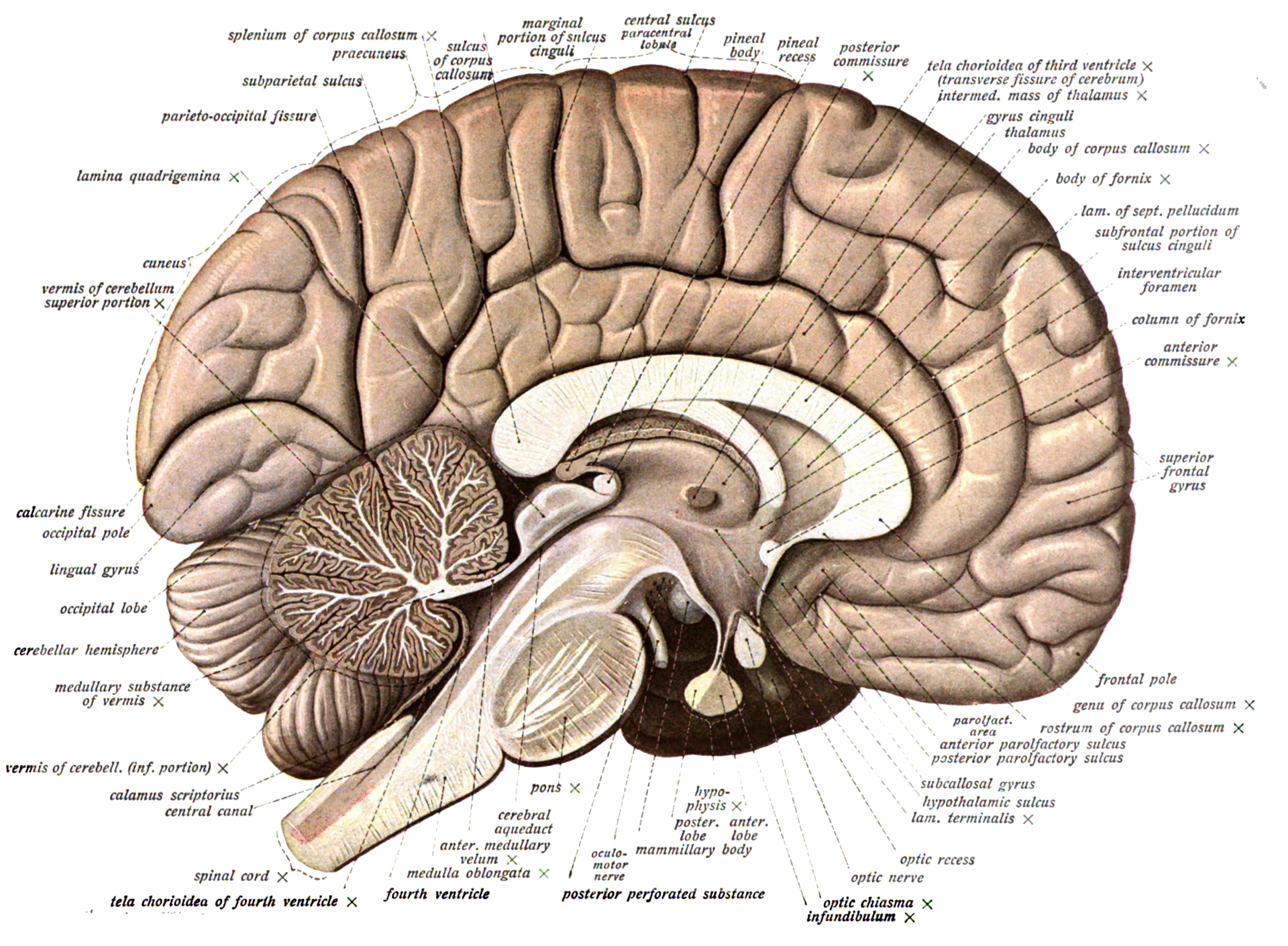 Human brain (Wikipedia)

Pocket recommended the following from Scientific American today:
Why Your Brain Needs Exercise

In the 1990s researchers announced a series of discoveries that would upend a bedrock tenet of neuroscience. For decades the mature brain was understood to be incapable of growing new neurons. Once an individual reached adulthood, the thinking went, the brain began losing neurons rather than gaining them. But evidence was building that the adult brain could, in fact, generate new neurons. In one particularly striking experiment with mice, scientists found that simply running on a wheel led to the birth of new neurons in the hippocampus, a brain structure that is associated with memory. Since then, other studies have established that exercise also has positive effects on the brains of humans, especially as we age, and that it may even help reduce the risk of Alzheimer's disease and other neurodegenerative conditions. But the research raised a key question: Why does exercise affect the brain at all?

Physical activity improves the function of many organ systems in the body, but the effects are usually linked to better athletic performance. For example, when you walk or run, your muscles demand more oxygen, and over time your cardiovascular system responds by increasing the size of the heart and building new blood vessels. The cardiovascular changes are primarily a response to the physical challenges of exercise, which can enhance endurance. But what challenge elicits a response from the brain?

Answering this question requires that we rethink our views of exercise. People often consider walking and running to be activities that the body is able to perform on autopilot. But research carried out over the past decade by us and others would indicate that this folk wisdom is wrong. Instead exercise seems to be as much a cognitive activity as a physical one. In fact, this link between physical activity and brain health may trace back millions of years to the origin of hallmark traits of humankind. If we can better understand why and how exercise engages the brain, perhaps we can leverage the relevant physiological pathways to design novel exercise routines that will boost people's cognition as they age—work that we have begun to undertake. …

The Salk group and others went on to demonstrate that exercise-induced neurogenesis is associated with improved performance on memory-related tasks in rodents. The results of these studies were striking because atrophy of the hippocampus is widely linked to memory difficulties during healthy human aging and occurs to a greater extent in individuals with neurodegenerative diseases such as Alzheimer's. The findings in rodents provided an initial glimpse of how exercise could counter this decline.

Following up on this work in animals, researchers carried out a series of investigations that determined that in humans, just like in rodents, aerobic exercise leads to the production of BDNF and augments the structure—that is, the size and connectivity—of key areas of the brain, including the hippocampus. In a randomized trial conducted at the University of Illinois at Urbana-Champaign by Kirk Erickson and Arthur Kramer, 12 months of aerobic exercise led to an increase in BDNF levels, an increase in the size of the hippocampus and improvements in memory in older adults.

Other investigators have found associations between exercise and the hippocampus in a variety of observational studies. In our own study of more than 7,000 middle-aged to older adults in the U.K., published in 2019 in Brain Imaging and Behavior, we demonstrated that people who spent more time engaged in moderate to vigorous physical activity had larger hippocampal volumes. https://www.scientificamerican.com/article/why-your-brain-needs-exercise/?utm_source=pocket-newtab
As a natural health scientist, I knew that the brain could grow new neurons even when the bulk of the scientific community felt otherwise. That being said, the impact of exercise on the brain is good to know and hopefully will encourage more people to exercise.
Exercise is good for your brain. Here is something that came out about this last month:
This Is Your Brain on Exercise

Our bodies, including our brains, were fine-tuned for endurance activities over millennia of stalking and chasing down prey. "We've engineered that out of our lives now," says Charles Hillman, a psychology professor at Northeastern University who has spent decades studying the link between exercise and cognition. The toll our relatively new sedentary lifestyle takes on our bodies is clear: For the first time in U.S. history, younger generations are expected to live shorter, unhealthier lives than their parents.

… according to Richard Maddock, a professor of psychiatry at the University of California, Davis. "There is a very consistent finding that the brain works better after exercise," Maddock says. … Your brain becomes much more active during exercise, "perhaps more active than at any other time," says Maddock. One way neurons communicate is with electrical pulses, and sometimes entire networks of neurons fire in unison, like a group of soccer fans chanting together at a game. These synchronized pulses are known colloquially as brain waves. Different kinds of brain waves, characterized by the number of times they oscillate in a single second, are linked to one's mental state and mood. Lower-frequency waves occur when we're running on autopilot: brushing our teeth, driving, or sleeping, for example. Higher-frequency waves, known as beta waves, occur when we're awake and mentally engaged and are associated with attention, memory, and information processing. …

During exercise, the brain becomes much more receptive to incoming information, leading to measurable changes in vision. …

The benefits of exercise to your brain may begin as soon as your heart rate begins to rise. Imagine, if you will, climbing onto your bike for a morning ride and pedaling at a tough but sustainable clip. Your breath becomes faster and heavier as your lungs struggle to meet the oxygen demands of the body in motion. Your heart rate climbs as it pumps oxygenated blood around the body and into the brain. And in much the same way that your muscles demand more energy during exercise, the brain begins gobbling up glucose or other carbohydrates when the body is in motion.

"In the past, nobody had any idea what the brain was doing with all this fuel," says Maddock. …

A few things happen in the exerciser's brain that make the organ appear younger. …

"Exercise is a potential prophylactic against some aspects of age-related cognitive decline," Giesbrecht says. "When you think of the fact that we have an aging demographic and the high prevalence of depression, there might be simpler treatments out there, like exercise." https://getpocket.com/explore/item/this-is-your-brain-on-exercise?utm_source=pocket-newtab accessed 11/19/19
One of the more unusual statements above was "For the first time in U.S. history, younger generations are expected to live shorter, unhealthier lives than their parents."
Lack of exercise is a factor in that, as would be consumption of less natural foods, as well as environmental pollutants.
Despite health benefits, government warnings, and published guidelines, few American follow exercise suggestions (Yang D, et al. Trends in Adherence to the Physical Activity Guidelines for Americans for Aerobic Activity and Time Spent on Sedentary Behavior Among US Adults, 2007 to 2016. JAMA Netw Open. 2019;2(7):e197597. doi:10.1001/jamanetworkopen.2019.7597).
This is worse than most believe.
Why?
Because obesity rates also continue to rise.
The Bible itself warns about obesity, getting fat, being physically lazy, and excessive eating.
The New Testament says that bodily exercise can help a little (1 Timothy 4:8), yet most Americans do not get enough physical activity.
In my own case, I typically exercise four mornings per week.
Exercise helps people live longer and live better.
Jesus condemned laziness in Matthew 25:26.
The Old Testament also warns against laziness:
19 The way of the lazy man is like a hedge of thorns, (Proverbs 15:19)

15 Laziness casts one into a deep sleep … (Proverbs 19:15)

12 Do you see a man wise in his own eyes? There is more hope for a fool than for him. 13 The lazy man says, "There is a lion in the road! A fierce lion is in the streets!" 14 As a door turns on its hinges, So does the lazy man on his bed. 15 The lazy man buries his hand in the bowl; It wearies him to bring it back to his mouth. 16 The lazy man is wiser in his own eyes Than seven men who can answer sensibly. (Proverbs 26:12-16)

18 Because of laziness the building decays, And through idleness of hands the house leaks. (Ecclesiastes 10:18)
Yes, many have excuses as to why they are not physically active, and not all of them are valid.
As far as being overweight goes, notice some of what Moses and Jeremiah wrote:
15 You grew fat, you grew thick,
You are obese!
Then he forsook God who made him,
And scornfully esteemed the Rock of his salvation.
16 They provoked Him to jealousy with foreign gods;
With abominations they provoked Him to anger. (Deuteronomy 32:15-16)

11 "Because you were glad, because you rejoiced,
You destroyers of My heritage,
Because you have grown fat like a heifer threshing grain,
And you bellow like bulls,
12 Your mother shall be deeply ashamed;
She who bore you shall be ashamed.
Behold, the least of the nations shall be a wilderness,
A dry land and a desert. (Jeremiah 50:11-12)
In addition to eating too much, then there are other issues with the food supply.
Many eat GMO corn (its label does not state otherwise, which in the USA means the corn source is almost always genetically-modified). When further processed it is 'fortified' with synthetic vitamins. Many meat eaters consume animals that are biblically unclean (see also The New Testament Church and Unclean Meats).
Furthermore, the Bible warns about eating things that are not really food:
2 Why do you spend money for what is not bread,
And your wages for what does not satisfy?
Listen carefully to Me, and eat what is good (Isaiah 55:2).
Refined processed "breads," refined and artificial sweeteners, chemical additives, and some other items commonly associated with junk foods and hydrogenated fats would seem to be consistent with that warning.
What should you eat? You should eat real food and be careful about your quantities.
2 … Listen carefully to Me, and eat what is good (Isaiah 55:2).
People should try to eat real, not artificial, foods. More and more studies have confirmed this, yet because of corporate greed (pushing ultra-processed foods) and personal lusts (consuming excessive amounts of ultra-processed foods), apparently most calories Americans consume are from ultra-processed sources.
Related to exercise, the Continuing Church of God (CCOG) put together the following video on our Bible News Prophecy YouTube channel:
A 2019 report shows that Americans are becoming sedentary. Since it is a physical thing, should Christians be concerned about exercise? Could not exercising possibly be a sin? What did the 'Plain Truth' magazine report about exercise? What is the US CDC reporting about exercise? Can exercise help prevent diabetes, heart disease, and obesity? Can exercise help sleep, endurance, and aging? Are there scriptures about exercise and health? What about laziness? What are some of the risks and benefits of exercise? Dr. Thiel addresses these subjects and more.
Here is a link to our video: The Plain Truth About Exercise.
Some items of possibly related interest may include:
Should Christians Exercise? What does the Bible teach? What are some of the benefits and risks of exercise? The Plain Truth About Exercise.
Obesity, processed foods, and the Bible Does the Bible warn about the consequences of being obese? Is overeating dangerous? Is gluttony condemned?
Eating Right, Eating Too Much, and Prophecy This is a video. Are there disadvantages to being overweight? Is junk food really bad for you? Does the Bible discuss overeating and/or obesity? Is overeating having an effect on the US military? What are the ramifications of personal and national health for overeating? What should you eat?
American foods that gross out foreigners A study done in the Fall of 2014 found out which foods that non-USA Americans considered weird or gross that Americans eat. This video discusses those foods, ingredients in some of those foods, and warns against consuming 'that which is not bread' (Isaiah 55:2). Dr. Thiel also warns about synthetic vitamins and some of the issues associated with them. He also discusses something promoted by the late Seventh-day Adventist, Dr. John Harvey Kellogg.
Ten Simple Rules that Lead to Health Herbert Armstrong gives his opinions on this.
Does God Heal Today? What does the Bible teach? Herbert Armstrong tries to explain this.
Prayer: What Does the Bible Teach? This free booklet contains 28 biblically-based tips on improving the effectiveness of your prayers. This is a pdf. A related two part sermon is available: What Does the Bible Teach About Prayer? and What does the Bible Teach About Prayer (& Healing)?
GMOs and Bible Prophecy What are GMOs? Since they were not in the food supply until 1994, how could they possibly relate to Bible prophecy? Do GMOs put the USA and others at risk? Here is a related YouTube video GMO Risks and the Bible.
Chimeras: Has Science Crossed the Line? What are chimeras? Has science crossed the line? Does the Bible give any clues? A video of related interest is Half human, half pig: What's the difference?
Ten Simple Rules that Lead to Health Herbert Armstrong gives his opinions on this.
Does God Heal Today? What does the Bible teach? Herbert Armstrong tries to explain this.
UK Study Supports Daniel Diet Daniel and his companions looked better eating more vegetables and avoiding strange meats. Has modern science confirmed this?
USA in Prophecy: The Strongest Fortresses Can you point to scriptures, like Daniel 11:39, that point to the USA in the 21st century? This article does. A related sermon is titled: Do these 7 prophesies point to the end of the USA?
Anglo – America in Prophecy & the Lost Tribes of Israel Are the Americans, Canadians, English, Scottish, Welsh, Australians, Anglo-Saxon (non-Dutch) Southern Africans, and New Zealanders descendants of Joseph? Where are the lost ten-tribes of Israel? Who are the lost tribes of Israel? What will happen to Jerusalem and the Jews in Israel? Will God punish the U.S.A., Canada, United Kingdom, and other Anglo-Saxon nations? Why might God allow them to be punished first? Here is a link to the Spanish version of this article: Anglo-América & las Tribus Perdidas de Israel. Information is also in the YouTube sermons titled Where are the Ten Lost Tribes? Why does it matter? and British are the Covenant People. A short YouTube of prophetic interest may be: Are Chinese threats against Australia for real?
Will the Anglo-Saxon-Celtic Nations be Divided and Have People Taken as Slaves? Will the lands of the United States, United Kingdom, Canada, Australia, and New Zealand be divided? What about Jerusalem? What does Bible prophecy teach? Are there non-biblical prophecies that support this idea? Who will divide those lands? Who will end up with the lands and the people? Here is a link to a video titled Will the USA and other Anglo-nations be Divided and Their People Made Slaves? Here is a related item in the Spanish language ¿Serán divididas las naciones anglosajonas?
Who is the King of the West? Why is there no Final End-Time King of the West in Bible Prophecy? Is the United States the King of the West? Here is a version in the Spanish language: ¿Quién es el Rey del Occidente? ¿Por qué no hay un Rey del Occidente en la profecía del tiempo del fin? A related sermon is also available: The Bible, the USA, and the King of the West.