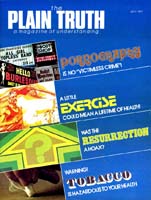 With governments imposing lockdowns and sometimes closing gyms, many have not been exercising as much and many have gained weight (see Using scale for weight loss? Americans gain weight during COVID-19 shut downs).
Exercise is even good for your brain:
This Is Your Brain on Exercise

Our bodies, including our brains, were fine-tuned for endurance activities over millennia of stalking and chasing down prey. "We've engineered that out of our lives now," says Charles Hillman, a psychology professor at Northeastern University who has spent decades studying the link between exercise and cognition. The toll our relatively new sedentary lifestyle takes on our bodies is clear: For the first time in U.S. history, younger generations are expected to live shorter, unhealthier lives than their parents.

… according to Richard Maddock, a professor of psychiatry at the University of California, Davis. "There is a very consistent finding that the brain works better after exercise," Maddock says. … Your brain becomes much more active during exercise, "perhaps more active than at any other time," says Maddock. One way neurons communicate is with electrical pulses, and sometimes entire networks of neurons fire in unison, like a group of soccer fans chanting together at a game. These synchronized pulses are known colloquially as brain waves. Different kinds of brain waves, characterized by the number of times they oscillate in a single second, are linked to one's mental state and mood. Lower-frequency waves occur when we're running on autopilot: brushing our teeth, driving, or sleeping, for example. Higher-frequency waves, known as beta waves, occur when we're awake and mentally engaged and are associated with attention, memory, and information processing. …

During exercise, the brain becomes much more receptive to incoming information, leading to measurable changes in vision. …

The benefits of exercise to your brain may begin as soon as your heart rate begins to rise. Imagine, if you will, climbing onto your bike for a morning ride and pedaling at a tough but sustainable clip. Your breath becomes faster and heavier as your lungs struggle to meet the oxygen demands of the body in motion. Your heart rate climbs as it pumps oxygenated blood around the body and into the brain. And in much the same way that your muscles demand more energy during exercise, the brain begins gobbling up glucose or other carbohydrates when the body is in motion.

"In the past, nobody had any idea what the brain was doing with all this fuel," says Maddock. …

A few things happen in the exerciser's brain that make the organ appear younger. …

"Exercise is a potential prophylactic against some aspects of age-related cognitive decline," Giesbrecht says. "When you think of the fact that we have an aging demographic and the high prevalence of depression, there might be simpler treatments out there, like exercise." https://getpocket.com/explore/item/this-is-your-brain-on-exercise?utm_source=pocket-newtab accessed 11/19/19
One of the more unusual statements above was "For the first time in U.S. history, younger generations are expected to live shorter, unhealthier lives than their parents."
Lack of exercise is a factor in that, as would be consumption of less natural foods, as well as environmental pollutants.
Notice an article by Harry Sneider, the old Plain Truth magazine taught:
A LITTLE EXERCISE COULD MEAN A LIFETIME OF HEALTH!

The right kind of exercise can add years to your life and dollars to your wallet! …

You say you can't afford the time to exercise? The truth is, unless you have a special health problem, you can't afford not to exercise! Scientific research and experience prove that the human body needs exercise to maintain good health. No one can totally neglect it without paying a penalty. Millions suffer unnecessary ills and die prematurely because they are living inactive or sedentary lives for which their bodies were not designed.

Medical and health specialists around the world emphasize the importance of physical fitness, particularly in our modern world where riding and sitting are a way of life.

Dr. Paul Dudley White. noted Boston heart specialist who has helped presidents and other leading Americans achieve better health and productivity through exercise, has stated: "Physical fitness is vital for the optimal function of the brain, for retardation of the onset of serious arteriosclerosis, which is beginning to appear in early adult lives, and for longevity, and a useful and healthy life for our older citizens." …

I have worked with all age groups, with overweight as well as handicapped people. I have witnessed great transformations, not only physical, but mental and emotional, as a result of a sound program of physical fitness tailored to individual needs.

Here are some of the results you can gain from a good physical fitness program:
• You'll develop strength and endurance which will help you perform daily tasks with greater ease and economy of movement.
• Good muscle tone and posture will help protect you from back problems.
• Your appetite and weight will be more controllable. When you are inactive, the appetite, normally a marvelously precise guide of how much you should eat, no longer functions accurately. In other words, you will eat more calories than you actually expend. The result is creeping overweight. Some overweight is not the result of eating too much, but of exercising too little.
• Your blood and lymph system will function better and won't get clogged up easily. Coronary arteries will become wider; blood will flow easier and faster. Many doctors believe proper exercise reduces cholesterol levels in the blood. And active people have fewer heart attacks and better recovery rates than inactive persons.
• The efficiency of your heart and lungs will rise sharply. The total effect is that all your body's systems will be strengthened, and you will feel much better overall.
• Enjoyable exercise provides relief from tension and serves as a safe and natural tranquilizer. And sleep will come easier. (Plain Truth Magazine July 1977)
That article is decades old, but the benefits are still needed.
The Bible itself warns about obesity, getting fat, being physically lazy, and excessive eating.
The New Testament says that bodily exercise can help (1 Timothy 4:8), yet most Americans do not get enough physical activity.
The Continuing Church of God (CCOG) has the following video on our Bible News Prophecy YouTube channel:

17:27

A 2019 report shows that Americans are becoming sedentary. Since it is a physical thing, should Christians be concerned about exercise? Could not exercising possibly be a sin? What did the 'Plain Truth' magazine report about exercise? What is the US CDC reporting about exercise? Can exercise help prevent diabetes, heart disease, and obesity? Can exercise help sleep, endurance, and aging? Are there scriptures about exercise and health? What about laziness? What are some of the risks and benefits of exercise? Dr. Thiel addresses these subjects and more.
Here is a link to our video: The Plain Truth About Exercise.
Some items of possibly related interest may include:
Should Christians Exercise? What does the Bible teach? What are some of the benefits and risks of exercise? Here is a link to a related video: The Plain Truth About Exercise.
Obesity, processed foods, health risks, and the Bible Does the Bible warn about the consequences of being obese? Is overeating dangerous? Is gluttony condemned? What diseases are associated with eating too much refined foods? A related video would be Eating Right, Eating Too Much, and Prophecy.
Ten Simple Rules that Lead to Health Herbert Armstrong gives his opinions on this.
Should Christians Smoke Tobacco or Marijuana? Is smoking a sin? What does the Bible teach? What have COG leaders written? Can smokers change? What about marijuana?
Marijuana: Should a Christian Get High? There is increasing acceptance of the use of marijuana. How should Christians view this? Here is a related video titled How Should a Christian View Marijuana?
Alcohol: Blessing or Curse? This is an article from the old Good News magazine that attempts to answer this question.
Binge Drinking, Health, and the Bible Many college students and others overindulge in alcohol. Are there health risks? What does the Bible teach? A related video is also available: Binge Drinking and the Bible.
Does God Heal Today? What does the Bible teach? Herbert Armstrong tries to explain this.
USA in Prophecy: The Strongest Fortresses Can you point to scriptures, like Daniel 11:39, that point to the USA in the 21st century? This article does. A related sermon is titled: Do these 7 prophesies point to the end of the USA?
Christians: Ambassadors for the Kingdom of God, Biblical instructions on living as a Christian This is a scripture-filled booklet for those wishing to live as a real Christian. A related sermon is also available: Christians are Ambassadors for the Kingdom of God.