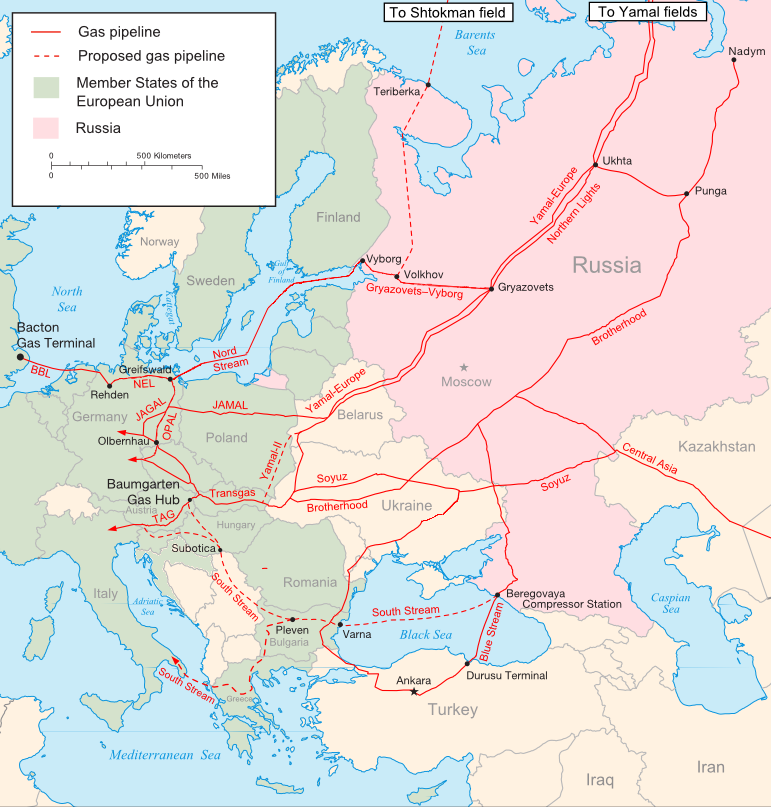 Current and proposed Russian gas pipelines to Europe
(by Samuel Bailey)
Germany and Russia seem to be moving closer to a major pipeline deal:
US Concedes Defeat On Russia's Nord Stream 2 Pipeline Even As Sanctions Passed

December 19, 2019 A new Bloomberg headline reads "U.S. Concedes Defeat on Gas Pipeline It Sees as Russian Threat" just following new sanctions included in the House and Senate passed 2020 National Defense Authorization Act (NDAA) this week. But two administration officials tell Bloomberg it's too little too late, despite Trump's heightened rhetoric of calling Germany "a captive to Russia" and charging Berlin with essentially giving "billions" of dollars to Russia:

Senior U.S. administration officials, who asked not to be identified discussing the administration's take on the project, said sanctions that passed Congress on Tuesday as part of a defense bill are too late to have any effect. The U.S. instead will try to impose costs on other Russian energy projects, one of the officials added.

The Bloomberg report sees this as a rare admission of defeat:

The admission is a rare concession on what had been a top foreign-policy priority for the Trump administration and highlights how European allies such as Germany have been impervious to American pressure to abandon the pipeline. It also shows how the U.S. has struggled to deter Russia from flexing its muscles on issues ranging from energy to Ukraine to election interference.
The resolution contained in the defense spending bill, expected to be immediately signed into law by Trump, are measures which specifically target companies assembling the pipeline — a last ditch US effort to block the controversial 760-mile, $10.2BN project that would allow Russia to export natural gas directly to Germany, depriving Ukraine of badly needed gas transit fees along the current route for Russian supplies. Washington's position has long been that it weakens European energy security, while Merkel's Germany has rejected Trump's "meddling" in European energy affairs, which the Europeans have lately sought to diversify. https://www.zerohedge.com/energy/us-concedes-defeat-russias-nord-stream-2-pipeline-despite-last-ditch-sanctions
The USA wanted to supply Germany the natural gas instead, and at a higher cost to Germany. Germany not only does not want to pay more, it is concerned about trade with the US and does not feel safer going towards US energy than Russian. Basically, Germany has concerns about US sanctions' policies, tariffs and other trade policies, US withdraw from the Paris climate accords, and the US withdrawing from the Iranian nuclear deal. It sees Donald Trump's negotiating style and does not want to become more dependent upon the US. It has less distrust of Russia. There is a cost of sanctions. US sanctions against Russia has pushed Russia further towards Europe. Notice also the following:
Russia dumps U.S. dollar: Country's top oil producer chooses euro for all future deals

October 7, 2019
One of the world's top oil producers and exporters, Russia's Rosneft, is ditching the U.S. dollar for euros when it comes to all future deals. … The switch to euros is said to limit the company's vulnerability to potential future sanctions by the U.S., Reuters reported on Thursday. "Rosneft has recently adjusted all the new contracts for export supplies to euros. We've been notified," a trader from a company that regularly buys from Rosneft told Reuters. Three more traders confirmed that Rosneft has chosen the euro as the default currency going forward.
Since the benchmark oil prices are quoted in U.S. dollars, Rosneft is now asking traders to use Bloomberg's euro/dollar exchange rate when calculating the final payment. "Rosneft used to have the euro as one of the options, but since last month it's the main option. We've been notified, but still, it's a visible change," one trader said. Rosneft is Russia's largest oil company, exporting about 120 million tonnes of oil a year. https://www.kitco.com/news/2019-10-07/Russia-dumps-U-S-dollar-Country-s-top-oil-producer-chooses-euro-for-all-future-deals.html
Europe wants the Euro to be more widely used and prefers to make payments in it, as opposed to the US dollar. It has long been my view that the Germans (and other Europeans) would make a deal with Russia against the US. We are seeing deals starting to take place. A decade or so after I came to the conclusion that the Germans/Europeans would make a deal with Russia against the US, I saw for the first time the following items from the old Radio Church of God:
Modern Europe is counseling and making treaties and alliances and agreements to conquer this earth! … Germany, those living in Germany, even the German government, may not yet know that they are going to join in a treaty with the Russians to destroy the United States and bring it to its knees-it is not in his "heart" to think so, but on the other hand it IS in his "heart" to destroy-the very characteristic of the Assyrian, the modern German, is a harsh, cruel, iron, dedication to militarism and destruction! …
MAN'S ONLY HOPE LIES IN TURNING TO HIS CREATOR GOD! "At what instant I shall speak concerning a nation, and concerning a kingdom. to pluck up, and to pull down, and to destroy it; If that nation, against whom I have pronounced, TURN FROM THEIR EVIL, I will repent of the evil that I thought to do unto them… Behold, I frame evil against YOU, and devise a device against YOU: return ye now EVERY ONE from his evil way and make your ways and your doings good!" (Jer. 18:7, 8, 11). The case of America and Great Britain is hopeless! The case of America and Great Britain is hopeless! (Hill DJ, God's Destiny for Germany. Plain Truth, March 1962, pp. 28-29)
The German people are now asking themselves: "Can we rely on the Americans and British?" … These questions lead to the logical conclusion that maybe the only people the Germans can rely on are themselves. They are now thinking: "Perhaps we can strike a better bargain with the Russians ourselves." … Once a German-dominated Europe is fully established, Germany will be ready to negotiate and bargain with Russia- and behind the backs of the Western Allies if necessary. …
When will a Russo-German deal be made?
Here is a quotation from a circular letter issued in September, 1950 by the Nazi Geo-political Center in Madrid: "However long we may continue to milk the Americans of millions of dollars, there must come the inevitable moment when we shall have to make it crystal clear to them that we are not willing to join the fight against Russia for American interests … (Germany Plots with the Kremlin by T H. Terens, p. 15). …
Most Americans and Britons are not aware of what Germany and Europe are planning against them. This is partly due to the cunning of German. politics. …
World events are moving swiftly toward the climax when Great Britain and the United. States will be attacked, conquered and DESTROYED! (Boraker R. Are the Germans Secretly Dealing with Moscow? Plain Truth, May 1962, pp. 45-47)
Russia will make a deal with the Europeans that will not end well for the US. While Nord Stream 2, per se, is not the deal I am referring to, it helps set the stage for a deal that could take place in just a relatively few years.
Policies and statements from US President Trump are pushing the Europeans away from the US and more towards Russia. We made a couple of videos related to this:
Is Donald Trump pushing Europe to Russia?
US President Trump's tough talk in various areas (like trade and banking sanctions) are encouraging the EU, Russia, and others to take steps to protect themselves from aspects of his threats. Now, the time will come when a deal will be made with Russia by the Europeans that will not end well for the US. Germany has recently been signalling that it is working towards dominance. Notice, for example, the following video on our Bible News Prophecy YouTube channel:
Are German leaders serious about putting together a new world order that is dominated by Germany? At least ten statements made by Germany's current Foreign Minister Heiko Maas point to this. Does Germany want Europe to have a military which is independent of the United States? Have German elites concluded that Germany is too small to have a sufficiently dominate influence in the world without European nations to align with it? Are steps being taken to dethrone the US dollar as the world's primary reserve currency? Are statements by US President Donald Trump helping push Germany and Europe together? Is there an 'Alliance for Multilateralism'? Is there any United Nations' connection? Could a German-dominated Europe be the Beast of Bible prophecy? Does Isaiah 10 point to Germany being used by God against powers such as the United States? Dr. Thiel addresses these issues and more.
Here is a link to our latest uploaded video: 10 German 'New World Order' Moves.
We made a few BibleNewsProphecy videos related to Germany and the European military:
9:49
Germany and World War 3 Could preparations for WWIII have begun? German Chancellor Angela Merkel and French President Emmanuel Macron called for a European army to be independent of the USA and NATO. One of the reasons was to be able to protect against the USA. Is the fourth German Reich in progress? What does the Bible teach about Germany, Europe, and WW3? Dr. Thiel addresses these matters in this video.
Here is a link to the sermonette video: Germany and World War 3.
15:25
PESCO and a Great European Army In November 2018, French President Macron called for a "true European army" because of China, Russia, and the USA. Some others in Europe have echoed that sentiment. On November 9, 2018, US President Donald Trump called that an insult, but the next day said that the USA wanted "a very strong Europe." Emmanuel Macron referred to Donald Trump as "my friend" and indicated a desire to strengthen Europe's military spending. In December 2017, 25 European nations agreed to be part of a military alliance called PESCO. Europe also has NATO and IEI. Will Europe end up with "a great army"? Has Donald Trump's announcement to withdraw from the 1987 Intermediate-Range Nuclear Forces Treaty gotten some to say that Europe must rebel against the USA? Is the idea of a United States of Europe and a European army a "paranoid fantasy" or a biblical reality? Will the USA regret Europe becoming a stronger military power? Will the USA be betrayed by "friends" such as its continental European allies? Does the Bible teach any or all of this? Are there connections to the Beast of Revelation or the King of the North of Daniel 11? Dr. Thiel addresses these matters in this video.
Here is a link to that video: PESCO and a Great European Army.
15:27
Nuclear bombers for the Beast? It is reported that the Germans are looking for a new bomber to be able to be used to deliver US B61-12 atomic bombs. Does Germany already have access to American nuclear weapons it can now use? What about Belgium, Italy, and the Netherlands? Has there been increased interest in more independent European nuclear capacity since the election of US President Donald Trump? What has Berthold Kohler, Herbert W. Armstrong, Nigel Farage, Jean-Claude Juncker, and Maximilian Terhalle said about Europe's militaristic ambitions? What about Bible prophecy? Could the Great Tribulation begin with a thermonuclear strike? What has Time, NTI, and Global Research reported about European nuclear weapons available to European nations? Is a nuclear attack consistent with prophecies? Might the coming Beast use nuclear weapons against the USA? Dr. Thiel addresses these issues and more.
Here is a link to the sermonette video: Nuclear bombers for the Beast?
Note that Lamentations 1:1-2, indicates that the USA will be betrayed and destroyed militarily by its "friends." A German-dominated Europe does not have to be stronger in all areas than the USA, only enough to win when the USA is not expecting it. While the American media seems fixated on impeachment matters related to Donald Trump, the rest of the world is moving towards the final times of the Gentiles that Jesus said would happen (cf. Luke 21:24).
What about US pressure on Germany?
Well, the fact that the US has been trying to push Germany away from Nord Stream 2 is another reason why the Germans do not want to rely on the US.
US pressure is a factor in many areas is a reason that many in Europe want to be able to function without listening to the US.