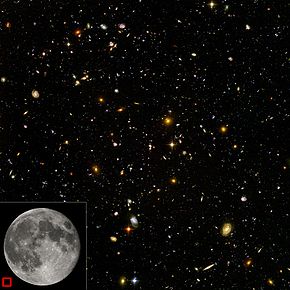 Famous physicist Stephen Hawking realizes that humanity cannot survive another thousand years on this planet:
LOS ANGELES — Stephen Hawking, who spent his career decoding the universe and even experienced weightlessness, is urging the continuation of space exploration – for humanity's sake.

The 71-year-old Hawking said he did not think humans would survive another 1,000 years "without escaping beyond our fragile planet."

The British cosmologist made the remarks Tuesday before an audience of doctors, nurses and employees at Cedars-Sinai Medical Center… http://www.huffingtonpost.com/2013/04/11/stephen-hawking-space-exploration-humanity_n_3061329.html?icid=maing-grid10%7Chtmlws-main-bb%7Cdl4%7Csec1_lnk3%26pLid%3D296891
While he is right that humanity will not make it 1,000 years as is, the solution will come from the third heaven, not the second one which is the area that Stephen Hawking is referring to.  The first of the heavens is the atmosphere of the earth (including clouds), the second is the space and universe above the atmosphere of the earth (Genesis 1:1), and the third is where God's throne is (2 Corinthians 12:2).
Anyway, it is the return of Jesus Christ from the third heaven (1 Thessalonians 4:16, who will be seen in the first heaven (1 Thessalonians 4:17), who will stop humanity from destroying itself (Matthew 24:22) and then establish the kingdom of God for one thousand years (Revelation 20:4).
Catholic Online reported that Stephen Hawking, also at Cedar Sinai Medical Center (which is in Southern California), publicly stated what he felt was his biggest mistake:
So what was Stephen Hawking's biggest blunder?

LOS ANGELES, CA (Catholic Online) – So, was it a questionable career move, the publication of a bad idea, perhaps his atheism?

It was none of those things, according to Hawking. Instead, following a tour of the hospital he told people, who gathered to hear him speak, that his greatest blunder was subscribing to a long-held belief about black holes.

Hawking explained that he once made the mistake of believing that once something fell into a black hole, it was lost forever and nothing could escape. However, his work has demonstrated that black holes actually emit radiation…

Hawking explained that he once made the mistake of believing that once something fell into a black hole, it was lost forever and nothing could escape. However, his work has demonstrated that black holes actually emit radiation. That newly discovered radiation has been dubbed Hawking radiation in his honor.

Hawking spoke about the work researchers were doing at the microscopic level, compared it to research that astronomers and physicists have been doing in trying to understand the universe.

He talked about the attempt to understand everything there is in the universe, from the largest structures to the tiniest particles.

"To understand the universe at the deepest level, we have to understand why is there something rather than nothing," Hawking said was a great question of the age.

"Why do we exist? Why this particular set of laws, and not some other? I believe the answers to all of these things is M-theory," Hawking said.

M-theory is an all-encompassing unifying theory that so far remains elusive. It is a theoretical construct that if completed would explain all of the how's in the universe. Hawking said that solving M-series would also help humanity to understand its place.   http://www.catholic.org/technology/story.php?id=50467
I would state that Stephen Hawking's biggest mistake was to rely on intellectual vanity to the point of foolishness and not serving God as any scientist truly interested in the truth has to realize that the evolutionary theory for the origin of life contradicts biological laws and realities.
His M-theory is a religion of somewhat false hope.  It is true that there is a theory that will explain the universe (it actually is the love of and from God), but Stephen Hawking was always unwilling to publicly admit what science should have told him:
20 For since the creation of the world His invisible attributes are clearly seen, being understood by the things that are made, even His eternal power and Godhead, so that they are without excuse, 21 because, although they knew God, they did not glorify Him as God, nor were thankful, but became futile in their thoughts, and their foolish hearts were darkened. 22 Professing to be wise, they became fools, (Romans 1:20-23).
Years ago, I wrote a little bit about Stephen Hawking which is in the article Stephen Hawking vs. God: God Wins.
Some articles of possibly related interest may include:
Is God's Existence Logical? Some say it is not logical to believe in God. Is that true?
Is Evolution Probable or Impossible or Is God's Existence Logical? Part II This short article clearly answers what 'pseudo-scientists' refuse to acknowledge.
How Old is the Earth and How Long Were the Days of Creation? Does the Bible allow for the creation of the universe and earth billions of years ago? Why do some believe they are no older than 6,000 years old? What is the gap theory? Where the days of creation in Genesis 1:3 through 2:3 24 hours long?
Where Did God Come From? Any ideas? And how has God been able to exist? Who is God?
How is God Omnipotent, Omnipresent, and Omniscient? Here is an article which answers what many really wonder about it.
What is the Meaning of Life? Who does God say is happy? What is your ultimate destiny? Do you really know? Does God actually have a plan for YOU personally?
Bible: Superstition or Authority? Should you rely on the Bible? Is it reliable? Herbert W. Armstrong wrote this as a booklet on this important subject.
What is the Appropriate Form of Biblical Interpretation? Should the Bible be literally understood? What do the writings of the Bible, Origen, Herbert W. Armstrong, and Augustine show?
Bible and Historical Resources on the Internet Electronic bibles, Two Babylons, early Christian literature, photos, and even links to old Herbert W. Armstrong materials.
Did The Early Church Teach Millenarianism? Was the millennium (sometimes called chiliasm) taught by early Christians? Who condemned it? Will Jesus literally reign for 1000 years on the earth? Is this time near?
Does God Have a 6,000 Year Plan? What Year Does the 6,000 Years End? Was a 6000 year time allowed for humans to rule followed by a literal thousand year reign of Christ on Earth taught by the early Christians? Does God have 7,000 year plan? What year may the six thousand years of human rule end? When will Jesus return? 2021 or 20xx?
What is the Gospel? True religion should be based upon the true gospel. What are some of the different gospels and where did they come from? Do you believe the true or a false gospel?
The Gospel of the Kingdom of God was the Emphasis of Jesus and the Early Church Did you know that? Do you even know what the gospel of the kingdom is all about? You can also see a YouTube video sermon The Gospel of the Kingdom.
Just What Do You Mean the Kingdom of God? A booklet that was written by Herbert Armstrong answers questions about the Kingdom.
Read the Bible Christians should read and study the Bible. This article gives some rationale for regular bible reading.