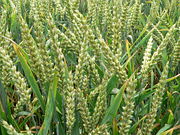 Wheat Before the Harvest
Late last week, UCG sent out an email that stated:
The harvest of the children of God  

The festivals of the Bible are closely linked to the harvest seasons of the Holy Land, where Jesus Christ spent His human life. Jesus often compared what God was doing through Him to a harvest. For example, Christ said, "My food is to do the will of Him who sent Me, and to finish His work. Do you not say, 'There are still four months and then comes the harvest'? Behold, I say to you, lift up your eyes and look at the fields, for they are already white [ripe] for harvest! And he who reaps receives wages, and gathers fruit for eternal life, that both he who sows and he who reaps may rejoice together'" (John 4:34-36).

Here Jesus links the idea of a harvest to His work of bringing humanity into a relationship with God that leads to eternal life. The festivals are not just memorials of what happened to ancient Israel, nor are they meaningless ritual. They were given to reveal major aspects of Jesus' role in securing the redemption and salvation of all humanity. They are all about the work of Jesus Christ. That is why we keep them.

——————————————————

Comments by COGwriter

And despite some of UCG's Holy Day misunderstandings (see UCG and Its Unleavened Bread Study Paper, Last Great Day study paper, and Differences between the Living Church of God and United Church of God), the above is correct.

The plain truth is that because most who profess Christ do not observe the biblical Holy Days, they feel to grasp the plan of God or how God is going to OFFER salvation to everyone.

The Christian Passover this year is Friday, April 18th after sunset.

Several articles of related interest may include:

Universal Offer of Salvation: There Are Hundreds of Verses in the Bible Supporting the Doctrine of True Apocatastasis Do you believe what the Bible actually teaches on this? Will all good things be restored? Does God's plan of salvation take rebellion and spiritual blindness into account?
Hope of Salvation: How the Living Church of God differ from most Protestants How the Living Church of God differs from mainstream/traditional Protestants, is perhaps the question I am asked most by those without a Church of God background.
Is There "An Annual Worship Calendar" In the Bible? This paper provides a biblical and historical critique of several articles, including one by WCG which states that this should be a local decision. What do the Holy Days mean? Also you can click here for the calendar of Holy Days.
Passover and the Early Church Did the early Christians observe Passover? What did Jesus and Paul teach? Why did Jesus die for our sins?
Melito's Homily on the PassoverThis is one of the earliest Christian writings about the Passover. This also includes what Apollinaris wrote on the Passover as well.
Should Christians Keep the Days of Unleavened Bread? Do they have any use or meaning now? This article supplies some biblical answers.