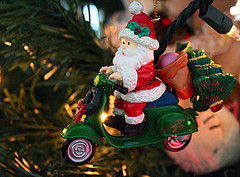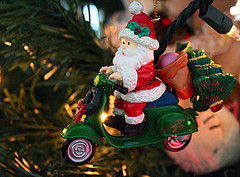 In its update last night, UCG stated the following:
God condemns using pagan customs to worship Him.
Since Christmas is supposedly a day to worship and celebrate God the Father and Jesus Christ, wouldn't it be a good idea to look into the Bible to see what it says about how we should worship God?
The answer is quite clear. God gives specific instruction about using pagan practices to worship Him—the exact thing Christmas does! Notice what He says in Deuteronomy 12:30-32: ". . . Do not inquire after their gods, saying, 'How did these nations serve their gods? I also will do likewise.' You shall not worship the LORD your God in that way . . . Whatever I command you, be careful to observe it; you shall not add to it nor take away from it" (emphasis added throughout).
And lest some think this is simply an Old Testament command that no longer applies, the apostle Paul makes the same point in 2 Corinthians 6, where he addresses whether unbiblical religious customs and practices have any place in the worship of God's people:
"What fellowship has righteousness with lawlessness? And what communion has light with darkness? And what accord has Christ with Belial [the devil and/or demons]? Or what part has a believer with an unbeliever? And what agreement has the temple of God with idols? For you are the temple of the living God . . .
"Therefore 'Come out from among them and be separate, says the Lord. Do not touch what is unclean, and I will receive you.' 'I will be a Father to you, and you shall be My sons and daughters, says the LORD Almighty.' Therefore, having these promises, beloved, let us cleanse ourselves from all filthiness of the flesh and spirit, perfecting holiness in the fear of God" (2 Corinthians 6:14-18; 7:1).
Rather than relabeling pagan customs as Christian, or allowing members of the Church to continue their old pagan practices, the apostle Paul told them in no uncertain terms to leave behind all these forms of worship and worship God in true holiness as He commands. Jesus likewise says His true followers "must worship in spirit and truth" (John 4:24)—not revel in recycled pagan customs and symbolism. (UCG Weekly news and updates from www.ucg.org :: December 13, 2007)
—————————————————————————————–
Additionally, there was an AP article featuring a UCG pastor in the news yesterday:
CHARLESTON, W.Va. (AP) — As Christmas draws near, Pastor John Foster won't be decorating a tree, shopping for last-minute gifts or working on a holiday sermon for his flock. After all, it's been 50 years since Christmas was anything more than a day of the week to him…
People don't think of it this way, but it's really a secular holiday," said Foster, a Princeton-based pastor in the United Church of God. He last celebrated Christmas when he was 8…
…Christians like the United Church of God reject the holiday: They say divine instruction, rather than culture and society, should determine whether the holiday is appropriate.
"It's common knowledge that Christmas and its customs have nothing to do with the Bible," said Clyde Kilough, president of the United Church of God, which has branches all over the world. "The theological question is quite simple: Is it acceptable to God for humans to choose to worship him by adopting paganism's most popular celebrations and calling them Christian?"  http://ap.google.com/article/ALeqM5gq7KQubcoZYlyDvdQtL1eVU3fEzQD8TGMBAO0
——————————————————————–
Comments by COGwriter 
Interestingly, even The Catholic Encyclopedia recognizes that many practices associated with Christmas are pagan and not originally accepted by the Catholics:
Christmas…Irenaeus and Tertullian omit it from their lists of feasts; Origen, glancing perhaps at the discreditable imperial Natalitia, asserts (in Lev. Hom. viii in Migne, P.G., XII, 495) that in the Scriptures sinners alone, not saints, celebrate their birthday; Arnobius (VII, 32 in P.L., V, 1264) can still ridicule the "birthdays" of the gods…

Rome. At Rome the earliest evidence is in the Philocalian Calendar (P. L., XIII, 675; it can be seen as a whole in J. Strzygowski, Kalenderbilder des Chron. von Jahre 354, Berlin, 1888), compiled in 354, which contains three important entries. In the civil calendar 25 December is marked "Natalis Invicti"…Natalis Invicti. The well-known solar feast, however, of Natalis Invicti, celebrated on 25 December, has a strong claim on the responsibility for our December date. For the history of the solar cult, its position in the Roman Empire, and syncretism with Mithraism, see Cumont's epoch-making "Textes et Monuments" etc., I, ii, 4, 6, p. 355…The earliest rapprochement of the births of Christ and the sun is in Cypr., "De pasch. Comp.", xix, "O quam præclare providentia ut illo die quo natus est Sol . . . nasceretur Christus." – "O, how wonderfully acted Providence that on that day on which that Sun was born . . . Christ should be born."…

Cards and presents. Pagan customs centering round the January calends gravitated to Christmas…

The yule log. The calend fires were a scandal even to Rome, and St. Boniface obtained from Pope Zachary their abolition (Martindale C. Christmas, 1908).  
More information can be found in the following articles:
What Does the Catholic Church Teach About Christmas and the Holy Days? Do you know what the Catholic Church says were the original Christian holy days? Was Christmas among them?
Which Is Faithful: The Roman Catholic Church or the Church of God? Do you know that both groups shared a lot of the earliest teachings? Do you know which church changed? Do you know which group is most faithful to the teachings of the apostolic church? Which group best represents true Christianity? This documented article answers those questions.