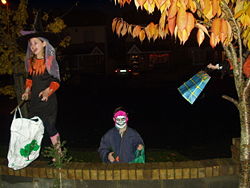 Many will be observing "Halloween" the end of this month. Many consider that it is a holiday appropriate for "Christians."  But Halloween is of pagan origin.
Of course, most holidays celebrated in the Western cultures are of pagan origin. Notice a few other comments:
Bruce Forbes, professor or religious studies at Morningside College and a bona fide expert on Christmas… is looking at five American holidays that he describes as "three-layered cakes." The holidays — Christmas, New Year's Day, Easter…and Halloween — all started as seasonal celebrations before Christianity existed.

"The dead of winter or spring with fertility or fall with the harvest…it makes sense that human beings would have celebrations at different seasonal times. That's layer No. 1," Forbes said of the pagan feasts.

Christianity comprises layer No. 2 as it comes across various cultures and wants to take what is already there, a natural human thing, and tie in a special layer of Christian meaning. "So instead of totally getting rid of it, they want to kind of baptize it with Christian meaning," Forbes said.

As for layer No. 3, that comes in the form of modern pop culture and the resulting commercialization and mass media promotions. His Christmas book dealt with this in depth. And Halloween, he said, fits all the criteria. http://www.siouxcityjournal.com/special-section/siouxland_life/article_02bae036-a30a-52a5-aa30-2f4716312be3.html
Halloween should not be celebrated by Christians.
There are biblical Holy Days (Is There "An Annual Worship Calendar" In the Bible?), but most people do not celebrate them.
Some articles of possibly related interest may include:
Is Halloween Holy Time for Christians? This article provides some historical and biblical insight on this question.
Do You Practice Mithraism? Many practices and doctrines that mainstream so-called Christian groups have are the same or similar to those of the sun-god Mithras. Do you follow Mithraism combined with the Bible or original Christianity?
Is January 1st a Date for Christians Celebrate? Historical and biblical answers to this question about the world's New Year's day.
Valentine's Day: Its Real Origins Christianity Today suggests that Valentine's Day is good for Christians to observe. Is this true?
Mardi Gras: The Devil's Carnival? Do you know that in Bolivia the carnival/Mardi Gras time is part of a celebration known as the Devil's Carnival? Did Jesus celebrate Carnaval? Where did it come from?
Is Lent a Christian Holiday? When did it originate? What about Ash Wednesday? If you observe them, do you know why?
Why The Living Church of God Does Not Wear Green on St. Patrick's Day Should non-Catholics observe a Catholic holiday?
Did Early Christians Celebrate Easter? If not, when did this happen? What do scholars and the Bible reveal?
Milvian Bridge Day, Constantine, and St. Jude Milvian Bridge Day and St. Jude's day are observed by some on October 28. Yet, do these two events point to a contradiction?
Was Jesus Born in the Grotto of the Nativity? Was Jesus born in a below ground cave? Was Jesus born below the "Church of the Nativity"? Were the wise men there?
Is Keeping Christmas a Sin? Is keeping Christmas acceptable for true Christians? What are some scriptures to consider?
What Does the Catholic Church Teach About Christmas and the Holy Days? Do you know what the Catholic Church says were the original Christian holy days? Was Christmas among them? Is December 25th Jesus' birthday or that of the sun god?
Did Early Christians Celebrate Birthdays? Did biblical era Jews celebrate birthdays? Who originally celebrated birthdays? When did many that profess Christ begin birthday celebrations?
Is There "An Annual Worship Calendar" In the Bible? This paper provides a biblical and historical critique of several articles, including one by the Tkach WCG which states that this should be a local decision. What do the Holy Days mean? Also you can click here for the calendar of Holy Days.