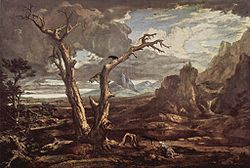 "Elijah in the wilderness"
There is a report that a dwelling of the biblical Elisha, who asked to be granted a double-portion of God's Spirit from Elijah (2 Kings 2:9-13), has possibly been found:
July 23, 2013

TEL REHOV, Israel — During 16 years of excavating Tel Rehov in the Jordan Valley, archaeologists uncovered a 3,000-year-old, well-planned city.

They also found a unique building that might have been the house of Elisha the prophet…

During the excavations, archaeologists discovered a special room inside the house with a table and a bench. They also discovered a pottery shard with the name Elisha on it, dated to the 9th century.

The discovery has led some to believe this was the room of the prophet Elisha.

"We found an ink inscription written in red ink on pottery, but it is broken unfortunately," Mazar said. "But we reconstructed the name as Elisha."

The prophet Elisha was born about seven miles from Tel Rehov in Avel Mehola and went throughout the kingdom of Israel, from Jericho to Samaria to Shunam.

"You know I cannot say for sure this particular Elisha that we found is the biblical Elisha," Mazar said. "You know it's very difficult to say, but it is very tempting because it is exactly the period when Elisha acted — the second half of the 9th century BC."…

Another discovery pointing to the prophet Elisha are two different inscriptions mentioning the family of Nimshi.

"We remember that it was Elijah who was told to anoint Jehu, the son of Nimshi, to be the king," Pfann explained. "And he passed that on to Elisha who sent out one of his disciples to finally do the anointing."

Another inscription with the same name Nimshi was found about five miles away.  http://www.cbn.com/cbnnews/insideisrael/2013/July/Have-Archaeologists-Found-Prophet-Elishas-House/
While the identification of the specific Elisha is still being determined, that name was not very common and the location and time period seem to coincide of the time of the biblical Elisha.
Elisha was made a prophet of God to lead after Elijah no longer was fit to be the leader (see also Elijah: Past and Prophesied).
As we get closer to the end, it is interesting that archeologists continue to find more evidence of biblical peoples, places, figures, and events.
Some articles of possibly related interest may include:
How To Determine If Someone is a True Prophet of God There are many false prophets. How can Christians determine who is a true prophet? This article contains a scripture-based checklist to assist with this determination.
How to determine if someone is a true prophet of God This is a sermon on YouTube addressing a subject that most in the Church of God do not seem to have looked into very much. It discusses scriptures and dispels some improper assertions that some associated with the COG have made about prophets in this time.
Elijah: Past and Prophesied Information about the original Elijah and some information about the Elijah-related prophecies.
Bible: Superstition or Authority? Should you rely on the Bible? Is it reliable? Herbert W. Armstrong wrote this as a booklet on this important subject.
What is the Appropriate Form of Biblical Interpretation? Should the Bible be literally understood? What do the writings of the Bible, Origen, Herbert W. Armstrong, and Augustine show?
Bible and Historical Resources on the Internet Electronic bibles, Two Babylons, early Christian literature, photos, and even links to old Herbert W. Armstrong materials.
Biblical Archaeology This is a website that has more information on biblical archeological as is sometimes known as the Bib Arch site.