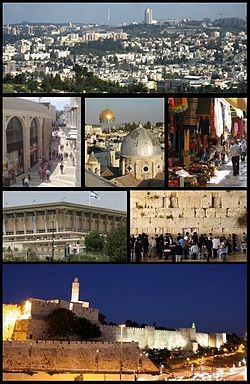 Jerusalem
There is another proposal to divide Jerusalem:
Will Jerusalem Be Divided Again?

November 26, 2013…

For 19 years, Jerusalem was divided between Israel and Jordan with the Old City on the Jordan side. In 1967, the Six-Day War led to the reuniting of the city under Israeli sovereignty.

Now, part of the U.S.-backed peace process seeks to split the city once again. Dividing Jerusalem is the most contentious issue in Middle East peace talks.

Israel maintains Jerusalem is its eternal, undivided capital. Palestinians want the eastern part for the capital of a future state.

CBN's Scott Ross recently asked Mayor Barkat and others about dividing the city. Barkat said dividing the city is impossible.

Following is their discussion.

Barkat: It cannot be divided, it will never function as a divided city. It has to be one physical city enabling all to worship their faith, their way, to respect each other. There's room for all.

Ross: Can you convince the Palestinians of that?

Barkat: The Palestinian residents that live in Jerusalem understand that, and you know I'm also a high tech entrepreneur, a venture capitalist. It will never work. There's not one good example of a city that was split that ever functioned. And, unfortunately, Jerusalem did not function for 2,000 years when it moved from conqueror to conqueror until it was reunited.

Jerusalem is mentioned by name more than 800 times in the Bible — even more if you count synonyms like the "City of David" and "Zion." Six hundred sixty of those references are in the Hebrew Bible, or Old Testament…

Ross: The city being divided at one point, reunited again in '67, will it be divided again?

Kempinsky: I don't think it can be.  http://www.cbn.com/cbnnews/insideisrael/2013/November/Will-Jerusalem-Be-Divided-Again/
Jerusalem is important and the Bible confirms that.  As far as division goes, when I was in Jerusalem last month, my guide kept trying to contend that it was impossible to divide Jerusalem.  It is not.  It would be inconvenient, but it is not impossible.  Especially if armies were involved in the division.  Plus, Jerusalem has been divided before.
Currently, the Jews control Jerusalem and claim it is their eternal and indivisible capital.
Both the Jews and the Palestinians want Jerusalem.  Many world leaders say that since both sides want it, then it should be divided.  In addition to that, various ones who have associated with groups like the Muslim Brotherhood want Jerusalem, as does Iran–and they do not wish to share it.  The Church of Rome, however, also wants parts (or all) of it.
There already is a real social division in Jerusalem. A formal political division may also come.  And if it is impractical, it may take military forces from outside the area to enforce it–Jesus Himself told of a time when Jerusalem will be surrounded by armies (Luke 21:20).
The Bible also suggests that Jerusalem will be divided:
2 For I will gather all the nations to battle against Jerusalem;
The city shall be taken,
The houses rifled,
And the women ravished.
Half of the city shall go into captivity,
But the remnant of the people shall not be cut off from the city. (Zechariah 14:2)
The longstanding conflict between Israelis and Palestinians, the current conflict between Iran and Israel, the unrest in Syria and the Muslim Brotherhood, and other Islamists rising up in the Middle East, combined with European/United Nations/USA views are setting the stage for the dividing of Jerusalem. And based upon other prophecies about the Gentiles controlling Jerusalem for a certain period (e.g. Revelation 11:2), it suggests that it will be the Israelis that will ultimately be taken captive.
The European Union and the current UN Secretary-General (Ban Ki-moon) want to divide Jerusalem now to partially satisfy many Palestinians. Possibly through the treaty of Daniel 9:27, the dividing will happen and the captivity of 1/2 of Jerusalem ultimately will come to fulfill Zechariah 14:2 (see Will the Anglo-Nations be Divided and Have People Taken as Slaves?).
The Bible clearly warns of a time of armies and Gentile domination of Jerusalem:
20 But when you see Jerusalem surrounded by armies, then know that its desolation is near. (Luke 21:20)

15 "Therefore when you see the 'abomination of desolation,' spoken of by Daniel the prophet, standing in the holy place" (whoever reads, let him understand), 16 "then let those who are in Judea flee to the mountains. (Matthew 24:15-17)

23 But woe to those who are pregnant and to those who are nursing babies in those days! For there will be great distress in the land and wrath upon this people. 24 And they will fall by the edge of the sword, and be led away captive into all nations. And Jerusalem will be trampled by Gentiles until the times of the Gentiles are fulfilled. (Luke 21:23-24)

2 But leave out the court which is outside the temple, and do not measure it, for it has been given to the Gentiles. And they will tread the holy city underfoot for forty-two months. (Revelation 11:2)
As far as Jerusalem being "surrounded by armies," like some previous USA presidents, about 3 1/2 years ago, USA President Barack Obama proposed something just like that (see Will Obama's Plan Have Jerusalem Surrounded by Armies?). Biblical prophecy will be fulfilled.  The current USA backed proposal under the Obama Administration seems to be a step in that direction.
We all should watch (Mark 13:37).
Some articles of possibly related interest may include:
Jerusalem: Past, Present, and Future What does the Bible say about Jerusalem and its future? Is Jerusalem going to be divided and eliminated? Is Jesus returning to the area of Jerusalem? There is also a related YouTube video you can watch titled Jerusalem To be divided and eliminated.
Anglo – America in Prophecy & the Lost Tribes of Israel Are the Americans, Canadians, English, Scottish, Welsh, Australians, Anglo (non-Dutch) Southern Africans, and New Zealanders descendants of Joseph? Where are the lost ten-tribes of Israel? Who are the lost tribes of Israel? What will happen to Jerusalem and the Jews in Israel? Will God punish the U.S.A., Canada, United Kingdom, and other Anglo nations? Why might God allow them to be punished first? Here is a link to the Spanish version of this article: Anglo-América & las Tribus Perdidas de Israel. A video of possible interest may be Will Will USA Spying Help the Beast Power?
Will the Anglo-Nations be Divided and Have People Taken as Slaves? Will the lands of the United States, United Kingdom, Canada, Australia, and New Zealand be divided? What about Jerusalem? What does Bible prophecy teach? Are there non-biblical prophecies that support this idea? Who will divide those lands? Who will end up with the lands and the people? Here is a link to a video titled Will the USA and other Anglo-nations be Divided and Their People Made Slaves? Here is a related item in the Spanish language ¿Serán divididas las naciones anglosajonas?
Church of God on Jerusalem's Western Hill Could this building, often referred to as the Cenacle, which is located on a Mount Zion, possibly have been the oldest actual Christian church building? There is also a video titled Does the 'Cenacle' deal have prophetic ramifications?
Is the Future King of the South Rising Up? Some no longer believe there needs to be a future King of the South. Might Egypt, Islam, Iran, Arabs, or Ethiopia be involved? Might this King be called the Mahdi or Caliph? What does the Bible say? A YouTube video of related interest may be: The Future King of the South is Rising.
The Muslim Brotherhood and the Rise of the King of the South The Bible tells of the formation of a power of nations that are in the Middle East and North Africa that are part of the final "King of the South" (Daniel 11:40-43) The Muslim Brotherhood wishes to have an Islamic empire with basically the same nations. This YouTube video explains what to expect from such a confederation.
The Arab and Islamic World In the Bible, History, and Prophecy The Bible discusses the origins of the Arab world and discusses the Middle East in prophecy. What is ahead for the Middle East and those who follow Islam? What about the Imam Mahdi? What lies ahead for Turkey, Iran, and the other non-Arabic Muslims? An item of possibly related interest in the Spanish language would be: Líderes iraníes condenan la hipocresía de Occidente y declaran que ahora es tiempo para prepararse para el Armagedón, la guerra, y el Imán Mahdi.
Barack Obama, Prophecy, and the Destruction of the United States-Second Edition for Second Obama Term This is a 160 page book for people truly interested in prophecies related to Barack Obama and the United States, including learning about many that have already been fulfilled (which the book documents in detail) and those that will be fulfilled in the future. It also has a chapter about a Republican choice. This book is available to order at www.barackobamaprophecy.com. The physical book can also be purchased at Amazon from the following link: Barack Obama, Prophecy, and the Destruction of the United States: Is Barack Obama Fulfilling Biblical, Islamic Catholic, Kenyan, and other America-Related Prophecies? What About Republican Leaders? Second Edition for Second Obama Term.
Barack Obama, Prophecy, and the Destruction of the United States-Second Term-Amazon Kindle edition. This electronic version is available for only US$2.99. And you do not need an actual Kindle device to read it. Why? Amazon will allow you to download it to almost any device: Please click HERE to download one of Amazon s Free Reader Apps. After you go to for your free Kindle reader and then go to Barack Obama, Prophecy, and the Destruction of the United States-Second Term-Amazon Kindle edition.