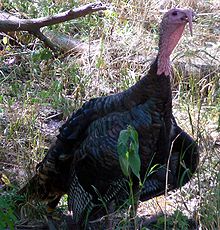 A while back, a reader sent me a link to the following item from 2011 that was somewhat true then:
America's favorite meal may be secretly dedicated to Allah…

Customer service representatives from Butterball, one of America's most popular Turkey brands, confirmed to WND that the company's whole turkeys are – without being labeled as such – slaughtered according to Islamic "halal" standards…Multiple phone representatives at Butterball confirmed the turkeys are slaughtered according to halal standards, and one named Tracy (she declined to give her last name) further confirmed the words of Islamic dedication are spoken over the birds. Has your Thanksgiving turkey been sacrificed to idols? http://www.wnd.com/?pageId=370177#ixzz1eRWF91z4
But then there was a change in 2012:
Butterball's Thanksgiving turkeys won't be served with a side dish of Islamic dogma this year.

The company has announced that its turkeys are not slaughtered according to Islam's halal dietary principles, which say that animals should be killed while conscious and amid the sound of Islamic prayers.

The theological turkey turnabout came after an online protest on the topic last year threatened to sour the public's taste for Butterball-branded products. http://dailycaller.com/2012/11/21/butterball-disavows-islamic-turkeys/#ixzz2jb9crgyn
Perhaps I should add that the first article also states that Butterball was not the only company that has allowed Islamic prayers over turkeys (there also may be Islamic prayers over other slaughtered animals as well).  It should be understood that Jewish rabbis also provide their approval/blessing on various 'kosher' foods and 'halal' is somewhat of an equivalent in the Islamic world.
Here is information on halal turkeys:
The slaughter of animals in a halal manner is known as dabihah, where a swift cut to the animal's throat allows for the blood of the animal to drain from the body. Animals must also be deemed healthy for slaughter, and animals must not be slaughtered in front of each other. This differs from turkeys which are slaughtered in traditional turkey farms or plants in the United States, where turkeys are kept in cramped conditions and slaughtered in a sort of assembly line by machinery which many find to be inhumane.

It may be difficult to find a halal turkey if you live somewhere other than in a large city. Some supermarket chains are starting to offer halal turkeys during the holidays, or you can most likely find one in a Middle Eastern grocer. In some large cities you can find actual halal butchers, particularly in California. (http://mideastfood.about.com/od/middleeasternfood101/a/halal_turkey.htm viewed 11/20/13)
But should Christians be willing to eat such meat if it may have been prayed over by Islamic clerics?
According to the Apostle Paul, the answer is yes, basically:
4 Therefore concerning the eating of things offered to idols, we know that an idol is nothing in the world, and that there is no other God but one. 5 For even if there are so-called gods, whether in heaven or on earth (as there are many gods and many lords), 6 yet for us there is one God, the Father, of whom are all things, and we for Him; and one Lord Jesus Christ, through whom are all things, and through whom we live.

7 However, there is not in everyone that knowledge; for some, with consciousness of the idol, until now eat it as a thing offered to an idol; and their conscience, being weak, is defiled. 8 But food does not commend us to God; for neither if we eat are we the better, nor if we do not eat are we the worse.

9 But beware lest somehow this liberty of yours become a stumbling block to those who are weak. 10 For if anyone sees you who have knowledge eating in an idol's temple, will not the conscience of him who is weak be emboldened to eat those things offered to idols? 11 And because of your knowledge shall the weak brother perish, for whom Christ died? 12 But when you thus sin against the brethren, and wound their weak conscience, you sin against Christ. 13 Therefore, if food makes my brother stumble, I will never again eat meat, lest I make my brother stumble. (1 Corinthians 8:4-13)

27 If any of those who do not believe invites you to dinner, and you desire to go, eat whatever is set before you, asking no question for conscience' sake. 28 But if anyone says to you, "This was offered to idols," do not eat it for the sake of the one who told you, and for conscience' sake; for "the earth is the Lord's, and all its fullness." (1 Corinthians 10:27-28)
The reason I said basically, as can be seen, is that if this somewhat would offend an acquaintance, then one should not eat such meat in a manner that would make him/her stumble. Otherwise, eating meat that in other ways is proper to eat is fine.
Some articles of possibly related interest may include:
Thanksgiving: A Time To Give Thanks and Praise the LORD Is this American holiday appropriate? Why or why not?
The Gospel of the Kingdom of God was the Emphasis of Jesus and the Early Church Did you know that? Do you even know what the gospel of the kingdom is all about? True religion should be based upon the true gospel.
What Did the Early Church Teach About Idols and Icons? Did Catholic and Orthodox "saints" endorse or condemn idols and icons for Christians?
The New Testament Church and Unclean Meats Are foods considered to have been unclean in the Old Testament considered to be food in the New Testament? This article discusses this from the perspective of the New Testament. It also has a list of clean and unclean animals. It also answers the question, is pork healthy or is pork dangerous?