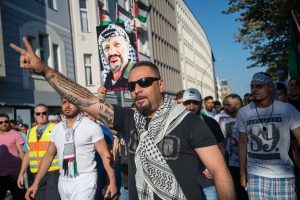 Anti-Semitic protestor in Berlin (Boris Niehaus)

Continuing antisemitism in Germany is causing Jews to have concerns:
29 December 2017

In an interview with the German newspaper Heilbronner Stimme the former president of the Central Council of Jews in Germany, Charlotte Knobloch, voiced grave concern Friday over growing anti-Semitic sentiment in the country. She said that public Jewish life is under threat and can only be lived out "in public with police protection and under the most serious security precautions."

Knobloch pointed out the fact that Hanukah celebrations in Berlin and Munich, as well as the large menorahs installed in both cities, were, by necessity, accompanied by massive, around-the-clock police protection. A large menorah installed in the city of Heilbronn, for instance, was attacked and damaged by vandals. http://www.dw.com/en/anti-semitism-in-germany-jewish-life-under-threat-says-charlotte-knobloch/a-41967491
Sadly, antisemitism was not just a phenomena during WWII as its roots go much further back.
Notice some of the teachings of the Protestant Reformer Martin Luther, who wrote in the 16th century:
My heart is fuller of these thoughts than my tongue can tell. I have come to the conclusion that the Jews will always curse and blaspheme God as all the prophets have predicted. He who neither reads nor understands this, as yet knows no theology, in my opinion. And so I presume the men of Cologne cannot understand the Scripture, because it is necessary that such things take place to fulfill prophecy. If they are trying to stop the Jews blaspheming, they are working to prove the Bible and God liars ("Martin Luther's to George Spalatin," from Luther's Correspondence and Other Contemporan, Letters, trans. by P. Smith (1913), Vol. 1, pp. 28-29).
Furthermore he wrote:
I had made up my mind to write no more either about the Jews or against them. But since I learned that those miserable and accursed people do not cease to lure to themselves even us, that is, the Christians, I have published this little book, so that I might be found among those who opposed such poisonous activities of the Jews and who warned the Christians to be on their guard against them…They are so blind and stupid that they see neither the words found in Genesis 17 nor the whole of Scripture, which mightily and explicitly condemns this lie…They are real liars and bloodhounds who have not only continually perverted and falsified all of Scripture with their mendacious glosses from the beginning until the present day. Their heart's most ardent sighing and yearning and hoping is set on the day on which they can deal with us Gentiles as they did with the Gentiles in Persia at the time of Esther…The worse a Jew is, the more arrogant he is, solely because he is a Jew — that is, a person descended from Abraham's seed, circumcised, and under the law of Moses. David and other pious Jews were not as conceited as the present-day, incorrigible Jews…I wanted to present this to us Germans so that we might see what rascals the blind Jews are and how powerfully the truth of God in our midst stands with us and against them (Medieval Sourcebook: Martin Luther (1483-1546): On the Jews and Their Lies, 1543)
Consider that Jesus taught:
2… yes, the time is coming that whoever kills you will think that he offers God service. 3 And these things they will do to you because they have not known the Father nor Me. 4 But these things I have told you, that when the time comes, you may remember that I told you of them. And these things I did not say to you at the beginning, because I was with you (John 16:2-4).
Consider that Martin Luther advised his followers:
…to burn down Jewish schools and synagogues, and to throw pitch and sulphur into the flames; to destroy their homes; to confiscate their ready money in gold and silver; to take from them their sacred books, even the whole Bible; and if that did not help matters, to hunt them of the country like mad dogs (Luther's Works, vol. Xx, pp. 2230-2632 as quoted in Stoddard JL. Rebuilding a Lost Faith, 1922, p.99).

Accordingly, it must and dare not be considered a trifling matter but a most serious one to seek counsel against this and to save our souls from the Jews, that is, from the devil and from eternal death. My advice, as I said earlier, is: First, that their synagogues be burned down, and that all who are able toss in sulphur and pitch (Martin Luther (1483-1546): On the Jews and Their Lies, 1543 as quoted from Luther's Works, Volume 47: The Christian in Society IV, (Philadelphia: Fortress Press, 1971). pp 268­293).
Many people hate others, and the Jews tend to be one of the more hated groups. But that is not how people are to live.
Notice something that God had Moses record:
8 You shall not take vengeance, nor bear any grudge against the children of your people, but you shall love your neighbor as yourself: I am the Lord. (Leviticus 19:18)
It is not just Jews that are hated or will be in the future. Throughout history, true Christians have sometimes been called "Jews" and have been subject to persecution supposedly directed towards Jews. True Christians also had to suffer through the so-called Inquisition, which utilized torture against those that had Church of God beliefs–and more is expected in the future (see Persecutions by Church and State). Protestant leaders have also promoted antisemitism and Church of God persecution (see The Similarities and Dissimilarities between Martin Luther and Herbert W. Armstrong) and Eastern Orthodox (see John Chrysostom, Bishop of Constantinople and Antisemite).
It is not just physical, ethnic Jews that are at risk–spiritual ones are as well (cf. Romans 2:28-29; John 15:20; see also The Spanish Inquisition and Early Protestant Persecutions).
Jesus Himself foretold of persecution for Christians. There was a poem many years back that said something like:
They first came for the Jews, but as I was not a Jew, I paid no attention,

Then they came from one group then another, then lastly they came for me.
Those in the true Church of God have always been on the side being persecuted and has never been on the side of the persecutors. And this will be true again in the future.
Racial hatred is wrong. People should not be terrorists nor antisemitic. People should not hate others.
Sadly, many in Europe and elsewhere still hold anti-Semitic views, and some take direct anti-Semitic actions. It is little wonder that many Jews are leaving, and others are considering leaving.
Sadly, we will see persecution greatly increase before Jesus returns (cf. Daniel 7:25; 11:30-35; see also Persecutions by Church and State)–this will affect Philadelphian Christians.
All the faithful will be subject to persecution and being betrayed by professing believers (Matthew 24:9-13, Mark 13:12-13; Luke 21:16-18; Daniel 11:32-35).
In the past, Christians were persecuted because they:
In the future, according to Catholic teachings, they also will be persecuted for:
Christians have been persecuted for holding doctrines that we in the Continuing Church of God hold and are clearly expected to be persecuted in the future for holding Continuing Church of God doctrines.
Persecution is a fact of history. It has happened before and we should be prepared for the fact that it will happen again.
The underlying antisemitism in Europe and throughout the world will allow for this, especially when the time comes when the Beast's government mandates it (Revelation 13:15-17).
Some items of related interest may include:
Persecutions by Church and State This article documents some that have occurred against those associated with the COGs and some prophesied to occur. Will those with the cross be the persecutors or the persecuted–this article has the shocking answer. There is also a YouTube video sermon you can watch: The Coming Persecution of the Church.
The Spanish Inquisition and Early Protestant Persecutions Was the Church of Rome really responsible for this? What happened? A video of related interest is titled: The Past and Future Inquisition.
Why Terrorism? Is Terrorism Prophesied? What does the Bible teach? Which nations may be affected? Here is a link to a related sermon: Terrorism, Christianity, and Islam.
God's Grace is For All Is being Jewish a hindrance to salvation? What about not being a descendant of Israel? What does the Bible really teach? Here is a link to a related sermon titled Race and Grace; Do you view race as God does?
The 'Lost Tribe' of Reuben: France in Prophecy? What is the origin of this in France? What is prophesied to happen to them? A two-part sermon related to history and prophecy is available online: The 'Lost Tribe' of Reuben and France and Prophecy.
When was the Exodus? Some deny it happened. Was Ramses II the pharaoh then? When did the Exodus occur?
John Chrysostom, Bishop of Constantinople and Anti-Semite This late fourth/early fifth century Bishop of Constantinople is considered to be a 'saint' and 'doctor' by the Church of Rome, Church of England, and the Eastern Orthodox, but he did not teach Christ's love.
The Similarities and Dissimilarities between Martin Luther and Herbert W. Armstrong This article clearly shows some of the doctrinal differences between in the two. At this time of doctrinal variety and a tendency by many to accept certain aspects of Protestantism, the article should help clarify why the genuine Church of God is NOT Protestant. Do you really know what the Protestant Reformer Martin Luther taught and should you follow his doctrinal example? Here is a related sermon video: Martin Luther and Herbert Armstrong: Reformers with Differences.
When Will the Great Tribulation Begin? 2018, 2019, or 2020? Can the Great Tribulation begin today? What happens before the Great Tribulation in the "beginning of sorrows"? What happens in the Great Tribulation and the Day of the Lord? Is this the time of the Gentiles? When is the earliest that the Great Tribulation can begin? What is the Day of the Lord? Who are the 144,000? Here is a version of the article in the Spanish language: ¿Puede comenzar la Gran Tribulación en 2018 o 2019? ¿Es el Tiempo de los Gentiles? You can also see the English language sermon videos: The Great Tribulation from the Mount of Olives and Can the Great Tribulation begin before 2020? A shorter video is: Can the Great Tribulation begin in 2018?
The Philadelphia Church Era was predominant circa 1933 A.D. to 1986 A.D. The old Radio Church of God and old Worldwide Church of God, now basically the most faithful in the Church of God, like who hold to the beliefs and practices of the Continuing Church of God.