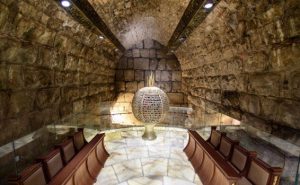 Jewish Synagogue Built Under the 'Temple Mount' (Western Wall Heritage Foundation)
The Jews now have a synagogue under what is called the 'Temple Mount':
While there may not be a Third Temple at which Israeli Jews can worship atop the Jerusalem Temple Mount, there is a brand-new synagogue under the foundation of the holy site – and it's open for prayer.

The new center of worship is the result of 12 years of construction at a cost of $50 million, and it is located directly under the Western Wall, where Jews have gathered for centuries to pray at the retaining wall for the Temple Mount.

"The unique design of the prayer hall combines rare art and unique lighting, creating a wonderful contrast between ancient and modern," said a statement by the Western Wall Heritage Foundation.

In a related development, Israeli Culture Minister Miri Regev has suggested the government allocate another $50 million to explore the foundations Temple beneath Muslim Al-Aqsa Mosque.

In the new synagogue, the bimah, or altar, and seating are made of wood. The synagogue features dozens of elegant benches, arranged in separate men's and women's sections.

The Torah ark is adorned with metalwork letters that incorporate the biblical verses of the "Shema Yisrael" prayer.

The Western Wall Heritage Foundation is scheduled to establish and publish regulations regarding prayer in the new synagogue.

The project has been funded by the Delek Science, Education and Culture Foundation, with additional private support from Delek Group owner Yitzhak Tshuva and his family. The facility was dedicated following a traditional Hanukkah candle-lighting ceremony in the Western Wall plaza. http://www.wnd.com/2017/12/new-synagogue-opens-under-temple-mount/#AKcrIqzjFvcJXyXV.99
The Muslims are not happy about this:
In a statement, Sheikh Ekrema Sabri, head of Jerusalem's Supreme Islamic Council and a former Al-Aqsa imam, stressed that the Al-Buraq Wall was a component of the Al-Aqsa's western wall.

"The wall is part of our Islamic heritage and will remain so until Judgment Day," Sabri said, according to Days of Palestine.

"The Israeli occupation has no claim on Jerusalem's heritage," he added. "This new synagogue… doesn't have any historical roots."

"All new construction by the [Israeli] occupation authorities in Jerusalem is illegitimate and lacks a historical basis," Sabri said, adding that the holy city "cannot be partitioned".

In October 2016, UNESCO voted on a resolution which denied any Jewish connection to Al-Aqsa Mosque and Al-Buraq Wall in occupied Jerusalem.

Tension has mounted in the occupied territories since US President Donald Trump recognized Jerusalem as Israel's capital on 6 December, drawing condemnation from across the world. Yesterday the United Nationals Security Council voted 14 to one against Trump's decision, however due to the US power of veto a resolution could not be passed against his unilateral move. http://imemc.org/article/new-synagogue-in-al-aqsa-mosque-compound-unveiled-50m-to-be-allocated-for-temple-mount-explorations/
As far as Donald Trump and Jerusalem goes, we have a video: Jerusalem, Donald Trump, and Prophecy.
As far as this new Jewish synagogue goes, it obviously has been in the works for a long time and Muslims are not pleased.
It may be that Donald Trump's announcement related to Jerusalem could have accelerated the announcement of this synagogue.
Because of certain Jewish views related to the Temple Mount, it makes one wonder if it is possible that the Jews will possibly begin animal sacrifices in a place like this new synagogue.
While the Bible does tell of animal sacrifices being stopped prior (Daniel 9:27; 11:31) to the time that Jesus will return to establish the millennial Kingdom of God, neither the Bible nor the Jews teach that a Jewish Temple must be built on the area claimed to be the Temple Mount in order to perform animal sacrifices (the actual location of the original temple is a matter of dispute).
As mentioned before, representatives of the Sanhedrin and Temple Institute have directly told me this.
Furthermore, consider that after the first Jerusalem temple was built and left in ruins, the Bible itself specifically shows that sacrifices were made in the time of Ezra BEFORE the second temple was ready:
6 From the first day of the seventh month began they to offer burnt offerings unto the LORD. But the foundation of the temple of the LORD was not yet laid. (Ezra 3:6)
Thus, Jews know that they can perform animal sacrifices without a rebuilt Temple. They tend to think that they mainly need to do so near that area of the old Temple.
And if under the Temple Mount area is acceptable to them, a place like that MIGHT be considered.
We will see.
Whether they do or not, an underground Jewish synagogue under the 'Temple  Mount' is an interesting development to watch.
Some items of possibly related interest may include:
Why is a Jewish Temple in Jerusalem Not Required? Although people like Timothy LaHaye teach a third Jewish temple is required, who is 'the temple of God" in the New Testament? Does the Bible require a rebuilt Jewish Temple? Here is a related item in the Spanish language ¿Por qué no se requiere un templo judío en Jerusalén? Here is a link to a sermon titled The Temple, Prophecy, and the Work.
The Red Heifer, Jewish Beliefs, and the End of the World The Temple Institute is watching a 'red heifer.' Why might this be important in the sequence of end time events? Here is a related link in the Spanish language Novilla roja descubierta en EE.UU. e Instituto del Templo está interesado en ella. Here is a related video in English The Red Heifer and the End of the World.
Church of God on Jerusalem's Western Hill Could this building, often referred to as the Cenacle, which is located on a Mount Zion, possibly have been the oldest actual Christian church building?
Does the 'Cenacle' deal have prophetic ramifications? After a 20 year negotiation, the Church of Rome has negotiated the right to have Catholic mass in the building known as the Cenacle. It is in the area where the Church of God on Jerusalem's Western Hill once stood. This is believed to be the location of the earliest Christian church building. How does the Bible define the 'temple of God' in the New Testament? Could this be the area where the 'man of sin' will sit in the "temple of God' that Bible prophecy discusses in 2 Thessalonians 2:3-4? This is a YouTube video.
Nazarene Christianity: Were the Original Christians Nazarenes? Who were the Nazarene Christians? What did they believe? Should 21st century Christians be modern Nazarenes? Is there a group that exists now that traces its history through the Nazarenes and holds the same beliefs today? Here is a link to a related video sermon Nazarene Christians: Were the early Christians "Nazarenes"?
Does the Church of God need to be headquartered in Jerusalem? Some say so. But what does the Bible teach?
Location of the Early Church: Another Look at Ephesus, Smyrna, and Rome What actually happened to the primitive Church? And did the Bible tell about this in advance?
The 'Peace Deal' of Daniel 9:27 This prophecy could give up to 3 1/2 years advance notice of the coming Great Tribulation. Will most ignore or misunderstand its fulfillment? Here is a link to a related sermon video Daniel 9:27 and the Start of the Great Tribulation.
Jerusalem: Past, Present, and Future What does the Bible say about Jerusalem and its future? Is Jerusalem going to be divided and eliminated? Is Jesus returning to the area of Jerusalem? There is also a related YouTube video you can watch titled Jerusalem To be divided and eliminated.
Did The Early Church Teach Millenarianism? Was the millennium (sometimes called chiliasm) taught by early Christians? Who condemned it? Will Jesus literally reign for 1000 years on the earth? Is this time near? Two related sermons are available Millennial Utopia and The Millennium.
Does God Have a 6,000 Year Plan? What Year Does the 6,000 Years End? Was a 6000 year time allowed for humans to rule followed by a literal thousand year reign of Christ on Earth taught by the early Christians? Does God have 7,000 year plan? What year may the six thousand years of human rule end? When will Jesus return?
Who is the Man of Sin of 2 Thessalonians 2? Is this the King of the North, the ten-horned beast of Revelation 13:1-11, or the two-horned Beast of Revelation 13:12-16? Some rely on traditions, but what does the Bible teach? Here is a related link in Spanish/español: ¿Quién es el Hombre de Pecado de 2 Tesalonicenses 2? Here is a version in Mandarin: 主编: 谁是'大罪人'?Here is a link to a related YouTube video, in English, titled Who is the Man of Sin?
Continuing Church of God The group striving to be most faithful amongst all real Christian groups to the word of God.
What was the Liturgy of the Early Church? Were early church services mainly scriptural, emotional, or sacramental? Who follows the basic original liturgy today? A related video is also available: What were early Christian church services like?
Continuing History of the Church of God This pdf booklet is a historical overview of the true Church of God and some of its main opponents from Acts 2 to the 21st century. Related sermon links include Continuing History of the Church of God: c. 31 to c. 300 A.D. and Continuing History of the Church of God: 4th-16th Centuries and Continuing History of the Church of God: 17th-20th Centuries. The booklet is available in Spanish: Continuación de la Historia de la Iglesia de Dios, German: Kontinuierliche Geschichte der Kirche Gottes, French: L Histoire Continue de l Église de Dieu and Ekegusii Omogano Bw'ekanisa Ya Nyasae Egendererete.
Hope of Salvation: How the Continuing Church of God differs from most Protestants How the real Church of God differs from mainstream/traditional Protestants, is perhaps the question I am asked most by those without a Church of God background. As far as some changes affecting Protestantism, watch the video Charismatic Kenneth Copeland and Anglican Tony Palmer: Protestants Beware! [Português: Esperança do salvação: Como a igreja do deus difere da maioria de protestantes]. A sermon is also available: How Does the Church of God Differ from Protestantism?
The Similarities and Dissimilarities between Martin Luther and Herbert W. Armstrong This article clearly shows some of the doctrinal differences between the two. At this time of doctrinal variety and a tendency by many to accept certain aspects of Protestantism, the article should help clarify why the genuine Church of God is NOT Protestant. Do you really know what the Protestant Reformer Martin Luther taught and should you follow his doctrinal example? Here is a related sermon video: Martin Luther and Herbert Armstrong: Reformers with Differences.
Donald Trump in Prophecy Prophecy, Donald Trump? Are there prophecies that Donald Trump may fulfill? Are there any prophecies that he has already helped fulfill? Could a Donald Trump presidency be apocalyptic? A related video is titled: Donald: 'Trump of God' or Apocalyptic?
Trump Presidency Magic 8 Ball or Bible Prophecy? BBC reported that one might as well use a 'Magic Eight-Ball' to try to predict what will happen in the remaining time of Donald Trump's presidency. What is a 'Magic Eight-Ball'? Dr. Thiel not only explains that, but also briefly goes over 10 biblically-based warnings he wrote would happen if Donald Trump were elected that have already began to come to pass. He also goes over something he wrote back in 2008 that the Trump presidency is also helping lead to fulfillment. Should you trust Bible prophecy or not? Dr. Thiel says that Bible prophecy can be trusted, despite the view of skeptics and others that either overlook or despise the Bible. This is a video.
Donald Trump and America's Apocalypse This 188 page book is for people truly interested in prophecies related to Donald Trump and the United States, including learning about several that have already been fulfilled and those that will be fulfilled in the future. The physical book can be purchased at Amazon for $12.99 from the following link: Donald Trump and America's Apocalypse.
Donald Trump and America's Apocalypse-Kindle Edition This electronic version of the 188 page print edition is available for only US$3.99. And you do not need an actual Kindle device to read it. Why? Amazon will allow you to download it to almost any device: Please click HERE to download one of Amazon s Free Reader Apps. After you go to for your free Kindle reader and then go to Donald Trump and America's Apocalypse-Kindle Edition.