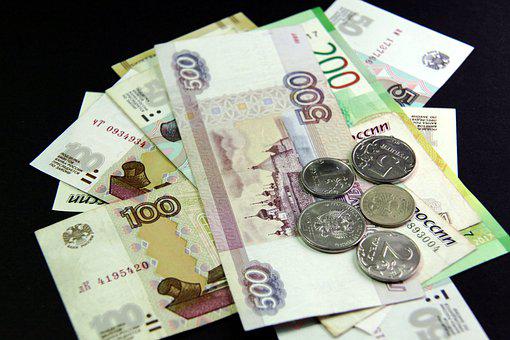 Russian Rubles (Pixabay photo)
The Associated Press reported the following:
Russia slams sanctions, seeks to blame West for food crisis

May 27, 2022

Moscow pressed the West on Thursday to lift sanctions against Russia over the war in Ukraine, seeking to shift the blame for a growing food crisis that has been worsened by Kyiv's inability to ship millions of tons of grain and other agricultural products while under attack. …

Russian President Vladimir Putin told Italian Prime Minister Mario Draghi that Moscow "is ready to make a significant contribution to overcoming the food crisis through the export of grain and fertilizer on the condition that politically motivated restrictions imposed by the West are lifted," according to a Kremlin readout of the call.

Ukraine is one of the world's largest exporters of wheat, corn and sunflower oil, but the war and a Russian blockade of its ports have halted much of that flow, endangering world food supplies. Many of those ports are now also heavily mined.

Russia also is a significant grain exporter …

British Foreign Secretary Liz Truss said Putin was "trying to hold the world to ransom" by demanding some sanctions be lifted before allowing Ukrainian grain shipments to resume.

"He's essentially weaponized hunger and lack of food among the poorest people around the world," Truss said on a visit to Sarajevo, Bosnia-Herzegovina. "What we cannot have is any lifting of sanctions, any appeasement, which will simply make Putin stronger in the longer term." https://apnews.com/article/russia-ukraine-government-and-politics-blockades-d1c7c23939c7942e7bd4358444114e1e
There are costs and unintended consequences to sanctions as I have warned here for years.
As far as unintended consequences go, notice the following:
Americans Are Increasingly Wary Of US Efforts To Harm Russia Causing Economic Damage In America

May 27, 2022

On March 8, President Joe Biden declared, in a speech announcing a ban on imports of Russian oil and gas, that these and other actions taken by the United States government "to inflict further pain on [Russia President Vladimir Putin]" would "cost us as well, in the United States."

Since then, the US government's economic sanctions on Russia – as well as spending, military training, intelligence sharing, and weapons transfers to attack the Russian military – have increased as the economic conditions in America have declined.

Some of that economic decline is a result of the actions against Russia, as Biden suggested would be the case. Other parts of the decline have other causes.
­
New polling results from The Associated Press-NORC Center for Public Affairs Research indicate that Americans are increasingly wary of incurring economic costs in America due to efforts to inflict pain on Putin or, as the poll puts it, "sanctioning Russia."

In fact, despite the nonstop hate Russia propaganda in the big money media, the polling indicates the majority of Americans are now opposed to harming the American economy to advance the anti-Russia crusade that Biden and most US Congress members have been pushing. https://www.zerohedge.com/political/americans-are-increasingly-wary-us-efforts-harm-russia-causing-economic-damage-america

Sanctions Affect Everyone, Developed Nations Haven't Seen Inflation This High in Decades, Putin Says

May 26, 2022

Countries around the world have experienced spiralling inflation reminiscent of the stagflation crisis of the 1970s, with prices for food, fuel, and other essential goods on the rise. …

Anti-Russia sanctions seem to have boomeranged on those who implemented them, and developed economies haven't seen such high levels of inflation in decades, Russian President Vladimir Putin has said.

"No matter how stable the economies of the countries that pursue such a short-sighted policy, the current state of the world economy shows that our position is correct and justified, even looking at macroeconomic indicators. These developed countries haven't seen such inflation in 40 years, unemployment is on the rise, supply chains are being broken, and global crises are intensifying. And in such sensitive areas like food – this is not a joke, these are serious things, which affect the entire system of economic and political relations", Putin said, speaking at the Eurasian Economic Forum on Thursday.

Commenting on the West's freeze of hundreds of billions of dollars' worth of Russian assets abroad, Putin warned that such "theft" cannot lead to anything good in the long run.

"The violation of the rules and norms in the field of international finance and trade cannot lead to anything positive. And to put it simply, it will only lead to problems for those who engage in such behaviour. The theft of other people's assets has never brought anything good for anyone – especially those who engage in such malign activities", Putin said. …

Eurasian Economic Union, Greater Eurasian Partnership
Yes, sanctions are pushing Russia and many Asian nations further away from using the USA dollar as their primary currency for international trade. That is one of aspects of sanctions that has been helping Russia's ruble.
As far as sanctions inflicting pain through destroying Russia's currency, Voice of America reported the following in late March:
Russia's Ruble Rebound Raises Questions of Sanctions' Impact

March 31, 2022

The ruble is no longer rubble. …

President Joe Biden promoted the success of the sanctions — some of the toughest ever imposed on a nation — while he was in Poland last week. "The ruble almost is immediately reduced to rubble," Biden said.

https://www.voanews.com/a/russia-s-ruble-rebound-raises-questions-of-sanctions-impact-/6509012.html
While sanctions do impact the Russian economy, there are costs to those who impose sanctions. US President Joe Biden's statement of the ruble's (also spelled rouble) demise to rubble were premature at best.
And according to CBS, the the ruble has been the world's best performing currency:
Russia's ruble is the strongest currency in the world this year

May 27, 2022

The Russian ruble is the best-performing currency in the world this year

Two months after the ruble's value fell to less than a U.S. penny amid the swiftest, toughest economic sanctions in modern history,  Russia's currency has mounted a stunning turnaround. The ruble has jumped 40% against the dollar since January.   …

The ruble's resiliency means that Russia is partly insulated from the punishing economic penalties imposed by Western nations after its invasion of Ukraine, although how long that protection will last is uncertain.  …

The main reason for the ruble's recovery is soaring commodity prices. After Russia invaded Ukraine on February 24, already high oil and natural gas prices rose even further. …

Russia is pulling in nearly $20 billion a month from energy exports. Since the end of March, many foreign buyers have complied with a demand to pay for energy in rubles, pushing up the currency's value.  …

Russia's central bank has also propped up the ruble with strict capital controls that make it harder to convert it to other currencies. That includes a ban on foreign holders of Russian stock and bonds taking dividend payments out of the country. …

Meanwhile, Russian exporters are required to convert half of their excess revenues into rubles, creating demand for the currency. (The conversion requirement was 80% until this week, when it dropped to 50%.) …

But while the ruble's bounceback and the strength of Russia's oil exports have temporarily cushioned the economy from sanctions, that's unlikely to last. https://www.cbsnews.com/news/russia-ruble-currency-2022/
Western sanctions pushed Russia to take steps. And yes, several of the moves against Russia are inflicting pain outside of Russia.
Those who thought that there were no costs to sanctions have again been proven wrong–irrespective of what later happens to the ruble.
From a prophetic perspective, let me add that increased Eurasian cooperation is consistent with prophecies in the New Testament related to kings of the east and Armageddon as well as prophecies in the Old Testament about a military alliance that will be led by Russia (see also Russia and Ukraine: Their Origins and Prophesied Future).
This aligning of a new order of nations, along with "unintended consequences" of sanctions against Russia (and others) was also something we warned about in a video back in 2018: US Sanctions and Tariffs leading to New World Order?
Additionally, it should be pointed out that, the move away from the USA dollar will one day prove disastrous to the highly indebted USA (cf. Habakkuk 2:6-8).
Some items of possibly related interest may include:
The Eurasian Union, the Kings of the East, and Bible Prophecy Is there a Eurasian union that will be formed? Is one being formed right now? Are any leaders working on that in the 21st century? Does the Bible teach that there will be a Eurasian union? If some type of Eurasian union is formed, who might it benefit and who will it destroy? A related video would be Is The Eurasian Union Rising?
Russia and Ukraine: Their Origins and Prophesied Future Russia in prophecy. Where do the Russians come from? What about those in the Ukraine? What is prophesied for Russia and its allies? What will they do to the Europeans that supported the Beast in the end? There is also a video sermon available: Russia in the Bible and in Prophecy as are two video sermonettes Russia, Ukraine, Babylonian Europe, and Prophecy and Ukraine in Prophecy?
Is Russia the King of the North? Some claim it is. But what does the Bible teach? Here is a link to a video, also titled Is Russia the King of the North?
Ezekiel 38: For Russia & Iran in Our Day? Is Ezekiel 38 about to be fulfilled? Are we close to the battle with Gog and Magog? Four related videos are available: Ezekiel 38 Gog and Magog War: Is it Soon?, Ezekiel 38: For Russia, Ukraine, & Iran Now?, Russia, Iran, Syria, & the Bible (Code), and Gog, Magog, Vladimir Putin, and Ezekiel 38?
Armageddon Who is involved and when will this gathering happen? Here is also a video from Dr. Thiel, from Tel Megiddo in Israel: Armageddon. Other videos include: Armageddon Will it come on Trump's watch?, Iraq, Armageddon, & Prophecy, Freemasonry, Armageddon, and Rome, Is China paving roads to Armageddon?, and Jordan, Petra, and Armageddon.
Asia in Prophecy What is Ahead for Asia? Who are the "Kings of the East"? What will happen to nearly all the Chinese, Russians, Indians, and others of Asia? China in prophecy, where? Who has the 200,000,000 man army related to Armageddon? Here is a link to a related sermon: Asia in Prophecy. Two YouTube video are Is China THE Threat to the United States of America? and China: A King of the East.
The Times of the Gentiles Has there been more than one time of the Gentiles? Are we in it now or in the time of Anglo-America? What will the final time of the Gentiles be like? A related sermon is available and is titled: The Times of the Gentiles.
USA in Prophecy: The Strongest Fortresses Can you point to scriptures, like Daniel 11:39, that point to the USA in the 21st century? This article does. Two related sermon are available: Identifying the USA and its Destruction in Prophecy and Do these 7 prophesies point to the end of the USA?
Who is the King of the West? Why is there no Final End-Time King of the West in Bible Prophecy? Is the United States the King of the West? Here is a version in the Spanish language: ¿Quién es el Rey del Occidente? ¿Por qué no hay un Rey del Occidente en la profecía del tiempo del fin? A related sermon is also available: The Bible, the USA, and the King of the West.
Biden-Harris: Prophecies and Destruction Can the USA survive two full presidential terms? In what ways are Joe Biden and Kamala Harris apocalyptic? This book has hundreds of prophecies and scriptures to provide details. A Kindle version is also available and you do not need an actual Kindle device to read it. Why? Amazon will allow you to download it to almost any device: Please click HERE to download one of Amazon s Free Reader Apps. After you go to your free Kindle reader app (or if you already have one or a Kindle), you can go to: Biden-Harris: Prophecies and Destruction (Kindle) to get the book in seconds.