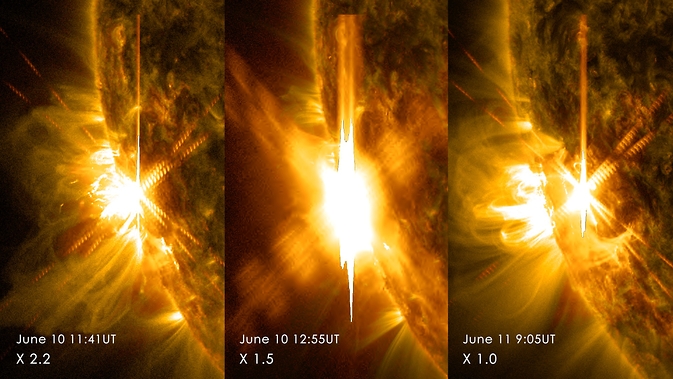 NASA Photos of Three Solar Flares

A reader sent me the following:
Solar Eclipse Next Year to Threaten Europe's Grid

A solar eclipse in March 2015 will likely have heavy impacts on Europe's electrical grid, said French power grid RTE.

The eclipse will block direct sunlight over Norway and northern Europe for about an hour and a half on March 20, 2015.

"The passage of this shadow will considerably reduce photovoltaic power production," said Dominique Maillard, the chief executive of RTE. "According to our calculations, the impact could be a drop in production of as much as 30,000 megawatts across Europe; it's the equivalent of a 6-degrees-Celsius [11-degree-Fahrenheit] drop in temperatures in half an hour," Maillard added.

RTE has begun talking with other European grid operators on how to coordinate their response and how to best back up the power capacity, Maillard said.

Since the last major eclipse in August 1999, Europe's solar production has increased exponentially. The eclipse could cause large changes in output and may require adjustments to the grids. Germany has Europe's largest solar capacity, with nearly 37,000 megawatts, and has met 28.5 percent of the country's domestic power demand for the first half of the year.  http://www.accuweather.com/en/features/trend/solar_eclipse_next_year_to_thr/37151675
Because of the dependency of Western societies on electricity, computers, etc., the West is certainly vulnerable to massive upheavals in the event of a massive solar flare or something that affects the earth electrically (electromagnetic pulse-type bombs also come to mind). I suspect that there will be major electrical sorrows and troubles before the end (cf. Mark 13:8b,c). But troubles of themselves are not the end (Matthew 24:6)–that comes later (Matthew 24:21).
Solar storms (which can be worse than solar eclipses) and the related damage were discussed in my book 2012 and the Rise of the Secret Sect (which I wrote in 2009). Here are several passages related to them, which helps show what could happen if a massive solar flare-up did not miss:
Notice the following from N.A.S.A.:
Solar Storm Warning: Researchers announced that a storm is coming—the most intense solar maximum in fifty years. The prediction comes from a team led by Mausumi Dikpati of the National Center for Atmospheric Research (NCAR)…
Solar physicist David Hathaway of the National Space Science & Technology Center (NSSTC)…has confidence in the conveyor belt model and agrees with Dikpati that the next solar maximum should be a doozy. But he disagrees with one point…a storm is coming.

Solar outbursts have been proposed that could essentially wipe out modern civilization.
Notice a scenario that is based on a report from the U.S. National Academy of Scientists (although the precise date seems to be speculative):
IT IS midnight on 22 September 2012 and the skies above Manhattan are filled with a flickering curtain of colourful light…Within 90 seconds, the entire eastern half of the US is without power.
A year later and millions of Americans are dead and the nation's infrastructure lies in tatters. The World Bank declares America a developing nation. Europe, Scandinavia, China and Japan are also struggling to recover from the same fateful event – a violent storm, 150 million kilometres away on the surface of the sun…

According to the NAS report, a severe space weather event in the US could induce ground currents that would knock out 300 key transformers within about 90 seconds, cutting off the power for more than 130 million people…
First to go – immediately for some people – is drinkable water…With no electricity to pump water from reservoirs, there is no more…There is simply no electrically powered transport: no trains, underground or overground…For hospitals, that would mean about 72 hours of running a bare-bones, essential care only, service. After that, no more modern healthcare.

The truly shocking finding is that this whole situation would not improve for months, maybe years…

There also seems to be a couple of Mayan predictions recorded in the 16th century that suggest some type of solar flare-up will affect the earth:

Chilam Balam (Mayan priest): Heaven and earth shall burn…It is the holy judgment, the holy judgment.

Napuctun (Mayan priest): It shall burn on earth; there shall be a circle in the sky.

Another N.A.S.A./N.O.A.A. report has indicated that the next solar cycle peak may be later, like May 2013… The Bible itself warns of a time of scorching solar heat (Revelation 16:8-9…)…

that flood and other prophecies are expected before 2030 (but after 2012)…

Whether or not one believes secular scientists who assert that humans are causing "global warming," and islands will be submerged, the Bible is clear that a time of high heat will happen, probably worsened by a solar flare-up of some type. It also mentions the islands being gone:

8 Then the fourth angel poured out his bowl on the sun, and power was given to him to scorch men with fire. 9 And men were scorched with great heat, and they blasphemed the name of God who has power over these plagues; and they did not repent and give Him glory…every island fled away (Revelation 16:8-9, 20).

The signs will be powerful. And the Babylonian power will fall during the Day of the Lord (Revelation 18:2). (Thiel B. 2012 and the Rise of the Secret Sect. Nazarene Books, 2009)
So, my 2012 book was right that the scorching heat and certain other prophecies would not happen until after 2012. But heat and others troubles will happen, and some heat and other weather problems have been happening.
The Bible warns about a time in the Book of Revelation of solar disturbances:
8 Then the fourth angel poured out his bowl on the sun, and power was given to him to scorch men with fire. 9 And men were scorched with great heat, and they blasphemed the name of God who has power over these plagues; and they did not repent and give Him glory. (Revelation 16:8-9)
Although at least one "2012" book has tried somewhat to tie the "solar flare" disaster into the Mayan date (Joseph LE. Apocalypse 2012: An Investigation into Civilization's End. Broadway, 2008; and that author distanced himself from aspects of his book before the Mayan date), the prophesied real time of scorching solar heat cannot come for several years. Though electrical problems with solar flares have happened in the past, and those can occur almost any time.
On December 19, 2102 I reported:
Even though there could be some solar flare damage on 12/21/12, the "big one" that many scientists are concerned about will not happen this week. (see Solar flare threat is real, but the biblical 'big one' is not this week)
And there was no major solar storm damage then, or so far, through today. Interestingly, last month NASA declared that a solar flare disaster had barely been missed in 2012 (see NASA claims solar 'Apocalypse' just missed, and NASA also has its own problems). However, that was too early as far as biblical prophecy was concerned.
Yet in the future, there are real electrical risks for the Europe, USA, Canada, UK, and other nations. Solar flares could cause problems to many nations.
But most ignore warning signs. Will you?
Some items that might be of assistance in understanding end-time events may include:
When Will the Great Tribulation Begin? 2015, 2016, or 2017? Can the Great Tribulation begin today? What happens before the Great Tribulation in the "beginning of sorrows"? What happens in the Great Tribulation and the Day of the Lord? Is this the time of the Gentiles? When is the earliest that the Great Tribulation can begin? What is the Day of the Lord? Who are the 144,000? Here is a version of the article in the Spanish language: ¿Puede comenzar la Gran Tribulación en 2014 o 2015? ¿Es el Tiempo de los Gentiles? You can also see the English language sermon video: The Great Tribulation from the Mount of Olives.
World War III: Steps in Progress Are there surprising actions going on now that are leading to WWIII? Might a nuclear attack be expected? Does the Bible promise protection to all or only some Christians? How can you be part of those that will be protected? A related video would be Is World War III About to Begin? Can You Escape?
Blood Moons and Prophecy There were four 'blood moons' expected in 2014 and 2015. Do they signal the Day of the Lord or the return of Jesus Christ? A related YouTube video is also available: Blood Moons, Prophecy, 2014, and 2015.
Weather Blessings and Sorrows Are weather problems a warning? What should be done? What does the Bible teach about weather? What about floods, droughts, heat, earthquakes, tornadoes, and solar storms? Here is a related YouTube video Does God Use Weather?
Anglo – America in Prophecy & the Lost Tribes of Israel Are the Americans, Canadians, English, Scottish, Welsh, Australians, Anglo-Saxon (non-Dutch) Southern Africans, and New Zealanders descendants of Joseph? Where are the lost ten-tribes of Israel? Who are the lost tribes of Israel? What will happen to Jerusalem and the Jews in Israel? Will God punish the U.S.A., Canada, United Kingdom, and other Anglo-Saxon nations? Why might God allow them to be punished first? Here is a link to the Spanish version of this article: Anglo-América & las Tribus Perdidas de Israel. Information is also in the YouTube sermons titled Where are the Ten Lost Tribes? Why does it matter? and British are the Covenant People. A short YouTube of prophetic interest may be Barack Obama and the State of the Apocalypse.
Will the Anglo-Saxon Nations be Divided and Have People Taken as Slaves? Will the lands of the United States, United Kingdom, Canada, Australia, and New Zealand be divided? What about Jerusalem? What does Bible prophecy teach? Are there non-biblical prophecies that support this idea? Who will divide those lands? Who will end up with the lands and the people? Here is a link to a video titled Will the USA and other Anglo-nations be Divided and Their People Made Slaves? Here is a related item in the Spanish language ¿Serán divididas las naciones anglosajonas?
British are the Covenant People What do 'British' and 'Britain' mean in Hebrew? Are the descendants of the Anglo-Saxons people of the covenant? Does the British royal family connect to the throne of David? What does the Bible teach? What does history show us? Is there any DNA evidence related to British-Israelism? When did Christianity make it to the British Isles? Could Jeremiah have made it to the British Isles? What type of Christians made it to the British Isles? Did the last King of England believe in British Israelism?