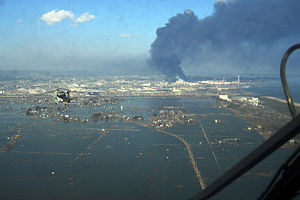 2011 Tōhoku Earthquake and Tsunami
The Solomon Islands was hit with an earthquake and tsunami:
Tsunami Causes Deaths and Damages Homes on Solomon Islands

By SUZANNE McFADDEN and GERRY MULLANY

Published: February 6, 2013

AUCKLAND, New Zealand — A powerful 8.0 magnitude earthquake caused a tsunami that sent strong waves crashing into several South Pacific islands on Wednesday, with officials in the Solomon Islands saying that at least four people died…At least 100 homes in the community of Lata were destroyed by a surge of water…

Government officials said that in addition to the four confirmed deaths in the islands, there were unconfirmed reports that some people in fishing boats were swept out to sea.  http://www.nytimes.com/2013/02/07/world/asia/earthquake-tsunami-solomon-islands-south-pacific.html?_r=0

6 February 2013

A powerful earthquake off the Solomon Islands on Wednesday generated a tsunami of up to 1.5 meters (about 5 feet) that damaged dozens of homes and left several people missing and presumed dead in the South Pacific island chain.

Authorities canceled tsunami warnings on more distant coasts.  http://abcnews.go.com/International/wireStory/tsunami-warning-issued-south-pacific-islands-18415084
Certainly, there are "earthquakes in various places" as Jesus foretold.  Weather problems are consistent with Jesus' warnings about "troubles" and the "beginning of sorrows."
Jesus taught:
7 For nation will rise against nation, and kingdom against kingdom. And there will be famines, pestilences, and earthquakes in various places. 8 All these are the beginning of sorrows. (Matthew 24:7-8).

8 For nation will rise against nation, and kingdom against kingdom. And there will be earthquakes in various places, and there will be famines and troubles. These are the beginnings of sorrows. (Mark 13:8)
Increases in severe weather certainly are troubles. Back in 2009, my book, 2012 and the Rise of the Secret Sect mentioned the following was about to happen:
| | |
| --- | --- |
| Odd weather patterns result in food shortages and natural disasters. | Matthew 24:7 |
| | |
| --- | --- |
| The world is actually in a berserk transition, as the real age of peace is not yet here. It may be a period of chaos. It is the beginning of sorrows. | Matthew 24:8 |
A late 2011 report from the NRDC said nearly 3,000 weather records were broken in the U.S. up to the end of October, 2011 (see NRDC: All US States Had Extreme Weather; Confirms 2012 Book Prediction) while 2012 itself broke additional weather records (see 2012: The year of extreme weather).
Bible prophecy is coming to pass.
Those affected in the Solomon Islands are in my prayers.
Some articles of possibly related interest may include:
Earthquakes Today and Bible Prophecy Contains a cool up-to-the-hour update of earthquakes around the world from USGS. It also explains what did Jesus teach about earthquakes and how the Bible describes "the big one" (as well as when it is expected).
Can the Great Tribulation Begin in 2013, 2014, or 2015? Can the Great Tribulation begin today? When is the earliest that the Great Tribulation can begin? What is the Day of the Lord? What is "the beginning of sorrows"? Have we begun or are we about ready for "the beginning of sorrows" to begin.
Islands and Bible Prophecy What's ahead for islands? What does the Bible prophesy about them?