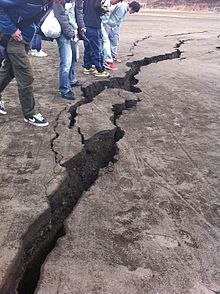 Earth cracked by quake in Japan (Danny Choo)
Another earthquake hit northern Japan:
TOKYO — Japan's Meteorological Agency says a strong earthquake with a preliminary magnitude of 6.5 has jolted northeastern Japan, the same region devastated by March's massive quake and tsunami.  http://www.huffingtonpost.com/2011/07/23/japan-earthquake-northeastern_n_907565.html?icid=main%7Chtmlws-main-n%7Cdl1%7Csec3_lnk1%7C219842
Jesus, of course, warned about a time with such issues:
8 … And there will be earthquakes in various places, and there will be…troubles. These are the beginnings of sorrows. (Mark 13:8)
We may be at this prophetic point as all the earthquakes and other problems that have happened in the past year or so could be considered as "troubles".
Perhaps the earthquake can serve as another wake-up call to the Japanese and others that the world can change very quickly and that the time to repent is now:
30 Truly, these times of ignorance God overlooked, but now commands all men everywhere to repent, 31 because He has appointed a day on which He will judge the world in righteousness by the Man whom He has ordained. He has given assurance of this to all by raising Him from the dead. (Acts 17:30-31)
There are troubles and repentance is needed.
Some articles of possibly related interest may include:
Are You Saved? Do You Love Jesus? What is a True Christian? What is the Gospel? Evangelist Richard Ames answers those important questions.
Read the Bible Christians should read and study the Bible. This article gives some rationale for regular bible reading.
Can the Great Tribulation Begin in 2011, 2012, or 2013? Can the Great Tribulation begin today? When is the earliest that the Great Tribulation can begin? What is the Day of the Lord? What is "the beginning of sorrows"? Have we begun or are we about ready for "the beginning of sorrows" to begin.
Japan, Its Biblical Past and Future, Part 1: Any Witness? Where did the Japanese people come from? Have they had any witness?
Japan, Its Biblical Past and Future, Part 2: Prophecy Japan in prophecy. What is prophesied for Japan? Will God save the Japanese?
Islands and Bible Prophecy What's ahead for islands? What does the Bible prophesy about them?
Asia in Prophecy What is Ahead for Asia? Who are the "Kings of the East"? What will happen to nearly all the Chinese, Russians, Indians, and others of Asia? China in prophecy, where? Who has the 200,000,000 man army related to Armageddon?
Physical Preparation Scriptures for Christians. We all know the Bible prophecies famines. Should we do something?