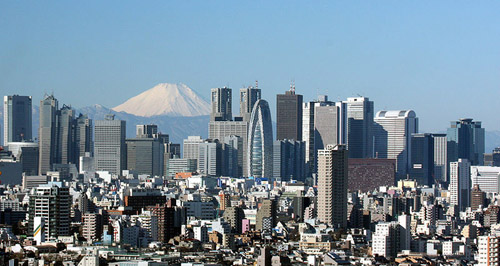 Tokyo, Japan
Japan is changing prime ministers again:
Why Hatoyama – and many Japanese prime ministers – stumbled

Yukio Hatoyama is Japan's fourth prime minister in a row to last for less than a year, and the 15th to hold the post in 21 years. Many PMs have risen as part of a political dynasty without having to hone leadership skills. By Gavin Blair, Correspondent / June 3, 2010

Tokyo

When Japan's next prime minister takes office following Yukio Hatoyama's resignation announcement on Wednesday, he will be the 15th occupant of the office in the past 21 years.

http://www.csmonitor.com/World/Asia-Pacific/2010/0603/Why-Hatoyama-and-many-Japanese-prime-ministers-stumbled
Another prime minister will soon be in charge in Japan.  I reported about the last one when he took office (Japan Changed Government).
So what is the prophetic connection?
Well, this rotating prime ministership situtation suggests that the Japanese are probably getting ready for a stronger leader.  And whether or not that happens within Japan soon, Japan seems prophesied to support a strong Asian military alliance.   All the governmental confusion that it has had will likely make this more acceptable to the Japanese.
Some articles of possibly related interest may include:
Japan, Its Biblical Past and Future, Part 1: Any Witness? This is a brief article about Japan. Have they had any witness?
Japan, Its Biblical Past and Future, Part 2: Prophecy Japan in prophecy. What is prophesied for Japan? Will God save the Japanese?
Asia in Prophecy What is Ahead for Asia? Who are the "Kings of the East"? What will happen to nearly all the Chinese, Russians, Indians, Japanese, and others of Asia? China in prophecy, where? Who has the 200,000,000 man army related to Armageddon?