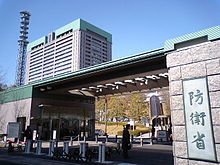 Japanese Ministry of Defense (本屋)
Japan is apparently getting concerned enough about China, the relative decline of the USA, etc. to decide to expand its military:
June 22, 2012

22 June 2012
Tokyo has only to strike out controversial phrase

The world has long regarded Japan as a virtual nuclear power. On Wednesday, Tokyo took its first step toward becoming a "real" one.

The upper house of Japan's Diet passed an amendment to the country's Atomic Energy Basic Law to allow the use of nuclear power for "national security," according to the Tokyo Shimbun. The addition of these controversial words was made so furtively that not only the Japanese public but even many Lower House lawmakers didn't know about it, other reports say.

Despite denials from the Japanese government, there should be little doubt about Tokyo's intention ― nuclear armament. The stealthy way the Japanese parliament handled the matter proves it. http://www.koreatimes.co.kr/www/news/opinon/2012/06/202_113619.html
Japan has rewritten the basic law on atomic energy to include "national security" among its goals, fueling concerns over the possibility of using nuclear power for military purposes.The first amendment in 34 years of the Atomic Energy Basic Act, a regulatory and institutional roadmap for its nuclear activities, invited criticism from Japan's anti-nuclear scientists and civic activists. http://view.koreaherald.com/kh/view.php?ud=20120621001215&cpv=0
The nuclear potential of Japan is of major concern to South Korea and seems to be getting a lot of press coverage there.  Wikipedia notes, "In 1910, Korea was invaded by Japan and remained occupied until the end of World War II in August 1945." The Koreans have not forgotten this.
But the reality is that Japan, China, and Korea (likely both what is now North and South) will cooperate together militarily for a while as they are all likely part of the prophesied "kings of the sunrise" *Revelation 16:12, literal translation) of Bible prophecy.  Japanese military technology may assist this confederation greatly in the future, for a short time.
To learn more, please check out the following articles:
Asia in Prophecy What is Ahead for Asia? Who are the "Kings of the East"? What will happen to nearly all the Chinese, Russians, Indians, and others of Asia? China in prophecy, where? Who has the 200,000,000 man army related to Armageddon?
Korea in Prophecy, Any Witness? Where did the Korean people come from? Does God have a plan for the Koreans? Is Korea mentioned in any prophecies? Will Koreans be among the first in the Kingdom of God? 한국의 언어로 : 한국 예언, 모든 증인에?
Japan, Its Biblical Past and Future, Part 1: Any Witness? Where did the Japanese people come from? Have they had any witness?
Japan, Its Biblical Past and Future, Part 2: Prophecy Japan in prophecy. What is prophesied for Japan? Will God save the Japanese?