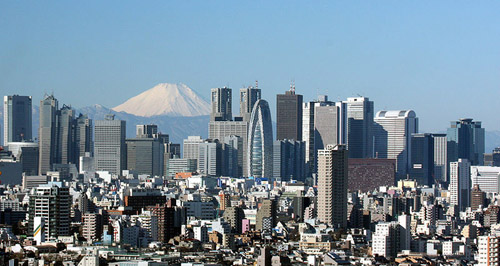 Tokyo, Japan
Japan has become increasingly concerned about its military defensiveness:
Japanese, U.S. Seal Okinawa Base Deal

Wall Street Journal – May 28, 2010

TOKYO—The Japanese government issued a joint statement with the U.S. formally sealing a controversial agreement to keep a large number of Marines on the southern island of Okinawa, after the Obama administration made some small concessions to help Prime Minister Yukio Hatoyama save face for breaking a campaign promise.

The new pact, issued Thursday night in Washington, places greater emphasis than previous agreements on environmental protection, a major concern of critics of the plan for the military base. http://online.wsj.com/article/SB10001424052748704269204575271201317911176.html?mod=WSJ_hpp_sections_world

Japan may re-arm

OneNewsNow – May 27, 2010

A Pentagon advisor and national defense expert says the recent revelation that North Korea was responsible for the sinking of a South Korean warship has compelled Japan to rethink its national security policy.

Tensions over North Korea's sinking of a South Korean warship are serious enough to have prompted Japan's Prime Minister Yukio Hatoyama to break a campaign promise. He had pledged to close the U.S. Marine base in Okinawa, but he now says he has decided to keep Marine Corps Air Station located on the strategically important island, which is close to Taiwan and the Chinese mainland and not far from the Korean peninsula.

The island hosts more than half the 47,000 American troops in Japan under a mutual security pact…
For the time being, Japan will still rely on the USA, but it is starting to rethink that strategy.
The reality is that the Bible tells of a time when "the kings of the sunrise" (Revelation 16:12, literal translation) will get together militarily.  Since Japan is known as "the land of the rising sun", it would seem that the prophecy in Revelation includes it.
So, while Japan may decide at this time to re-arm to deal with North Korea and China, the most likely reality is that in the future it will decide to cooperate militarily with China and other Asian powers.
Some articles of possibly related interest may include:
Japan, Its Biblical Past and Future, Part 1: Any Witness? This is a brief article about Japan. Have they had any witness?
Japan, Its Biblical Past and Future, Part 2: Prophecy Japan in prophecy. What is prophesied for Japan? Will God save the Japanese?
Korea in Prophecy, Any Witness? Does God have a plan for the Koreans? Is Korea mentioned in any prophecies? Will Koreans be among the first in the Kingdom of God? 한국의 언어로 : 한국 예언, 모든 증인에?
Asia in Prophecy What is Ahead for Asia? Who are the "Kings of the East"? What will happen to nearly all the Chinese, Russians, Indians, Koreans, and others of Asia? China in prophecy, where? Who has the 200,000,000 man army related to Armageddon?