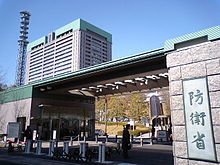 Japanese Ministry of Defense (本屋)
Some in South Korea are apparently getting concerned enough about China and North Korea that it is considering closer military ties to Japan:
SEOUL, July 8 (Yonhap) — South Korea should push ahead with a military pact with Japan to gain diplomatic leverage against China's foreign policy that is lopsided toward North Korea, a researcher said Sunday.

"The gains from signing a pact (with Japan) are evident," said Park Jae-jeok of the state-run Korea Institute for National Unification in a report, referring to information on North Korea as a possible gain from the pact.
While many in the West will consider the above to perhaps be "common-sense," the reality is that South Korea has long had major concerns about Japan itself.  As the following news items show, it may take Koreans a while to accept this:
Nearly 70 years after World War II, old animosities are still making it difficult for South Korea and Japan to establish a reliably productive relationship. The result is self-defeating for both countries and for regional security.

The Register-Guard 8 July 2012

The June 29 Register-Guard reported from Tokyo that Japan and South Korea signed a military pact.

"Japan and South Korea," the news report said, "have agreed to share intelligence in their first joint military pact since World War II. …

"The pact reflects mutual concerns that more cooperation is needed to enhance security readiness (against North Korea in particular), and is seen as a breakthrough in ties between the two neighbors."

The pact also is an integral part of America's security policy in the Pacific region, involving a U.S., Japanese and South Korean defense and security alliance.

But it never happened.

When South Koreans learned that their government had decided secretly to sign the pact, they exploded in rage, condemning and accusing their leaders of engaging in a "clandestine, traitorous act" and ignoring the ethos of the Korean people — namely Koreans' deep-seated distrust of the Japanese…

Korean animosity toward Japan was born more than 400 years ago, from 1592 to 1597, when Japan's military ruler, Toyotomi Hideyoshi, in his grandiose dream of becoming "the emperor of all Asia," sent 160,000 sword-swinging troops to Korea (then the Kingdom of Joseon).
Wikipedia notes, "In 1910, Korea was invaded by Japan and remained occupied until the end of World War II in August 1945." The Koreans have not forgotten this.  But eventually, they will change.
Despite historical concerns across the region (the Chinese, for example, were attacked by Japan in WWII), the reality is that Japan, China, and Korea (likely both what is now North and South) will cooperate together militarily for a while as they are all likely part of the prophesied "kings of the sunrise" (Revelation 16:12, literal translation) of Bible prophecy.
The fact that many in South Korea have historical problems with Japan will not change the fact that biblical prophecy will be fulfilled.  As long as some in South Korea bring up cooperation publicly, the time will come when the South Koreans will decide that they want to cooperate.
To learn more, please check out the following articles:
Asia in Prophecy What is Ahead for Asia? Who are the "Kings of the East"? What will happen to nearly all the Chinese, Russians, Indians, and others of Asia? China in prophecy, where? Who has the 200,000,000 man army related to Armageddon?
Korea in Prophecy, Any Witness? Where did the Korean people come from? Does God have a plan for the Koreans? Is Korea mentioned in any prophecies? Will Koreans be among the first in the Kingdom of God? 한국의 언어로 : 한국 예언, 모든 증인에?
Japan, Its Biblical Past and Future, Part 1: Any Witness? Where did the Japanese people come from? Have they had any witness?
Japan, Its Biblical Past and Future, Part 2: Prophecy Japan in prophecy. What is prophesied for Japan? Will God save the Japanese?