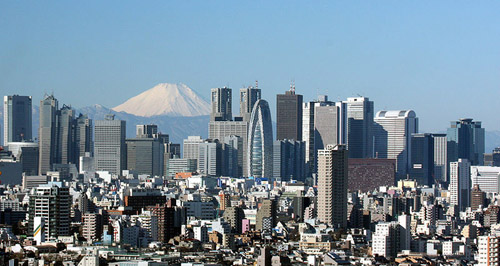 Tokyo, Japan
Japan's debt made the news:
Risk of Japan going bankrupt is real, say analysts

http://www.google.com/hostednews/afp/article/ALeqM5iV4Pk6Ty-CGoOR84zQgvH_Idf_XQ
Japan will likely issue more government bonds and be able to extend itself until at least 2012.
But there are several differences between Japan's debt and that of the USA.  For one, the USA owes Japan about a trillion dollars.  But if the USA essentially defaults (through monetizing its debt to the point that the USA is worth considerably less), then the situation in Japan would likely become more desperate.
Japan will, eventually, end up making some type of deal with China.  At the time of the end, the Bible tells of military co-operation between "the kings of the sunrise" (Revelation 16:12, literal translation)–and that would seem to have to include Japan (which is known as "the land of the rising sun").  And other prophecies (e.g. Revelation 9:13-20) strongly indicate that China would be in that same deal.  But the Bible is not clear as to whether debt may trigger it, but it might.
As Jesus said:
37 And what I say to you, I say to all: Watch! (Mark 13:36-37)
Some articles of possibly related interest may include:
Japan, Its Biblical Past and Future, Part 1: Any Witness? This is a brief article about Japan. Have they had any witness?
Japan, Its Biblical Past and Future, Part 2: Prophecy Japan in prophecy. What is prophesied for Japan? Will God save the Japanese?
End of Mayan Calendar 2012–Might 2012 Mean Something? Are there Mayan calendar predictions for change in 2012? Changes were centuries ago predicted by the Hopi Native Americans. Do Mayan/Hindu/Hopi/Buddhist/New Age/Nostradamus prophecies have any value here? Why might Satan have inspired this date? Does the Dresden codex show destruction of the earth by flood? Can the great tribulation start before 2012? How might Barack Obama be involved in 2012?
2012 and the Rise of the Secret Sect This is a link related to a book by Bob Thiel (COGwriter). This also has YouTube videos related to 2012. It discusses Asia in prophecy, amongst other places.
2012 y el surgimiento de la secta secreta Nuevo libro del Dr. Thiel en Español.
2012 und das Auftreten der geheimen Sekte (German Edition) 2012 Buch von Dr. Thiel in deutscher Sprache.