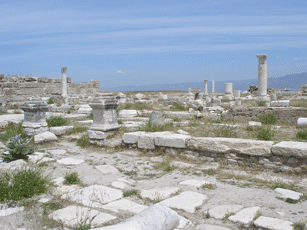 Ancient Laodicea

UCG officially reported the following today:
Updates On UCG Administration Changes

April 12, 2010

Based on actions taken by the Church's Council of Elders in early April, an orderly transition for certain positions within the Church's executive management structure has begun. At the formal request of the Council, Clyde Kilough resigned his position as president of the Church and it was accepted. A few other senior members of the Church's management team tendered their resignations from administrative positions. All were accepted and Mr. Kilough and the other ministers involved will now re-enter the full-time field ministry of the United Church of God.

Roy Holladay, a former president of the Church and the current chairman of the Council of Elders, has temporarily assumed the position of president. During this transition period and beyond, the Church's intense focus on the preaching of the Gospel will remain unchanged, including the plans to move forward with new commercial television programming. Details of this transition and interim appointments to administrative positions will be announced shortly by the Council.  http://members.ucg.org/content/updates-ucg-administration-changes
Suggesting that the resignation of the president and other two top leaders in UCG are simply "UCG Administrative Changes" is one way to attempt to minimize what this means.
Which is?
That UCG still has major differences in how it should be governed and never truly has been "united" (see, for example UCG Having More Dissent which highlights some of its 2008 issues).
Now, I am not trying to imply that the changes in UCG in the short-term are necessarily bad, just that once again, its Council of Elders has not been unified.
Some articles of possibly related interest may include:
Polycarp, Herbert W. Armstrong, and Roderick C. Meredith on Church Government What form of governance did the early church have? Was it hierarchical? Which form of governance would one expect to have in the Philadelphia remnant? The people decide and/or committee forms, odd dictatorships, or the same type that the Philadelphia era itself had?
Differences between the Living Church of God and United Church of God This article provides quotes information from the two largest groups which had their origins in WCG as well as commentary.
There are Many COGs: Why Support the Living Church of God? This is an article for those who wish to more easily sort out the different COGs. It really should be a MUST READ for current and former WCG/GCI members or any interested in supporting the faithful church. It also explains a lot of what the COGs are all about.