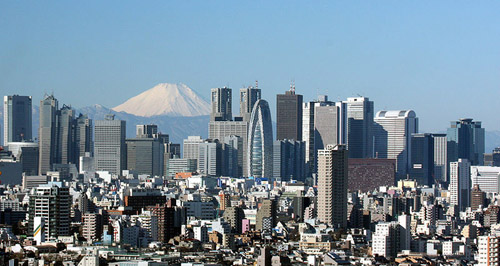 Tokyo, Japan
Another major USA bank has filed for bankruptcy protection:
CIT Group Files Bankruptcy, Seeks to Reduce Debt (Update1)
http://www.bloomberg.com/apps/news?pid=20601103&sid=aGugBgO.xUZw
The USA is on shaky grounds financially and will likely remain there until it falls completely (see ).
But there are also serious rumblings in Japan:
Japan is drifting helplessly towards a dramatic fiscal crisis. For 20 years the world's second-largest economy has been able to borrow cheaply from a captive bond market, feeding its addiction to Keynesian deficit spending – and allowing it to push public debt beyond the point of no return.

Telegraph, London – Nov 1, 2009  by Ambrose Evans-Pritchard
The situation in Japan will likely ultimately result in it having a closer arrangement with China, as Japan is likely to be one of the "kings of the sunrise" that Bible prophecy discusses (see Japan, Its Biblical Past and Future, Part 2: Prophecy).
The world financial order is changing right before our eyes and all should realize that a new order is in the works.
Some articles of possibly related interest may include:
Japan, Its Biblical Past and Future, Part 1: Any Witness? This is a brief article about Japan. Have they had any witness?
Japan, Its Biblical Past and Future, Part 2: Prophecy Japan in prophecy. What is prophesied for Japan? Will God save the Japanese?
Asia in Prophecy What is Ahead for Asia? Who are the "Kings of the East"? What will happen to nearly all the Chinese, Russians, Indians, Japanese, and others of Asia? China in prophecy, where? Who has the 200,000,000 man army related to Armageddon?
Anglo – America in Prophecy & the Lost Tribes of Israel Are the Americans, Canadians, British, Scottish, Welsh, Australians, Anglo-Southern Africans, and New Zealanders descendants of Joseph? Where are the lost ten-tribes of Israel? Who are the lost tribes of Israel? Will God punish the U.S.A., Canada, United Kingdom, and other Anglo nations? Why might God allow them to be punished first?
Prophecies of Barack Obama? Eight reasons why Barack Obama is apocalyptic and eight reasons why Barack Obama is not the Antichrist. This article includes many biblical and non-biblical prophecies, from around the world, that seem to discuss Barack Obama. Did Nostradamus predict Barack Obama dealing with the Antichrist?  Might Barack Obama set the stage for the kings of the North and South as at least one Shiite prophecy suggests?  This is the longest and most complete article on this page on Barack Obama prophecies. Read it and decide for yourself if President Obama seems to be fulfilling various prophecies.
Barack Obama, Prophecy, and the Destruction of the United States Some claim that Barack Obama is the prophesied "son of Kenya", based up an early 20th century writing.