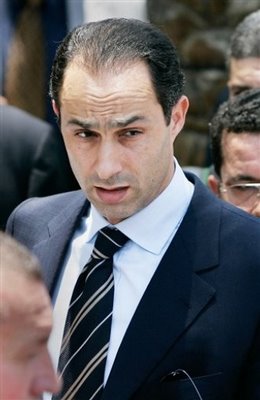 Gamal Mubarak (http://brucesmideastsoundbites.blogspot.com/2008_09_01_archive.html)
We in the Living Church of God suspect that the final King of the South could possibly come from Egypt.  Here is some information on one who is considered to be a possible future leader of Egypt:
Egypt's Political Winds Blow in Favor of President's Son

Wall Street Journal – Oct 31, 2009

CAIRO — The annual convention this weekend of Egypt's ruling party will offer a new opportunity for the nation to scrutinize Gamal Mubarak, the son of 81-year-old President Hosni Mubarak, amid speculation that he is being groomed to succeed his father.
Whether or not Gamal Mubarack will be the final King of the South, or even lead Egypt itself, is still a big question mark.  But the reality is that the final King of the South is alive now and it may be possible that  Gamal Mubarack could be a candidate for that role.  We will all have to watch and see.
Two articles of possibly related interest may include:
Is There A Future King of the South? Some no longer believe there needs to be. Might Egypt, Islam, Iran, Arabs, or Ethiopia be involved? What does the Bible say?
The Arab World In the Bible, History, and Prophecy The Bible discusses the origins of the Arab world and discusses the Middle East in prophecy. What is ahead for the Middle East and those who follow Islam?