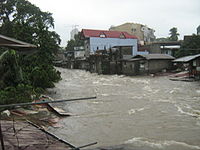 Aftermath of Typhoon Ketsana in Manila, Late September 2009

Another deadly storm hit the Philippines:
Death toll mounts as Philippines hit by third typhoon in a month

More than 100,000 evacuated as floodwaters rise in unusually late and harsh storm season

Jonathan Watts in Manila
The Observer, Sunday 1 November 2009

The typhoon death toll in the Philippines rose yesterday as the third storm in a month tore across the main island, destroying homes and sweeping away at least six people in flash floods.

More than 100,000 people were moved out of their homes ahead of the landfall of Typhoon Mirinae, the most recent of an unusually late and intense burst of storms to hit the archipelago.

Many of those who moved to emergency shelters in schools and other public buildings had only just returned to their homes after escaping an earlier typhoon, which dumped a month's rain on the islands in one day at the end of September.

The two cyclones followed similar paths, but yesterday's storm fortunately weakened before it hit Manila, a sprawling capital of 12 million people…

In Santa Cruz, in the centre of the country, floods sent residents clambering on to roofs. "We cannot move, this is no joke," the mayor, Ariel Magcalas, told a radio station. "The water is high. We need help." In Taytay township, further north, the lakeside shanty homes of about 2,000 people were destroyed by strong winds, said mayor Joric Gacula. Elsewhere trees were uprooted and power supplies cut as the typhoon made its way off the island and weakened on its way across the sea towards Vietnam.  http://www.guardian.co.uk/world/2009/nov/01/philippines-hit-by-third-typhoon
In today's update, LCG provided the following information on the previous storms:
Dayrell Tanner reports: I have just spoken to Mr. Osillos regarding how the brethren are coping in the Luzon area after the severe typhoons and flooding. He reports that approximately 11 families in the metro-Manila area were directly affected by the flooding there, some to a greater degree than others. Disaster relief funds have been distributed to most of these brethren for their immediate needs, but there will be a need for some additional assistance for some of them to repair their homes, motor vehicles, and damaged household goods. In one case, one of the brethren had his "Sari-Sari Store" (corner store) and all his stock, including 15 liquid gas tanks, completely washed away by the raging waters. This store is the major source of income for him. However, all the immediate needs of the brethren in metro-Manila have been covered, and they are getting back to the business of picking themselves up, and getting on with their lives. The brethren are so thankful for the fast response from the Church in sending assistance for them to quickly cover their basic needs, and get back on their feet.

Mr. Osillos will be travelling to Northern Luzon next week with Deacon Tito dela Cruz to assess the needs of the brethren there, who were seriously affected by the last typhoon that ripped through their areas…. This will require a lengthy journey by bus… he will be passing by his beloved city of the pines, Baguio City, where the Feast in Luzon was held, and this time, I hope, clear blue skies will greet him. The brethren in Mindanao were not affected by the typhoons, and their Feast was one in which they enjoyed pleasant sunny weather. We have a dedicated ministry, and dedicated brethren in the Philippines, who are used to hardship in their everyday lives, and as such they are very resilient, able to bounce back after setbacks. But they cry with great fervor, "Thy Kingdom Come!"….  Mr. Tyler and I will be going over there sometime in early December to follow up on the disaster relief, to complete work on new office arrangements, to visit the ministry in the Mindanao area and to plan ahead for next year's Feast sites.

Additional report by elder Jes Puzon: Here is good news after the Feast of Tabernacles 2009 flood in Baguio City! Noah's first act after surviving the Flood was to express thanks to God by offering a sacrifice (Genesis 8:20). And God was pleased. Similarly, Living Church of God brethren (around 54 of us) who were riding  the "Genesis" bus in the morning of Tuesday, October 13, 2009 would like to offer God "the sacrifice of praise" (Hebrews 13:15) and "the sacrifice of  thanksgiving" (Psalm 116:17). The "Genesis" bus we were riding was the first bus to be allowed to pass through the landslide road-cut at Taloy, Marcos highway, when going down from Baguio after the recent FOT 2009 flood (we were the first bus allowed to pass through, since our bus name was Genesis). God's timing was perfect—our scheduled trip at 5:00 a.m. was delayed for an hour, since the bus dispatcher was still taking a shower and then he found out that the door at his office was locked with the door key left inside.  Due to that delay, the brethren no longer had to go through the trouble of walking through the road-cut at Taloy with the heavy load of suitcases. We rejoice in what God has done (the brethren in the bus applauded for joy after our bus was allowed to pass through!) and glorify Him with Thanksgiving (Psalm 69:30-31).  We hope to always please our God!
It has been a rough typhoon season for the Philippines and other parts of Asia and the South Pacific this year.
Some articles of possibly related interest may include:
Islands and Bible Prophecy What's ahead for islands? What does the Bible prophesy about them?
Asia in Prophecy What is Ahead for Asia? Who are the "Kings of the East"? What will happen to nearly all the Asian?  Who has the 200,000,000 man army related to Armageddon?