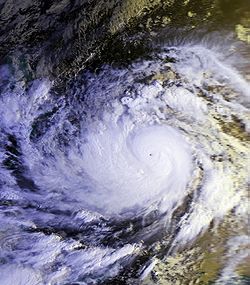 Typhoon Mike in 1990 Caused Massive Financial Damage to the Philippines
The Philippines are still experiencing problems from typhoons:
PHILIPPINES: Thousands still need aid in wake of typhoons

MANILA, 12 May 2009 (IRIN) – Emergency relief efforts continue for people displaced by two back-to-back typhoons that wreaked havoc across large parts of the eastern and northern Philippines.

The storms displaced more than 400,000 people, the vast majority of whom have yet to return home, the National Disaster Coordinating Council (NDCC) reported.

Defence Secretary Gilberto Teodoro, also chairman of the NDCC, said medicine, food and aid workers had been airlifted to areas in northern Luzon, devastated by Storm Chan-hom, which made landfall on 7 May, dumping heavy rains and causing landslides that killed 43 people.

It also displaced more than 161,020 people in 51 towns, six cities and 11 provinces in Luzon, the country's largest island.

Of this number, more than 4,000 remain in government-run evacuation centres, mostly schools, the NDCC said on 11 May, while the majority are still staying with family and friends.

"The damage was massive," Teodoro told IRIN, shortly after flying over Bolinao, a devastated coastal town in northern Pangasinan Province where many of the deaths occurred, with wooden houses blown away or partially damaged…

Chan-hom blew into the Philippines just days after tropical depression "Crising" and typhoon Kujira battered the eastern Bicol region and nearby provinces on 2 May, leaving 33 people dead and displacing 246,170, according to the NDCC…

The state weather bureau said the three storms, as well as a tropical depression that proceeded them, ushered in the early arrival of the annual typhoon season, which kills tens of thousands and causes widespread damage. About 20 typhoons strike the Philippines every year.
http://www.irinnews.org/Report.aspx?ReportId=84340
The usual heaviest storm season is July-October.
The Philippines, like most of the world, is also having economic problems. Its exports are down about 30% the past couple of months.
Several articles of possibly related interest may include:
Why Prophecy? Because the World Will Not End Next Week Some question or downplay the role of prophecy. This article gives some of the biblical reasons what it is important and explains why the world cannot end for at least 3 1/2 years from now.
End of Mayan Calendar 2012–Might 2012 Mean Something? There is a Mayan calendar prediction for change in 2012. 2012 changes were also centuries ago predicted by the Hopi Native Americans (the Hindus may have some predictions for the next decade as well). Do these Mayan/Hindu/Hopi prophecies have any value? Why might Satan have inspired this date? Does the Dresden codex show destruction of the earth by flood? Can the great tribulation start before 2012?
Islands and Bible Prophecy What's ahead for islands? What does the Bible prophesy about them?
Asia in Prophecy What is Ahead for Asia? Who are the "Kings of the East"? What will happen to nearly all the Chinese, Russians, Indians, Japanese, and others of Asia? Who has the 200,000,000 man army related to Armageddon?