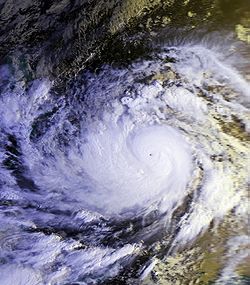 Typhoon Mike in 1990 Caused Massive Financial Damage to the Philippines
A typhoon that affected the Philippines is now apparently causing even more damage in China and is also affecting other parts of Asia according to the following AP report:
1 Million Evacuated as Typhoon Hits China

BEIJING —  A powerful typhoon toppled houses, flooded villages and forced nearly 1 million people to flee to safety on China's eastern coast before weakening into a tropical storm Monday.

Named Morakot, the storm struck after triggering the worst flooding in Taiwan in 50 years, leaving dozens missing and bringing down a six-story hotel. It earlier lashed the Philippines, killing at least 22 people.

Morakot, or emerald in Thai, slammed into China's Fujian province Sunday afternoon as a typhoon carrying heavy rain and winds of 74 miles (119 kilometers) per hour, according the China Meteorological Administration. At least one child died after a house collapsed in Zhejiang province.

By early Monday, the storm packed winds of 52 miles per hour (83 kilometers per hour) and churned at about 6 mph (10 kph), it said.

Hundreds of villages and towns were flooded and more than 2,000 houses collapsed, the official Xinhua News Agency said…

Taiwan's Disaster Relief Center said Morakot killed 12 people and another 52 were missing, including 14 people whose makeshift home was swept away. Two policemen were washed away while helping to evacuate villagers in southeastern Taitung county…

In Japan, meanwhile, Typhoon Etau slammed into the western coast Monday. Nine people were killed in raging floodwaters and landslides and nine others were missing, police said.

In the northern Philippines, the death toll from Morakot rose to 22 Monday with 18 injured and four missing, including three European tourists who were swept away. http://www.foxnews.com/story/0,2933,538583,00.html
Weather-related problems can greatly disrupt many lives.
LCG has long had a booklet of possibly related interest titled "Who Controls the Weather? " that is available for those interested in more on the weather and Bible prophecy.
Jesus foretold on a time of natural disasters as "the beginning of sorrows" (Matthew 24:7-8), but the Book of Revelation (16:8-11) tells of a time of even greater disturbances during "the Day of the Lord".

Now there is good news as ultimately, God's kingdom will come and those issues will be gone (Revelation 7:16).
Some articles of possibly related interest may include:
The Gospel of the Kingdom of God was the Emphasis of Jesus and the Early Church Did you know that? Do you even know what the gospel of the kingdom is all about? True religion should be based upon the true gospel.
Universal Offer of Salvation: There Are Hundreds of Verses in the Bible Supporting the Doctrine of True Apocatastasis Do you believe what the Bible actually teaches on this? Will all good things be restored? Does God's plan of salvation take rebellion and spiritual blindness into account?
Did The Early Church Teach Millenarianism? Was the millennium (sometimes called chiliasm) taught by early Christians? Who condemned it. Will Jesus literally reign for 1000 years on the earth? Is this time near?
Does God Have a 6,000 Year Plan? What Year Does the 6,000 Years End? Was a 6000 year time allowed for humans to rule followed by a literal thousand year reign of Christ on Earth taught by the early Christians? When does the six thousand years of human rule end?
Islands and Bible Prophecy What's ahead for islands? What does the Bible prophesy about them?
Asia in Prophecy What is Ahead for Asia? Who are the "Kings of the East"? What will happen to nearly all the Chinese, Russians, Indians, Japanese, and others of Asia? Who has the 200,000,000 man army related to Armageddon?
Japan, Its Biblical Past and Future, Part 1: Any Witness? This is a brief article about Japan. Have they had any witness?
Japan, Its Biblical Past and Future, Part 2: Prophecy Japan in prophecy. What is prophesied for Japan? Will God save the Japanese?
Can the Great Tribulation Begin in 2009, 2010, or 2011? Can the Great Tribulation begin today? What happens before in the "beginning of sorrows"? What happens in the Great Tribulation and the Day of the Lord? When is the earliest that the Great Tribulation can begin? What is the Day of the Lord?