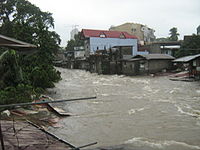 Aftermath of Typhoon Ketsana in Manila, Late September 2009

It has been a difficult month for the Philippines, and it appears that another typhoon may hit:
Third Typhoon Threatens Philippines

October 19, 2009

The Philippines, already devastated by deadly floods from two recent tropical cyclones, is bracing for yet a third storm, as typhoon Lupit approaches the island chain.

The most recent bulletin from catastrophe modeler Risk Management Solutions warns that Lupit "has continued to intensify over the weekend and as of this morning was located approximately 870 miles (1,395 km) east northeast of Manila, Philippines as a category 4 storm."

Lupit is moving in a northwest direction and is expected to continue for the next 12 hours before taking a more southwest direction towards the northern Philippines. The latest joint Typhoon Warning Center forecast indicates that Lupit will make landfall in northern Luzon Island on Thursday, 22 October.

However, RMS also indicated that a "slight deviation to the north would mean that Lupit may avoid a direct impact with the Philippines," but it is nonetheless expected to "bring heavy rainfall to northern Luzon later in the week.  http://www.insurancejournal.com/news/international/2009/10/19/104624.htm
Hundreds have died and thousands (if not millions) have been displaced by the previous storms and flooding.
LCG reported about its members there in its update a few days ago (available at www.cogwriter.com/lnews/dw1015.htm).
Some articles of possibly related interest may include:
Islands and Bible Prophecy What's ahead for islands? What does the Bible prophesy about them?
Asia in Prophecy What is Ahead for Asia? Who are the "Kings of the East"? What will happen to nearly all the Asian?  Who has the 200,000,000 man army related to Armageddon?