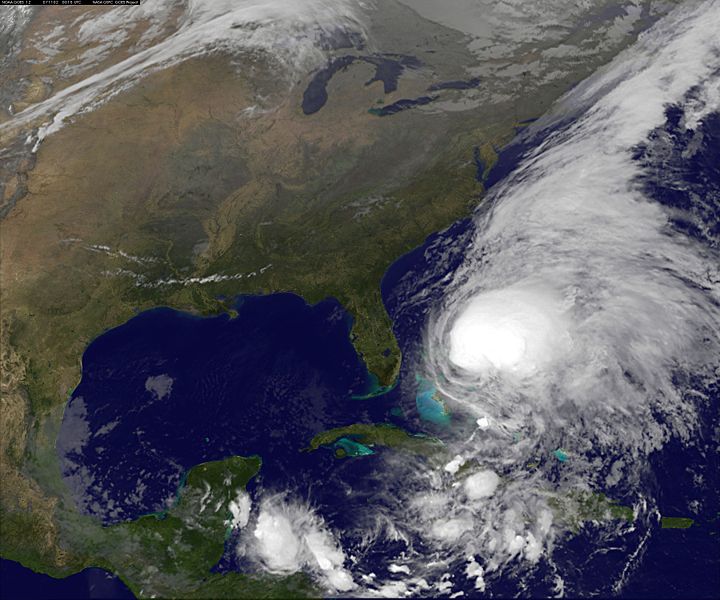 Hurricane Noel Near Peak Intensity in 2007
Floods hit China, Myanmar, the Caribbean and the USA Midwest in 2008.
Tropical storm Fay killed several in the Caribbean.
Now it is causing flooding in Florida:
Aug. 21 (Bloomberg) — Tropical Storm Fay lingered off the northeastern coast of Florida, causing widespread flooding in the state, prompting rescues and leaving thousands without power.,,
Fay May Strengthen
Fay may strengthen before heading back over land, bringing as much as 15 inches of rain to parts of northern Florida, according to the hurricane center advisory. Isolated parts of the state may even get 30 inches, the center said. The system continues to cause "widespread flooding" along parts of the state's east central coast, the Florida Division of Emergency Management said on its Web site.
In Brevard County, "severe flooding in some neighborhoods" led authorities to keep schools closed today, the county said on its Web site. Schools were also shut in the counties of Clay, Volusia, Indian River, Flagler, Putnam, Marion, St. Johns and Alachua, their governments said on their Web sites.
Wikipedia had this to say about Fay this morning:
As of 8 a.m. EDT (1200 UTC) August 21, Tropical Storm Fay is located within 15 nautical miles of 29.2°N 80.7°W, about 20 mi (30 km) east of Daytona Beach. Maximum sustained winds are 50 knots (60 mph, 95 km/h), with stronger gusts. Minimum central pressure is 994 mbar (hPa; 29.35 InHg), and the system is nearly stationary.
Tropical storm-force winds extend out up to 150 mi (240 km) from the center of Fay.
Rainfall amounts of 6 to 12 inches (150 to 300 mm) are expected over northeastern Florida, with isolated storm total amounts to 30 inches (750 mm) possible. Rainfall amounts of 3 to 6 inches (75 to 150 mm) are expected over southeastern Georgia and the northwestern Bahamas. Storm surges of 1 to 3 feet (< 1 m) are possible along the Atlantic coast of Florida.
Isolated tornadoes are possible across northeastern Florida and southeastern Georgia.
There seems to have been more flooding that usual this year in the USA and Asia.
Weather disasters are increasing and are prophesied to get worse.
LCG has long had a booklet of possibly related interest titled "Who Controls the Weather? " that is available for those interested in more on this subject.