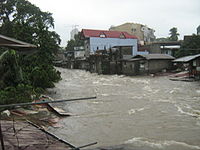 Aftermath of Typhoon Ketsana

There still are many problems related to the arrival of Typhoon Haiyan in the Philippines:
Pneumonia Is New Threat to Storm-Battered Philippines

November 22, 2013

TACLOBAN, the Philippines — Two weeks after Typhoon Haiyan devastated the east-central Philippines, a new problem has emerged: pneumonia.

Three Philippines Department of Health officials said in separate interviews on Friday night that acute respiratory infections, including pneumonia, were the biggest single public health problem to emerge since the typhoon.

Concerns about pneumonia came as the National Disaster Risk Reduction Management Council, a Philippines government agency, said the death toll had reached 5,209 by Friday evening. The agency uses a conservative figure for deaths that relies on bodies being found and logged by officials.  http://www.nytimes.com/2013/11/23/world/asia/pneumonia-a-new-threat-to-storm-battered-philippines.html?_r=0

November 22, 2013

MANILA — The death toll from Typhoon Haiyan in the Philippines has risen to more than 5,200, and officials say more than 1,600 people are still missing.

The latest figures were released by Philippine officials Friday — more than two weeks after Haiyan wiped out entire villages.  It was one of the strongest storms ever to make landfall.

Officials say the death toll is likely to increase as reports continue coming in from those involved in rescue and retrieval operations.  http://www.voanews.com/content/philippines-typhoon-death-toll-tops-4900/1795421.html
Those affected remain in my prayers.
Jesus taught that weather-related troubles and food shortages would occur even before the end of the world:
4 And Jesus answered and said to them: "Take heed that no one deceives you.  5 For many will come in My name, saying, 'I am the Christ,' and will deceive many.  6 And you will hear of wars and rumors of wars. See that you are not troubled; for all these things must come to pass, but the end is not yet.  7 For nation will rise against nation, and kingdom against kingdom. And there will be famines, pestilences, and earthquakes in various places.  8 All these are the beginning of sorrows. (Matthew 24:4-8).

5 When He opened the third seal, I heard the third living creature say, "Come and see." So I looked, and behold, a black horse, and he who sat on it had a pair of scales in his hand. 6 And I heard a voice in the midst of the four living creatures saying, "A quart of wheat for a denarius, and three quarts of barley for a denarius; and do not harm the oil and the wine." (Revelation 6:5-6)

8 For nation will rise against nation, and kingdom against kingdom. And there will be earthquakes in various places, and there will be famines and troubles. These are the beginnings of sorrows. (Mark 13:8)
As the above shows, Jesus foretold on a time of natural disasters and "troubles" as "the beginning of sorrows" (Matthew 24:7-8; see also Weather Blessings and Sorrows)–and the sorrows seem to have begun. Yet the Book of Revelation (16:8-11) tells of a time of even greater disturbances during "the Day of the Lord."
The 'end of the world' meaning the start of the Great Tribulation cannot begin until at least 2017 (Can the Great Tribulation Begin in 2013, 2014, or 2015?; you can also watch a video sermon titled )–and then the end of this world will be 3 1/2 years later.  But sorrows seem to be intensifying now and are leading to to this final time of the end.
Ultimately of course, there is good news as ultimately, God's kingdom will come and those issues will be gone (Revelation 7:16).
Some items of possibly related interest may include:
Why Does Man Suffer? Herbert Armstrong gives biblical reasons on this topic.
Why Does God Allow Suffering? This is a pdf booklet put out by the old Worldwide Church of God that also answers questions about why God allows war as well as babies to die.
Physical Preparation Scriptures for Christians. We all know the Bible prophecies famines. Should we do something? Here is a version in the Spanish language Escrituras sobre Preparación física para los Cristianos.
Four Horsemen of the Apocalypse What do each of the four horseman of the Apocalypse represent? Have they began their ride? Did Jesus discuss the any of this? Might their rides coincide with the "beginning of sorrows? Do they start their ride prior to the Great Tribulation? Did Nostradamus or any other 'private prophets' write predictions that may mislead people so that they may not understand the truth of one or more of the four horseman? There is also a related YouTube video titled The Four Horsemen of the Apocalypse.
What is the Meaning of Life? Who does God say is happy? What is your ultimate destiny? Do you really know? Does God actually have a plan for YOU personally? There is also a video titled What is the meaning of your life?
Just What Do You Mean — Repentance? Do you know what repentance is? Have you truly repented? Repented of what? Herbert W. Armstrong wrote this as a booklet on this important subject.
When You Sin: Do You Really Repent? This is an article by Charles F. Hunting.
Hope of Salvation: How the Continuing Church of God differ from most Protestants How the real Church of God differs from mainstream/traditional Protestants, is perhaps the question I am asked most by those without a Church of God background.
Universal Offer of Salvation: There Are Hundreds of Verses in the Bible Supporting the Doctrine of True Apocatastasis Do you believe what the Bible actually teaches on this? Will all good things be restored? Will God call everyone? Will everyone have an opportunity for salvation? Does God's plan of salvation take rebellion and spiritual blindness into account?
Weather Blessings and Sorrows Are weather problems a warning? What should be done? What does the Bible teach about weather? What about floods, droughts, heat, earthquakes, tornadoes, and solar storms? Here is a related YouTube video Does God Use Weather? A related item in the Spanish language would be Bendiciones y maldiciones del clima.
The Gospel of the Kingdom of God was the Emphasis of Jesus and the Early Church Did you know that? Do you even know what the gospel of the kingdom is all about? True religion should be based upon the true gospel.
Islands and Bible Prophecy What's ahead for islands? What does the Bible prophesy about them?
Asia in Prophecy What is Ahead for Asia? Who are the "Kings of the East"? What will happen to nearly all the Chinese, Russians, Indians, Japanese, and others of Asia? Who has the 200,000,000 man army related to Armageddon?
Does God Have a 6,000 Year Plan? What Year Does the 6,000 Years End? Was a 6000 year time allowed for humans to rule followed by a literal thousand year reign of Christ on Earth taught by the early Christians? When does the six thousand years of human rule end?
Blood Moons, Prophecy, 2014, and 2015 What are blood moons? Are four blood red moons going to happen as the result of lunar eclipses in 2014 and 2015? Are they really to occur on biblical holy days or Jewish holidays? Does NASA teach about blood moons? Can Jesus return in 2014 or 2015? Is 'the rapture' going to happen in 2014 or 2015? What does the Bible teach about blood moons? Can the Day of the Lord begin in 2014 or 2015? What about the Great Tribulation?
When Will the Great Tribulation Begin? 2013, 2014, or 2015? Can the Great Tribulation begin today? What happens before the Great Tribulation in the "beginning of sorrows"? What happens in the Great Tribulation and the Day of the Lord? Is this the time of the Gentiles? When is the earliest that the Great Tribulation can begin? What is the Day of the Lord? Who are the 144,000? Here is a version of the article in the Spanish language: ¿Puede comenzar la Gran Tribulación en 2013 o 2014? ¿Es el Tiempo de los Gentiles? You can also see the English language video The Great Tribulation Will Not Begin Before 2017.
Paglalahad ng Mga Paniniwala ng Patuloy na Iglesya ng Diyos This is the Statement of Beliefs of the Continuing Church of God in Tagalog, the primary language of the Philippines. Here is a link to the first Tagalog edition of the Bible News Prophecy magazine: MGA BALITA NG PROPESIYA NG BIBLIYA January-March 2013 edition.