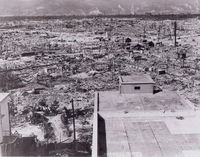 Hiroshima After the Atomic Bomb Was Detonated
The Japanese are admitting that their radiation problem is serious:
Los Angeles Times – 5 April 2011

High readings in fish prompt the government to establish a maximum level for safe consumption. The operator of Japan's stricken Fukushima nuclear plant said Tuesday that it had found radioactive iodine at 7.5 million times the legal limit in a seawater sample taken near the facility, and government officials imposed a new health limit for radioactivity in fish.

The reading of iodine-131 was recorded Saturday, Tokyo Electric Power Co. said. Another sample taken Monday found the level to be 5 million times the legal limit. The Monday samples also were found to contain radioactive cesium at 1.1 million times the legal limit.
The world is changing. Radiation will cause problems in the future, and apparently is causing some now.  The Japanese eat a lot of seafood and having it contaminated with radiation will affect Japan's food supplies and probably force it to import more seafood, and thus contribute to rising food costs (which already are starting to happen around the world).
One massive earthquake is having a lot of ramifications.
Jesus warned about a time with such issues:
8 … And there will be earthquakes in various places, and there will be…troubles. These are the beginnings of sorrows. (Mark 13:8)

11 And there will be great earthquakes in various places, and famines and pestilences; and there will be fearful sights and great signs from heaven.  (Luke 21:11)
Japan had a great earthquake, is having troubles,  and having radiation levels this high seems to qualify as fearful sights.  We may also start to see famines this Fall.  Though not necessarily in Japan.
Some articles of possibly related interest may include:
Can the Great Tribulation Begin in 2011, 2012, or 2013? Can the Great Tribulation begin today? When is the earliest that the Great Tribulation can begin? What is the Day of the Lord? What is "the beginning of sorrows"? Have we begun or are we about ready for "the beginning of sorrows" to begin.
Japan, Its Biblical Past and Future, Part 1: Any Witness? Where did the Japanese people come from? Have they had any witness?
Japan, Its Biblical Past and Future, Part 2: Prophecy Japan in prophecy. What is prophesied for Japan? Will God save the Japanese?
Islands and Bible Prophecy What's ahead for islands? What does the Bible prophesy about them?
Asia in Prophecy What is Ahead for Asia? Who are the "Kings of the East"? What will happen to nearly all the Chinese, Russians, Indians, and others of Asia? China in prophecy, where? Who has the 200,000,000 man army related to Armageddon?
Physical Preparation Scriptures for Christians. We all know the Bible prophecies famines. Should we do something?