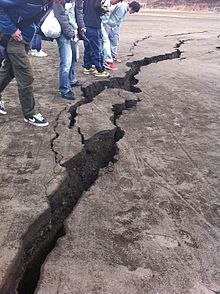 (Choo photo)
There has been record earthquake activity in the Pacific Rim:
Ring Of Fire Is Roaring To Life and Earthquakes Of Historic Importance

Does it seem to you like there has been an unusual amount of seismic activity around the world lately? Well, it isn't just your imagination. The Ring of Fire is roaring to life and that is really bad news for the west coast of the United States. Approximately 90 percent of all earthquakes and approximately 75 percent of all volcanic eruptions occur along the Ring of Fire.
Big earthquakes are incredibly dangerous and can cause big problems in populated areas.  Two of the four were over 8 on the Richter scale in Indonesia.  The others closer to Oregon, California, and Mexico.
Jesus warned about a time earthquakes and troubles:
8 … And there will be earthquakes in various places, and there will be…troubles. These are the beginnings of sorrows. (Mark 13:8)
We may be at this prophetic point as all the earthquakes and other problems that have happened in the past couple of years could be considered as "troubles."
Perhaps the earthquake warnings and weather problems can serve as another wake-up call to people everywhere that the world can change very quickly and that the time to repent is now (cf. Acts 17:30-31).
Some articles of possibly related interest may include:
Are You Saved? Do You Love Jesus? What is a True Christian? What is the Gospel? Evangelist Richard Ames answers those important questions.
Can the Great Tribulation Begin in 2012, 2013, or 2014? Can the Great Tribulation begin today? When is the earliest that the Great Tribulation can begin? What is the Day of the Lord? What is "the beginning of sorrows"? Have we begun or are we about ready for "the beginning of sorrows" to begin.
Physical Preparation Scriptures for Christians. We all know the Bible prophecies famines. Should we do something?
Mexico, Central America, South America, Brazil, and the Caribbean in Prophecy [Español: México, America Central, Suramérica, y el Brasil en profecíal] [Português: México, América Central, Ámérica do Sul, e Brasil na profecia] What will happen to those of Latin America? Will they have prosperity? Will they cooperate with Europe? Will they suffer in the future? What role might the various Caribbean nations/territories play?
Anglo – America in Prophecy & the Lost Tribes of Israel Are the Americans, Canadians, English, Scottish, Welsh, Australians, Anglo (non-Dutch) Southern Africans, and New Zealanders descendants of Joseph? Where are the lost ten-tribes of Israel? Who are the lost tribes of Israel? What will happen to Jerusalem and the Jews in Israel? Will God punish the U.S.A., Canada, United Kingdom, and other Anglo nations? Why might God allow them to be punished first?
Korea in Prophecy, Any Witness? Where did the Korean people come from? Does God have a plan for the Koreans? Is Korea mentioned in any prophecies? Will Koreans be among the first in the Kingdom of God? 한국의 언어로 : 한국 예언, 모든 증인에?
Japan, Its Biblical Past and Future, Part 1: Any Witness? Where did the Japanese people come from? Have they had any witness?
Japan, Its Biblical Past and Future, Part 2: Prophecy Japan in prophecy. What is prophesied for Japan? Will God save the Japanese?
Islands and Bible Prophecy What's ahead for islands? What does the Bible prophesy about them?
Earthquakes Today and Bible Prophecy Contains a cool up-to-the-hour update of earthquakes around the world from USGS. It also explains what did Jesus teach about earthquakes and how the Bible describes "the big one" (as well as when it is expected).