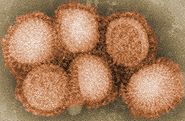 Hemagglutinin-type Flu Virus (Cybercobra at en.wikipedia)
The H7N9 strain of avian flu has killed more and seems to be infecting more:
April 15, 2013

The number of confirmed H7N9 bird flu cases in China increased by three to 63 today, according to the state-run Shanghai Daily. The government also reported a new death, bringing the total to 14, and the discovery of a four-year-old carrier in Beijing.

The latest death was a 77-year-old woman in Jiangsu Province. The four-year-old Beijing youth's neighbor purchased poultry from the family that had the first confirmed H7N9 case in Beijing on Saturday, state media said.  http://www.forbes.com/sites/russellflannery/2013/04/15/h7n9-bird-flu-cases-in-china-rise-by-three-to-63-four-year-old-carrier-discovered/

April 15, 2013

Bird flu was found in a 4-year-old Beijing boy who has no symptoms of the infection, health authorities said, suggesting more people may be catching the H7N9 influenza virus than reported.

The first asymptomatic H7N9 case was discovered by health- care workers searching for possible cases, the Beijing Municipal Health Bureau said in a statement on its website today. The boy's parents are poultry and fish sellers, and their neighbors across the street had bought chicken sold by the family of a 7- year-old girl whose H7N9 infection was reported two days ago.

The boy is under medical observation. The case suggests some H7N9 infections may be going unrecorded because of a lack of obvious symptoms. Almost all of the 64 people diagnosed with the virus so far have been extremely unwell, with complications extending to brain damage, multi-organ failure and muscle breakdown.

"With asymptomatic cases around, I think everything changes," said Ian Mackay, an associate professor of clinical virology at the University of Queensland in Brisbane, in a telephone interview today. "There has been a spike in pneumonia cases that have drawn the health officials' attention, but the virus may have been going around as a normal cold."…

Michael O'Leary, WHO's China representative, told reporters in Beijing yesterday. "We know also that the virus, when untreated, is very serious," he said.   http://www.bloomberg.com/news/2013-04-15/symptom-free-bird-flu-case-suggests-wider-h7n9-spread.html
So, more deaths are occurring from this strain of the bird flu and it may be spreading in a hard to detect manner.  China took some steps a couple of weeks ago to try to reduce the impact of the H7N9 strain.
Because of agricultural practices related to raising of livestock, including poultry, Asia (often China) is traditionally the place where new flu viruses originate. But, of course, they then have a tendency to spread around the globe.
Relatively soon, serious pestilences are prophesied as part of what Jesus called "the beginning of sorrows"–which includes famines and pestilences (Matthew 24:7-8). Whether or how birds may be involved is not mentioned in scripture–but a reduction in poultry can certainly affect food supplies.
And if this serious H7N9 strain of the flu continues to often be passed in an undetectable manner, it could be a serious pestilence itself.
Some articles of possibly related interest may include:
Can the Great Tribulation Begin in 2013, 2015, or 2015? Can the Great Tribulation begin today? What is the "beginning of sorrows"? When is the earliest that the Great Tribulation can begin? What is the Day of the Lord?
China, Its Biblical Past and Future, Part 1: Genesis and Chinese Characters Where did the Chinese people come from? This article provides information showing that the Chinese peoples must have known about various accounts in the Book of Genesis up until their dispersion after the Tower of Babel.
China, Its Biblical Past and Future, Part 2: The Sabbath and Some of God's Witness in China When did Christianity first come to China? And is there early evidence that they observed the seventh day sabbath?
Asia in Prophecy What is Ahead for Asia? Who are the "Kings of the East"? What will happen to nearly all the Chinese, Russians, Indians, and others of Asia? China in prophecy, where? Who has the 200,000,000 man army related to Armageddon?