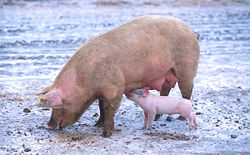 There is a possibility that swine flu will be a real problem:
Deadly Swine Flu Outbreak Linked to U.S.

NBC Dallas-Fort Worth – April 24, 2009




CDC says too late to contain U.S. flu outbreak

Reuters – April 24, 2009

WASHINGTON (Reuters) – The U.S. Centers for Disease Control and Prevention said on Friday it was too late to contain the swine flu outbreak in the United States. CDC acting director Dr. Richard Besser told reporters in a telephone briefing it was likely too late to try to contain the outbreak, by vaccinating, treating or isolating people. "There are things that we see that suggest that containment is not very likely," he said. He said the U.S. cases and Mexican cases are likely the same virus. "So far the genetic elements that we have looked at are the same." But Besser said it was unclear why the virus was causing so many deaths in deaths in Mexico and such mild disease in the United States. 

http://www.alertnet.org/thenews/newsdesk/24443479.htm
The Bible warns of pestilences in these end times (Matthew 24:7; Luke 21:11).  It is possible that swine flu might be one of them.
Three articles of possibly related interest may include:
The New Testament Church and Unclean Meats Are foods considered to have been unclean in the Old Testament considered to be food in the New Testament? This article discusses this from the perspective of the New Testament. It also has a list of clean and unclean animals. It also answers the question, is pork healthy or is pork dangerous?
Anglo – America in Prophecy & the Lost Tribes of Israel Are the Americans, Canadians, British, Scottish, Welsh, Australians, Anglo-Southern Africans, and New Zealanders descendants of Joseph? Where are the lost ten-tribes of Israel? Who are the lost tribes of Israel? Will God punish the U.S.A., Canada, United Kingdom, and other Anglo nations? Why might God allow them to be punished first?
Mexico, Central America, South America, and Brazil in Prophecy [Español: México, America Central, Suramérica, y el Brasil en profecíal] [Português: México, América Central, Ámérica do Sul, e Brasil na profecia] What will happen to those of Latin America? Will they have prosperity? Will they cooperate with Europe? Will they suffer in the future? What rule might the various Caribbean nations/territories play?