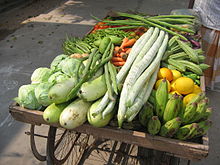 There are starting to be higher food prices because of droughts in the USA, Central America, Africa, and even Spain:
August 15, 2014

LONDON—When the rain doesn't fall in Spain, olive oil buyers brace for higher prices.

A drought in the world's number one producer of olive oil has prompted fears of widespread shortages that could send the market spiraling upward.

This year's crop from some Spanish farms could be down 40% from 2013, according to oilseeds forecasting agency Oil World. Very dry weather in the key olive-producing region of Andalusia in May and June ravaged the olive trees during their flowering period, when they need moisture for the fruit to ripen correctly.

"The drought in Spain and its impact on the olive market is potentially very significant," said Lamine Lahouasnia, head of packaged food at Euromonitor International. "If the drought does end up adversely affecting Spanish yields, it is very likely that we'll see rising consumer prices in 2014."  http://online.wsj.com/articles/spanish-drought-prompts-fears-of-widespread-olive-oil-shortage-1408102214

California — the nation's biggest agricultural state by value — driven by a three-year drought that climate scientists say is a glimpse of a drier future. The result will affect everything from the price of milk in China to the source of cherries eaten by Americans. It has already inflamed competition for water between farmers and homeowners…An estimated 82 percent of California is experiencing extreme drought, according to the U.S. Drought Monitor. Agriculture has been hard hit as it consumes about four-fifths of the water that isn't set aside for environmental preservation.  http://www.bloomberg.com/news/2014-08-11/california-drought-transforms-global-food-market.html

Low rainfall linked to the El Nino weather phenomenon has led to drought in parts of Central America, causing widespread damage to crops, shortages and rising prices of food, and worsening hunger among the region's poor.An unusually hot season and extended dry spells have brought drought to areas in eastern and western Guatemala and El Salvador, southern Honduras and northern and central Nicaragua, destroying swathes of bean and maize crops, the region's staple foods, and putting pressure on subsistence farmers and food prices.

"Extremely poor households across large areas of Guatemala, Nicaragua, Honduras, and El Salvador will experience a rapid deterioration in their food security in early 2015.

"Atypically high levels of humanitarian assistance, possibly the highest since Hurricane Mitch in 1998, will likely be required in order to avoid a food crisis," said a recent report by the Famine Early Warning Systems Network (FEWS NET), run by the US Agency for International Development (USAID).

Thousands of families in the region have become too poor to buy enough food for survival because poor harvests are pushing up prices of staple foods while coffee producers are hiring fewer seasonal coffee pickers and paying lower wages because of a coffee leaf rust or roya epidemic across Central America.

In Nicaragua and Honduras, red bean prices rose by up to 129 percent between January and June 2014, according to FEWS NET….http://news.yahoo.com/central-america-braces-drought-linked-food-crisis-173943184.html
Last month, the government of Somalia declared a drought in six regions as monitors warned that food prices are soaring in the affected areas.
Perhaps I should mention that I have spoken to some involved with the cattle/meat industry in California, and they believe that the prices for meats of many kinds will rise.
The drought situation in California and certain other parts of the world is severe (Ukraine is also having issues).
The Bible, of course, warns of food shortages and pestilences. Nearly 2000 years ago, Jesus taught:
7…And there will be famines, pestilences, and earthquakes in various places. 8 All these are the beginning of sorrows. (Matthew 24:7-8)
We seem to be in the time Jesus called "the beginning of sorrows." Notice a message related to the third horseman of Revelation:
5 When He opened the third seal, I heard the third living creature say, "Come and see." So I looked, and behold, a black horse, and he who sat on it had a pair of scales in his hand. 6 And I heard a voice in the midst of the four living creatures saying, "A quart of wheat for a denarius, and three quarts of barley for a denarius; and do not harm the oil and the wine." (Revelation 6:5-6)
Food inflation is prophesied. Not only in the Bible, but now also in the news. Will weather problems cause people to turn to God?
The sorrows and troubles are just beginning and will get much worse. Hopefully, people will wake up. While God may end the droughts, the Bible shows that He sometimes does use weather as a warning (see Does God Use Weather?).
Various lands, in my view, are being warned.
Some items of possibly related interest may include:
Does God Use Weather? Are weather calamities totally random? Does God control the weather? What does the Bible say? Are there biblical prophecies for weather blessings and weather curses? Are those affected by hurricanes, tornadoes, tsunamis, droughts, and floods necessarily worse sinners than those not as affect? Does God use weather to try to get people to change or repent? This is a video.
Weather Blessings and Sorrows Are weather problems a warning? What should be done?
Four Horsemen of the Apocalypse What do each of the four horseman of the Apocalypse represent? Have they began their ride? Did Jesus discuss the any of this? Might their rides coincide with the "beginning of sorrows? Do they start their ride prior to the Great Tribulation? Did Nostradamus or any other 'private prophets' write predictions that may mislead people so that they may not understand the truth of one or more of the four horseman? There is also a related YouTube video titled The Four Horsemen of the Apocalypse.
Just What Do You Mean — Repentance? Do you know what repentance is? Have you truly repented? Repented of what? Herbert W. Armstrong wrote this as a booklet on this important subject.
When You Sin: Do You Really Repent? This is an article by Charles F. Hunting. A related sermon is Confess to God and truly repent.
GMOs and Bible Prophecy What are GMOs? Since they were not in the food supply until 1994, how could they possibly relate to Bible prophecy? Do GMOs put the USA and others at risk? Here is a related YouTube video GMO Risks and the Bible.
When Will the Great Tribulation Begin? 2014, 2015, or 2016? Can the Great Tribulation begin today? What happens before the Great Tribulation in the "beginning of sorrows"? What happens in the Great Tribulation and the Day of the Lord? Is this the time of the Gentiles? When is the earliest that the Great Tribulation can begin? What is the Day of the Lord? Who are the 144,000? Here is a version of the article in the Spanish language: ¿Puede comenzar la Gran Tribulación en 2013 o 2014? ¿Es el Tiempo de los Gentiles? You can also see the English language video The Great Tribulation Will Not Begin Before 2017.
Physical Preparation Scriptures for Christians. We all know the Bible prophecies famines. Should we do something?
Anglo – America in Prophecy & the Lost Tribes of Israel Are the Americans, Canadians, English, Scottish, Welsh, Australians, Anglo-Saxon (non-Dutch) Southern Africans, and New Zealanders descendants of Joseph? Where are the lost ten-tribes of Israel? Who are the lost tribes of Israel? What will happen to Jerusalem and the Jews in Israel? Will God punish the U.S.A., Canada, United Kingdom, and other Anglo-Saxon nations? Why might God allow them to be punished first? Here is a link to the Spanish version of this article: Anglo-América & las Tribus Perdidas de Israel. Information is also in the YouTube sermons titled Where are the Ten Lost Tribes? Why does it matter? and British are the Covenant People. A short YouTube of prophetic interest may be Barack Obama and the State of the Apocalypse.
Will the Anglo-Saxon Nations be Divided and Have People Taken as Slaves? Will the lands of the United States, United Kingdom, Canada, Australia, and New Zealand be divided? What about Jerusalem? What does Bible prophecy teach? Are there non-biblical prophecies that support this idea? Who will divide those lands? Who will end up with the lands and the people? Here is a link to a video titled Will the USA and other Anglo-nations be Divided and Their People Made Slaves? Here is a related item in the Spanish language ¿Serán divididas las naciones anglosajonas?
Africa: Its Biblical Past and Prophesied Future What does the Bible teach about Africa and its future? Did the early Church reach Africa? Will God call all the Africans?
Mexico, Central America, South America, Brazil, and the Caribbean in Prophecy [Español: México, América central, Suramérica, Brasil y el Caribe en la profecía] [Português: México, América Central, Ámérica do Sul, e Brasil na profecia] What will happen to those of Latin America? Will they have prosperity? Will they cooperate with Europe? Will they suffer in the future? What role might the various Caribbean nations/territories play?
Does God Have a 6,000 Year Plan? What Year Does the 6,000 Years End? Was a 6000 year time allowed for humans to rule followed by a literal thousand year reign of Christ on Earth taught by the early Christians? Does God have 7,000 year plan? What year may the six thousand years of human rule end? When will Jesus return? 2021 or 20xx? There is also a video titled The 6000 Year Plan: Is the end of humanity's reign almost up?
Barack Obama, Prophecy, and the Destruction of the United States-Second Edition for Second Obama Term This is a 160 page book for people truly interested in prophecies related to Barack Obama and the United States, including learning about many that have already been fulfilled (which the book documents in detail) and those that will be fulfilled in the future. It also has a chapter about a Republican choice. This book is available to order at www.barackobamaprophecy.com. The physical book can also be purchased at Amazon from the following link: Barack Obama, Prophecy, and the Destruction of the United States: Is Barack Obama Fulfilling Biblical, Islamic Catholic, Kenyan, and other America-Related Prophecies? What About Republican Leaders? Second Edition for Second Obama Term.
Barack Obama, Prophecy, and the Destruction of the United States-Second Term-Amazon Kindle edition. This electronic version is available for only US$2.99. And you do not need an actual Kindle device to read it. Why? Amazon will allow you to download it to almost any device: Please click HERE to download one of Amazon s Free Reader Apps. After you go to for your free Kindle reader and then go to Barack Obama, Prophecy, and the Destruction of the United States-Second Term-Amazon Kindle edition.