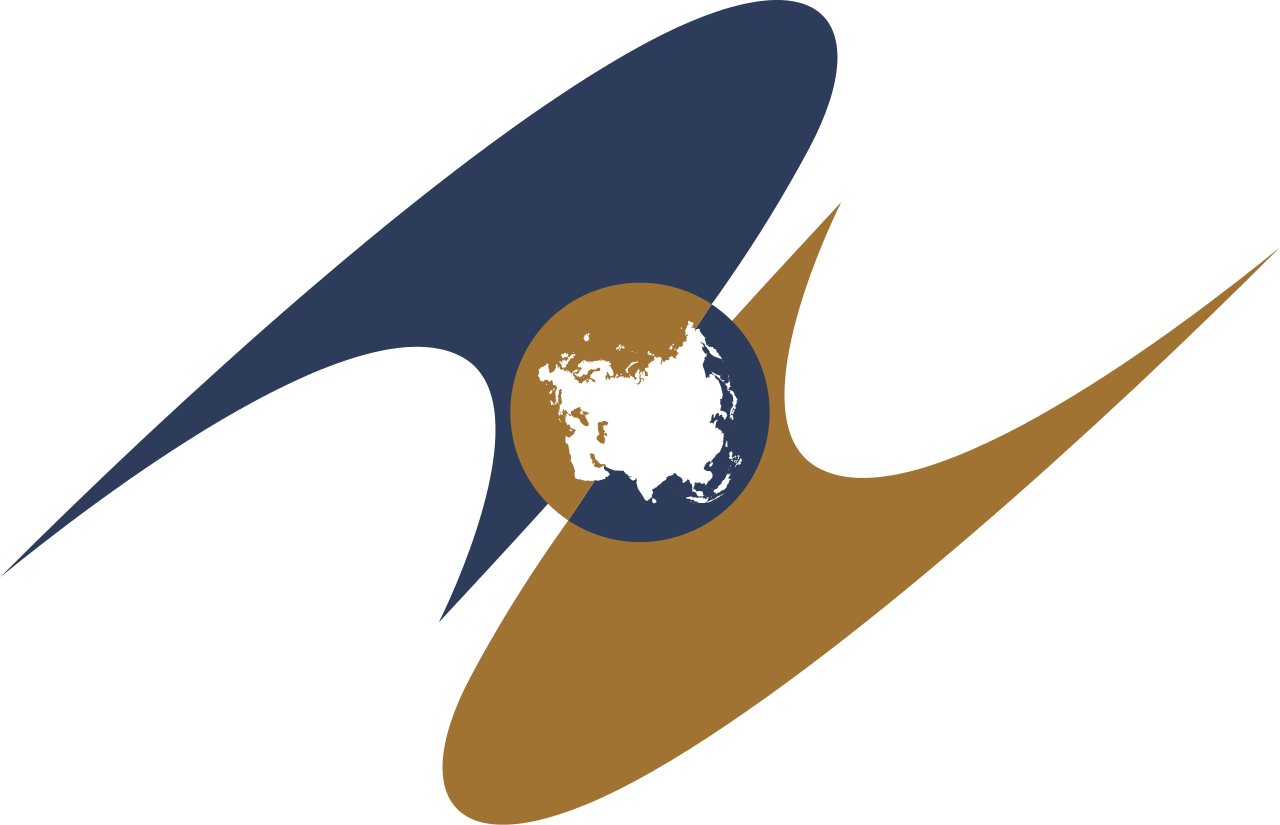 Emblem of the Eurasian Economic Union

The Russian-dominated Eurasian Economic Union is taking more steps to bypass the USA dollar:
The Eurasia Economic Union (EAEU) is speeding up its design of a common payment system, which has been closely discussed for nearly a year with the Chinese under the stewardship of Sergei Glazyev, the EAEU's minister in charge of Integration and Macro-economy.

Through its regulatory body, the Eurasian Economic Commission (EEC), the EAEU has just extended a very serious proposal to the BRICS nations (Brazil, Russia, India, China and South Africa) which, crucially, are already on the way to turning into BRICS+: a sort of G20 of the Global South.

The system will include a single payment card – in direct competition with Visa and Mastercard – merging the already existing Russian MIR, China's UnionPay, India's RuPay, Brazil's Elo, and others.

That will represent a direct challenge to the western-designed (and enforced) monetary system, head on. And it comes on the heels of BRICS members already transacting their bilateral trade in local currencies, and bypassing the US dollar.

This EAEU-BRICS union was long in the making – and will now also move toward prefiguring a further geoeconomic merger with the member nations of the Shanghai Cooperation Organization (SCO).

The EAEU was established in 2015 as a customs union of Russia, Kazakhstan and Belarus, joined a year later by Armenia and Kyrgyzstan. Vietnam is already an EAEU free trade partner, and recently enshrined SCO member Iran is also clinching a deal. 11/30/22 https://www.zerohedge.com/geopolitical/escobar-global-south-births-new-game-changing-payments-system
Iran expects to be part of the EAEU within a month (https://news.am/eng/news/732701.html).
With USA sanctions against Russia and Iran and high tariffs on China, much of what has been called 'the Global South' is aligning.
Notice, for example, the following:
At the 14th Leaders' Meeting of the BRICS (Brazil, Russia, India, China and South Africa) countries held virtually on 23 June 2022, China dwelt on the issue of expanding the group beyond its five existing members to include more emerging economies. …

For China, it is the grand strategy that is the Belt and Road Initiative (BRI) that threads its many engagements: BRICS, the Shanghai Cooperation Organisation (SCO), the Association of South East Asian Nations (ASEAN) where it is not directly a member, the Eurasian Economic Union, and the Regional Comprehensive Economic Partnership (RCEP). …

There exists a huge body of Chinese-language research that analyse the feasibility of cooperation between BRICS and the BRI. …

The most significant progress made so far by China in this regard has been the official docking between China's Silk Road Economic Belt (the land part of the BRI) and the EEU (where Russia is the dominant player) in May 2015. A high-speed railway project from Moscow to Kazan is being constructed under this strategic cooperation, funded by the BRICS New Development Bank. https://www.orfonline.org/research/brics-and-bri-china-aims-for-strategic-alignment/
So, we see an alignment of BRICS, China's Belt 7 road Initiative, ASEAN, the SCO, and the Russian-dominated EAEU.
Russia has repeatedly called for plans to bypass the USA dollar and has some arrangements with China related to that.
As far as BRICS goes, notice the following which is in my book Lost Tribes and Prophecies: What will happen to Australia, the British Isles, Canada, Europe, New Zealand and the United States of America?:
Those in Iran and some of the Arab lands, along with nations such as Brazil, China, and India have discussed plans for the removal of the dominance of the U.S.A. in global trade as well. The former (again current) President of Brazil, Luiz Inácio Lula da Silva, even claimed that eliminating the U.S. dollar's reserve currency status was one of the reasons that the BRICS alliance (Brazil, Russia, India, China, and South Africa) was formed in the first place. [i] Others have  noted that bypassing the USA dollar is still an object of BRICS—and officially BRICS nations "are currently working on setting up a new global reserve currency,"[ii] which may have gold-backing.[iii] The expansion of BRICS (which is in progress) may ultimately even hurt Australian trade as well as "severely weaken primacy of the US Dollar as an international currency."[iv]

The Bible clearly warns against cheapening the money supply and encourages having money hold its value (Proverbs 25:4 Isaiah 1:25, Ezekiel 22:18-22). Debt is also warned against (Habakkuk 2:6-8). Yet policies enacted under the Obama, Trump, and Biden Administrations, following certain other administrations, have ignored these warnings.

[i] Escobar P. BRICS was created as a tool of attack: Lula. Asia Times, August 28, 2019

[ii] BRICS developing new global reserve currency – Putin. RT, June 22, 2022

[iii] Helms K. Economists Discuss Russia, China Potentially Developing Gold-Backed Currency. BRICS Information Portal, November 11, 2022

[iv]Hunter M. BRICS Is Becoming The Big Kid On The Block: Implications For Australia – Analysis. Eurasia Review, November 1, 2022
While much of the mainstream media in the USA seems focused on internal politics, much of the world is moving towards a type of integration that will result in the final time of the Gentiles (Luke 21:24; see also The Times of the Gentiles) and the end of Anglo-American dominance.
While the European Union is not part of Asia, China's One Belt, One Road Initiative (also called the Silk Road project) it also connects Europe to more locations in Asia–and Europe itself has pledged to make more connections to Asia (see 'Will the United States and Europe Break Up Over China?')–and has pledged money to do so (see 'The European Union has unveiled its €300 billion ($340 billion) alternative to China's Belt and Road initiative'). Such European involvement may not be so much as an alternative, but intercomplementary as roads normally run in two directions.
The European Union would like to cooperate more with the Eurasian Economic Union. A de facto coordination of Gentile powers against the Anglo-Americans is occurring. The EU and EAEU are officially talking:
EU and EAEU officials are in fact talking. But this is only exchange of information, not negotiation. There are no EU trade restrictions vis à vis Russia (except in relation to goods produced in Crimea). Formal EU-EAEU relations or negotiations are not allowed under current EU policy, but contacts are allowed and some EU-EAEU sectors, such as pharma, are already extensively harmonised. 11/22/21 https://www.europeanleadershipnetwork.org/event/european-union-eu-eurasian-economic-union-eaeu-relations-steps-from-lisbon-to-vladivostok/
Based upon several biblical prophecies, I have long written that the Asians and Europeans will cooperate, for a time, and eliminate the USA and its Anglo-Saxon descended allies. They will divide their lands among them per Daniel 11:39, and many of the survivors will be made slaves (for more detail check out the article Will the Anglo-Saxon Nations be Divided and Have People Taken as Slaves?).
It should be added that part of the purpose of the Euro was to bypass the USA dollar for international trade. And, that has happened completely within the Eurzone block in the EU.
But, as can be seen by actions from the EAEU and BRICS, those of the 'Global South' are also pushing in that direction–one day the USA dollar will be worthless.
Steps towards bypassing the USA dollar are happening. Yet, most of the mainstream media seems oblivious to this as they do not respect the Bible nor understand how world events are aligning with many of its prophecies.
As Jesus said: "And what I say to you, I say to all: Watch!" (Mark 13:37).
Some items of possibly related interest may include:
The Eurasian Union, the Kings of the East, and Bible Prophecy Is there a Eurasian union that will be formed? Is one being formed right now? Are any leaders working on that in the 21st century? Does the Bible teach that there will be a Eurasian union? If some type of Eurasian union is formed, who might it benefit and who will it destroy? A related video would be Is The Eurasian Union Rising?
Russia and Ukraine: Their Origins and Prophesied Future Russia in prophecy. Where do the Russians come from? What about those in the Ukraine? What is prophesied for Russia and its allies? What will they do to the Europeans that supported the Beast in the end? There is also a video sermon available: Russia in the Bible and in Prophecy and a video sermonette available: Ukraine in Prophecy?
Is Russia the King of the North? Some claim it is. But what does the Bible teach? Here is a link to a video, also titled Is Russia the King of the North?
Ezekiel 38: For Russia & Iran in Our Day? Is Ezekiel 38 about to be fulfilled? A related video is available titled Ezekiel 38: For Russia, Ukraine, & Iran Now? Another could be Russia, Iran, Syria, & the Bible (Code).
Europa, the Beast, and the Book of Revelation discusses the largest church since the second/third century, which in a real sense is the eighth church mentioned in the Book of Revelation (it also endorses "eighth day" worship). What church would support the Beast? Here is a link to a video titled: Europe and the 'Holy Roman Empire'.
Iran in Prophecy Is Iran in Bible prophecy? If so, what does the Bible teach? What names, other than Persia, may be used to describe Iran? There is also a related YouTube video titled Iran In Prophecy. Armageddon Who is involved and when will this gathering happen? Here is also a video from Dr. Thiel, from Tel Megiddo in Israel: Armageddon. Other videos include: Armageddon Will it come on Trump's watch?, Iraq, Armageddon, & Prophecy, Freemasonry, Armageddon, and Rome, Is China paving roads to Armageddon?, and Jordan, Petra, and Armageddon.
China, Its Biblical Past and Future, Part 1: Genesis and Chinese Characters Where did the Chinese people come from? Japeth, Javan, Magog? Is there evidence that the Chinese peoples must have known about various accounts in the Book of Genesis up until their dispersion after the Tower of Babel? What do Chinese writings and characters help show? What about the Garden of Eden, Noah's Flood, and the Tower of Babel? Here is a link to a version of this article in Spanish: ¿Prueban los caracteres chinos la exactitud de la Biblia? A related sermon is also available: China's biblical past and prophetic actions.
China, Its Biblical Past and Future, Part 2: The Sabbath and Some of God's Witness in China When did Christianity first come to China? What about the Apostle Thomas? Did Confucius say anything to get the Chinese to possibly consider Christianity? Is there early evidence that they observed the seventh day sabbath? What about the Ten Commandments? What type of Church of God witness has there been to China? What has been happening with China that ties it together with prophecies in Revelation? What about the 200 million man army and Armageddon? What about the Belt and Road Initiative and end time Babylon the Great? A related sermon is also available: China's biblical past and prophetic actions. Watch also China's Silk Road and Babylon the Great.
Asia in Prophecy What is Ahead for Asia? Who are the "Kings of the East"? What will happen to nearly all the Chinese, Russians, Indians, and others of Asia? China in prophecy, where? Who has the 200,000,000 man army related to Armageddon? Here is a link to a related sermon: Asia in Prophecy. Two YouTube video are Is China THE Threat to the United States of America? and China: A King of the East.
Lost Tribes and Prophecies: What will happen to Australia, the British Isles, Canada, Europe, New Zealand and the United States of America? Where did those people come from? Can you totally rely on DNA? What about other peoples? Do you really know what will happen to Europe and the English-speaking peoples? What about Africa, Asia, South America, and the Islands? This free online book provides scriptural, scientific, historical references, and commentary to address those matters. Here are links to related sermons: Lost tribes, the Bible, and DNA, Lost tribes, prophecies, and identifications, 11 Tribes, 144,000, and Multitudes, Israel, Jeremiah, Tea Tephi, and British Royalty, and Gentile European Beast.
The Times of the Gentiles Has there been more than one time of the Gentiles? Are we in it now or in the time of Anglo-America? What will the final time of the Gentiles be like? A related sermon is available and is titled: The Times of the Gentiles.
Biden-Harris: Prophecies and Destruction Can the USA survive two full presidential terms? In what ways are Joe Biden and Kamala Harris apocalyptic? This book has hundreds of prophecies and scriptures to provide details. A Kindle version is also available and you do not need an actual Kindle device to read it. Why? Amazon will allow you to download it to almost any device: Please click HERE to download one of Amazon s Free Reader Apps. After you go to your free Kindle reader app (or if you already have one or a Kindle), you can go to: Biden-Harris: Prophecies and Destruction (Kindle) to get the book in seconds.