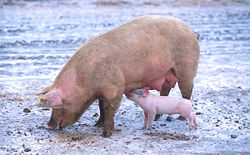 Meat and pork prices may greatly increase:
Record U.S. Cattle, Hog Prices Seen on Shrinking Herds, China
Bloomberg – Feb 21, 2011
U.S. livestock prices may reach records in the next two quarters as farmers reduce herds while

China

imports the most pork since at least 1992 and the largest amount of beef in three years, according to Societe Generale.
Lean-hog futures will climb to a record $1.10 a pound in the second quarter and live cattle prices will be at an all-time high of $1.30 a pound by the third quarter, Societe Generale SA said in a report. The bank correctly forecast higher grain prices in May. Chinese imports of pork will gain 5.7 percent in 2011 and beef purchases will advance 43 percent, U.S. Department of Agriculture estimates show.
World food prices rose 28 percent in the past year, reaching a record in January, according to the United Nations. Riots partly linked to food inflation ended Zine el Abidine Ben Ali's 23-year rule in Tunisia and Hosni Mubarak's three-decade- long rule in Egypt. Finance ministers from the Group of 20 nations last week signaled concern that surging commodity costs are driving inflationary pressures around the world.

"Meat will start to have an impact on the price index and start to put a pinch on the consumer's pocketbook," Jason Britt, president of Central States Commodities Inc., a brokerage in Kansas City, Missouri, said by phone on Feb. 17 http://www.bloomberg.com/news/2011-02-21/record-u-s-cattle-hog-prices-seen-on-shrinking-herds-increased-demand.html
Food prices are rising, and China is trying to secure its own supplies of it.  And while we in the Living Church of God do not consider pork to be food for humans, we do belief beef is food for humans (though we, like the Apostle Paul, do allow vegetarianism: Romans 14:2-3).
Jesus foretold on a time of famines as part of "the beginning of sorrows" (Matthew 24:7-8), and the Book of Revelation (16:8-11) tells of a time of even greater disturbances during "the Day of the Lord". These will go beyond what normally have occurred in the past century. World events are aligning towards the fulfillment of biblical prophecies.
Now there is good news as ultimately, God's kingdom will come and those issues will be gone (Revelation 7:16). But a terrible hour of trial is coming first (Revelation 3:10).  And food inflation is part of it (Revelation 6:6).
As Jesus said:
37 And what I say to you, I say to all: Watch! (Mark 13:36-37)
Food shortages are something to watch.
Tougher times are coming. And for some parts of the world these tougher time may be here now. People who can prepare, should. Both spiritually and physically. And this will not only affect people in places like Africa, Asia, and the Middle East–the Anglo-descended nations of the West will themselves suffer hunger and famine. And apparently price increases prior to that.
Some articles of possibly related interest may include:
Can the Great Tribulation Begin in 2011 or 2012? Can the Great Tribulation begin today? What is the "beginning of sorrows"? When is the earliest that the Great Tribulation can begin? What is the Day of the Lord?
Physical Preparation Scriptures for Christians. We all know the Bible prophecies famines. Should we do something?
The Gospel of the Kingdom of God was the Emphasis of Jesus and the Early Church Did you know that? Do you even know what the gospel of the kingdom is all about? True religion should be based upon the true gospel.
Did The Early Church Teach Millenarianism? Was the millennium (sometimes called chiliasm) taught by early Christians? Who condemned it. Will Jesus literally reign for 1000 years on the earth? Is this time near?
Does God Have a 6,000 Year Plan? What Year Does the 6,000 Years End? Was a 6000 year time allowed for humans to rule followed by a literal thousand year reign of Christ on Earth taught by the early Christians? What year may the six thousand years of human rule end? When will Jesus return? 2018 or 2019?
The New Testament Church and Unclean Meats Are foods considered to have been unclean in the Old Testament considered to be food in the New Testament? This article discusses this from the perspective of the New Testament. It also has a list of clean and unclean animals. It also answers the question, is pork healthy or is pork dangerous?