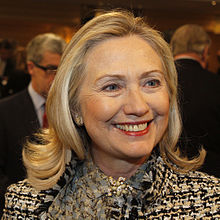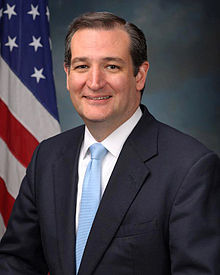 Hillary Clinton and Ted Cruz

Unlike parliamentary systems, those who wish to be the chief executive of the USA (president) tend to officially campaign for it for over a year and a half, and unofficially campaign for it longer (though that happens in parliamentary systems, but not quite the same way).  Here are a couple of items about some of the potential candidates from the two major political parties in the USA:
December 5, 2014

WASHINGTON—In terms of Washington politics, we have entered what a lot of people like to call the "silly season."
In the months to come there will be endless speculation as to who will make a run for president in 2016. …
So with that in mind I spent some of the week checking out two of the more likely serious contenders: former Secretary of State Hillary Clinton, the Democratic favorite, and Republican Senator Ted Cruz of Texas. …
Clinton's challenge

Hillary Clinton spoke recently at Georgetown University.  The topic was increasing the role of women in war-making and peace-making situations.  Let's just say she carefully stuck to her script.

"Women are not just victims of conflict," she said. "They are agents of peace and agents of change.  We know when women participate in the peace processes, often overlooked issues like human rights, individual justice, national reconciliation and economic renewal are often brought to the forefront."

The lecture hall was not filled to capacity.  The expected question and answer session with students did not happen.  Instead, the moderator read two questions that brought brief answers from Clinton.  Then she departed the stage.

Later in the week, Clinton appeared at a women's conference in Boston.  She said the U.S. justice system is "out of balance" and expressed support for federal probes of the police-involved deaths of Michael Brown in Ferguson, Missouri, and Eric Garner in Staten Island, New York.

Clinton did not disclose anything about her presidential plans, but the Washington Post reported that she spoke in general terms about what it might be like to be president.

"Here's what I worry about," she said. "The stress on anybody in a leadership position, multiplied many times over to be president.  The incoming never ends."

Clinton events are known to be very closely controlled by her entourage.

Clinton supporters say they expect her to announce a decision on a presidential run no earlier than mid-February.  She is in a bit of a tough spot at the moment.  She is the runaway leader among Democrats for her party's presidential nomination and she generally beats most of the possible Republican challengers as well.

Clinton is seen as the odds-on favorite, even more so than she was in 2008 when she lost to rookie Senator Barack Obama.

But some of her events seem to lack energy and she may have to find a way to counter the notion that she is a 'president-in-waiting' expecting to be handed her party's nomination.

Democratic challengers

Clinton will have challengers.

One of them appears to be former Virginia Senator Jim Webb.

Webb has a strong military background and is more conservative than Clinton on some issues such as gun control.  But he remains a fierce critic of her support for the Iraq War, something liberal Democrats also had a problem with in 2008.

Outgoing Maryland Governor Martin O'Malley and Vermont's independent but left-leaning Senator Bernie Sanders are also considering a run in the Democratic primaries.  Some Democrats have urged Massachusetts Senator Elizabeth Warren to run. But so far she says she is not interested.

But there are reasons why Clinton is the prohibitive favorite for the Democratic Party nomination.  Many women activists in the Democratic Party are very excited by the prospect of Clinton making history as the first woman president.  Some feel she was unfairly treated during the bitter primary battle with President Obama in 2008 and believe the party owes her the nomination for 2016.

If she runs, Clinton will stake much of her reputation on her tenure as secretary of state.

But longtime Democratic strategist Celinda Lake said she might consider ripping out a page from her husband's political playbook concerning the domestic economy and working with Republicans where possible.

"Articulate tomorrow an economic vision for the country and say, just as Bill Clinton did, 'we have done this but it is not good enough and we are going to work with Republicans to get these things done,'" Lake said.

Lake also believes Clinton as nominee would give the Democratic Party a huge advantage over whomever the Republicans wind up nominating in 2016.  "If quality of candidate matters then I think Democrats are in very good shape because we have as our frontrunner Secretary Clinton, who is considered a supreme quality candidate by the voters."

Wide open Republican field

The other audition I watched this week came from Republican Senator Ted Cruz of Texas, who seems a likely candidate in 2016.

Cruz was in campaign mode at a conference on foreign policy and national security at the Willard Hotel.  Cruz is a huge favorite with Tea Party groups and unafraid to criticize Republican congressional leaders.

He is also making overtures to evangelical Christian voters, an important social conservative bloc within the Republican Party, and to Republicans who want to see a stronger U.S. foreign and national security policies.

"There is a reason why America has been called the indispensable nation," Cruz said. "For the last six years what we have seen is we have seen America recede from leadership in the world.  And that has created a vacuum and into that vacuum have stepped nations like Russia, like China, like Iran and it has not made the world a safer place.   And I think there is a critical need, both at home and abroad, to restore America's leadership in the world."

Cruz also never misses an opportunity to remind voters that Hillary Clinton was a key architect of the Obama administration's foreign policy.

"The failures of the Obama-Clinton foreign policy are manifest," Cruz said. "It's almost like the whole world is on fire right now.  It seems there is not a portion of the world where security, where our relationship with our allies, where our ability to contain our enemies, to defeat our enemies, it seems there is not a region in the world where that hasn't gotten worse."

Cruz is one of about 20 or so Republicans who may or may not be thinking about running for president in 2016.

Mainstream Republicans are anxious to see whether former Florida Governor Jeb Bush and New Jersey Governor Chris Christie will run.  Ohio Senator Rob Portman has already taken himself out of the running.

Cruz is a favorite in the Tea Party camp along with Kentucky Senator Rand Paul.  Paul also has appeal to Republicans and some moderates who favor a libertarian view of government and society.

More than a dozen prominent Republicans are reportedly considering a presidential run in 2016 so look for a very crowded Republican field in two years, said John Fortier, an analyst with the Bipartisan Policy Center in Washington.

"The Republicans will have a large field of people and various wings of the party represented and it is a little unclear in that multi-candidate race how someone will emerge or who will emerge," Fortier said. "On the Democratic side there is a clear frontrunner and that is Hillary Clinton."

Fortier also said Clinton will have to take some steps to put some distance between herself and an unpopular President Obama.

"She seems to be already doing that in some ways and seems to be a little critical of the president in foreign policy and I think she will have to do that," Fortier said. "She will also have to fend with the other candidates in the race as she did in 2008."

But Republican pollster Whit Ayres countered that saying it and actually doing it are two different things.

"I will tell you that it is exceedingly difficult for one party to win three presidential elections in a row.  History suggests that it is a very unusual event," Ayres said. "It is going to be real tough for her to separate herself from an administration in which she served.  Making the case that you are the candidate to follow an unpopular president for a third consecutive term for one party is going to be a very challenging case for her to make."  http://www.voanews.com/content/early-rumblings-of-2016-presidential-campaign/2547242.html
Notice also the following:
Who worries Hillary? Four Republicans worry Hillary Clinton's allies as the former secretary of state mulls a White House campaign, according to the Hill: Jeb Bush, Chris Christie, Rand Paul and Scott Walker. As the Hill puts it, Clinton World believes Paul, the Kentucky senator, has run the best "pre-campaign" of the group. But time and again, Bush's is the top name to roll off everyone's tongue, given the former Florida governor's enormous resources and solid networking structure. http://www.marketwatch.com/story/republicans-shout-down-ted-cruz-over-spending-bill-2014-12-04
The mainstream media has tended to dislike Ted Cruz more than many other Republicans, but apparently he is not one that Hillary Clinton's supporters are that worried about.
Republicans will not be able to fix the problems that the USA has.
Neither will the Democrats.
Hillary Clinton has stated that she plans to announce her presidential intentions around the start of 2015. If she announces she will run, this will reinvigorate some in her party to support her as well as motivate many Republicans to support someone they feel could possibly beat her in an election. Of course, Hillary Clinton lost the primary election to Barack Obama back in 2008, hence while she is considered as 'the favorite' at this time according to something else I saw yesterday, she is not unbeatable. Though at this moment, it would not seem that Ted Cruz would have much of a chance to defeat her.
The USA is going the wrong moral direction.  From legalization of abortion and homosexual 'marriage' to increased acceptance of mind-altering drugs like marijuana as well as celebrity pornography while continuing to increase its debt, the USA is making major mistakes.
The USA needs national repentance, otherwise it is doomed. It is almost impossible to believe that the next USA president would call for meaningful repentance before the USA is hit with more massive problems.  The USA needs the return of Jesus Christ and the Kingdom of God.
Several items of possibly related interest may include:
Anglo – America in Prophecy & the Lost Tribes of Israel Are the Americans, Canadians, English, Scottish, Welsh, Australians, Anglo-Saxon (non-Dutch) Southern Africans, and New Zealanders descendants of Joseph? Where are the lost ten-tribes of Israel? Who are the lost tribes of Israel? What will happen to Jerusalem and the Jews in Israel? Will God punish the U.S.A., Canada, United Kingdom, and other Anglo-Saxon nations? Why might God allow them to be punished first? Here is a link to the Spanish version of this article: Anglo-América & las Tribus Perdidas de Israel. A video of possible interest may be Will Will USA Spying Help the Beast Power?
Can you see the 'Handwriting on the Wall'? Thousands of years ago, King Belshazzar saw a hand appear at a big party he was hosting. The hand wrote Mene, Mene, Tekel, Upharsin. Shortly after the Prophet Daniel explained it, his empire was taken over and King Belshazzar died. Is this applicable today? Are there signs right before our eyes that show that the end is coming to the United States and its Anglo-descended allies. Do abortions, sexual immorality, celebrity pornography, and increased debt mean anything? What does the Bible show?
Hillary Clinton in Prophecy Are there prophecies that Hillary Clinton may fulfill? Are there any prophecies that she has already helped fulfill? Could Hillary Clinton be apocalyptic? Could Hillary Clinton be the final Antichrist?
When Will the Great Tribulation Begin? 2015, 2016, or 2017? Can the Great Tribulation begin today? What happens before the Great Tribulation in the "beginning of sorrows"? What happens in the Great Tribulation and the Day of the Lord? Is this the time of the Gentiles? When is the earliest that the Great Tribulation can begin? What is the Day of the Lord? Who are the 144,000? Here is a version of the article in the Spanish language: ¿Puede comenzar la Gran Tribulación en 2014 o 2015? ¿Es el Tiempo de los Gentiles? You can also see the English language sermon video: The Great Tribulation from the Mount of Olives.
Abortion, the Bible, and a Woman's Right to Choose Do you know what the Bible teaches on this? Has the Roman Catholic Church allowed abortions? What about the real Church of God? Some may also, or instead, wish to view the YouTube video Abortion, the Bible, and US Debt.
Pornography: A scourge on society Is pornography harmless fun? Does the Bible teach anything about it? What are the views of some involved with it? Here is a link to a YouTube video Pornography: Harmless Fun or a Scourge on Society?
British and American Moral Decay Public nudity is becoming more prevalent in the Anglo-Saxon lands. What are some of the consequences?
Cross-dressing and other assaults against your children. What should you do? Is there an agenda to turn your children and/or grandchildren away from biblical morality and towards practices promoted by homosexuals? What does the Bible teach about cross-dressing? What should parents do? If there is an agenda, what has been going on? There is also a YouTube video on this, titled Cross dressing and Other Assaults Against Your Children.
The Bible Condemns Homosexuality "Same-sex marriage" for "gays" and lesbians is becoming more acceptable to many. What does the Bible teach about homosexuality? Can homosexuals change?
Just What Do You Mean — Repentance? Do you know what repentance is? Have you truly repented? Repented of what? Herbert W. Armstrong wrote this as a booklet on this important subject.
The Gospel of the Kingdom of God was the Emphasis of Jesus and the Early Church Did you know that? Do you even know what the gospel of the kingdom is all about? You can also see a YouTube video sermon The Gospel of the Kingdom.
Just What Do You Mean the Kingdom of God? A booklet that was written by Herbert Armstrong answers questions about the Kingdom.
Barack Obama and the State of the Apocalypse Is Barack Obama apocalyptic? Could he be the final Antichrist? Dr. Thiel has been writing about this since 2008 and covers this in this 2014 video. Dr. Thiel quotes statements that Barack Obama made in his 2014 State of the Union address and tied several in with events that are aligning with the warnings in the Book of Revelation also known as the Apocalypse. Is the US "alliance with Europe remains the strongest the world has ever known" as Barack Obama's State of Union message claims true or very dangerous? This is a video.