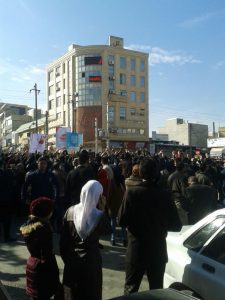 Iranian protests

Protests have been happening in Iran. Its government is blaming 'Tweets' for the protests and unrest it has been experiencing:
January 4, 2018

Wednesday in Iran brought demonstrations both against and in support of the government, while the United States promised new support for the Iranian people and Iran's representative to the United Nations accused the United States of "flagrant acts of intervention."

The unrest has been going on for a week with protesters rallying against economic problems and also calling for government reforms. At least 21 people have been killed and authorities have arrested hundreds of people. …

Trump tweets; Iranians fume

U.S. President Donald Trump turned to Twitter to express his latest support for those unhappy with the Iranian government.

"Such respect for the people of Iran as they try to take back their corrupt government," Trump said. "You will see great support from the United States at the appropriate time!" It was not immediately clear what assistance Trump had in mind.

Top Iranian leaders, including Supreme Leader Ayatollah Ali Khamenei, have blamed foreign governments for driving the protests. https://www.voanews.com/a/us-iranian-leaders-protests/4191754.html

January 4, 2018

UNITED NATIONS (AP) — Iran charged Wednesday that the U.S. "has crossed every limit" in international relations by expressing support for Iran's anti-government protesters and said President Donald Trump's "absurd tweets" have encouraged disruption.

In a letter to U.N. officials, Iranian Ambassador Gholamali Khoshroo complained that Washington was intervening "in a grotesque way in Iran's internal affairs." He said Trump and Vice President Mike Pence were personally stirring up trouble.

"The President and Vice-President of the United States, in their numerous absurd tweets, incited Iranians to engage in disruptive acts," the ambassador wrote to the U.N. Security Council president and U.N. Secretary-General Antonio Guterres. https://www.apnews.com/6ae1a3507c7247868daca243419b15f9/Iran-says-Trump's-'absurd-tweets'-have-incited-disruption
Civil unrest is not the answer for Iran, the Kingdom of God is.
But that is not the focus of the protesters nor the government there.
The Iranian government has been working on containing the protests:
January 4, 2018

WASHINGTON — The Iranian government appears to have contained the civil unrest across that country so far, but the protests could still evolve into a serious threat to the regime, current and former intelligence officials told NBC News.

"At this moment, the government appears to have this under control — this is discontent, not revolution," said a former senior intelligence official with long Middle East experience, after Iran was roiled by a sixth day of anti-government protests in more than 70 cities. The protests are both large and small, according to one official, who said that in some cities, demonstrators can be counted on one hand.

"People so far are moving away from something — the status quo — but not embracing something else, revolution," said the former official. https://www.nbcnews.com/news/world/it-s-not-revolution-yet-iran-s-regime-embarrassed-n834421
Protests and civil unrest in Iran are not unexpected.
Back in March 2012, I posted the following here:
I have tended to feel that Iran will be somehow neutralized by either a regional war and/or internal political unrest. (Thiel B. Obama says, 'I don't bluff' and hints of attacking Iran. COGwriter.com, March 2, 2012)
The situation in Iran will change.
For years, I have warned that we could see a regional war involving Iran, Syria, and Israel. We may be getting closer to that happening.
Consider the following prophecy:
34 The word of the Lord that came to Jeremiah the prophet against Elam, in the beginning of the reign of Zedekiah king of Judah, saying, 35 "Thus says the Lord of hosts:

'Behold, I will break the bow of Elam,
The foremost of their might.
36 Against Elam I will bring the four winds
From the four quarters of heaven,
And scatter them toward all those winds;
There shall be no nations where the outcasts of Elam will not go.
37 For I will cause Elam to be dismayed before their enemies
And before those who seek their life.
I will bring disaster upon them,
My fierce anger,' says the Lord;
'And I will send the sword after them
Until I have consumed them.
38 I will set My throne in Elam,
And will destroy from there the king and the princes,' says the Lord.

39 'But it shall come to pass in the latter days:
I will bring back the captives of Elam,' says the Lord." (Jeremiah 49:34-39)
Elam seems to be a reference to at least some in Iran. Some believe Kir is an area in the south of Iran, while others suggest closer to the Black Sea. The Bible tells of a time when Kir will be destroyed (Isaiah 15:1b) and also says that Syria's capital Damascus will be destroyed (Isaiah 17:1).
Here is something from my book Donald Trump and America's Apocalypse:
Iran and Prophecy

Donald Trump has stated that he wants to eliminate or at least change the "nuclear deal" with Iran (Wilkinson T. Trump's plans to scuttle or amend the Iran nuclear deal remain a work in progress. Los Angeles Times, November 14, 2016).

He also might be more willing than the Obama Administration to trigger enforcement provisions if he feels Iran has violated portions of the agreement.

Iran would not like to see either of those actions and continues to show some of its nuclear ambitions: after Donald Trump's election, Iran declared it would pursue development of nuclear powered ships (Norman L. Europe Hopeful Trump Will Stick With Iran Nuclear Deal. Wall Street Journal, December 13, 2016).

Because  Bible  prophecy indicates  that it  will  be  primarily Arabic nations that support the final King of the South (Daniel 11:40-43; Ezekiel 30:1-8), though with some (probably temporary per Daniel 11:25-26) support from Turkey (and possibly Pakistan), it is not biblically possible that Iran can truly be the leader of the Islamic world as it seems to want to be. Also, because it is basically due east of Jerusalem, Iran should not be considered to be a candidate to be the final 'King of the South' of biblical prophecy.

Despite its posturing and relative military strength, Iran will be somehow effectively neutralized (cf. Ezekiel 32:24). This could perhaps be from an attack involving Israel and/or internal civil unrest — this could also include electromagnetic (EMP) or similar weapons used against Iran (Jeremiah 49:34-39).

It is of prophetic interest to note that the small nation of Israel is prophesied to one day be attacked by some that seem to have connection to Iran (Isaiah 22:1-14).

Iran may decide to strike out against Israel, and possibly Jerusalem (cf. Isaiah 22:7-8) if a Trump Administration and/or Israel takes actions it does not like.

Iran has weapons that can cause damage. Furthermore, the U.S.A. itself (as well as is the State of Israel) is vulnerable to EMP type attacks and/or items such as biological weapons, chemical weapons, terrorism, nuclear weapons, dirty bombs, etc. because of a conflict involving Iran, Syria, and/or others.

But should this occur, this would NOT be the final destruction of the U.S.A. Prophetically, Iran would not end up faring well (cf. Ezekiel 32:24-25). (Thiel B. Donald Trump and America's Apocalypse. Nazarene Books, 2017)
While the current protests are not the end of Iran, we are getting closer to the time when Iran will be neutralized in accordance with what is and is not directly prophesied about it in the Bible.
Some items of possibly related interest may include:
Iran in Prophecy Is Iran in Bible prophecy? If so, what does the Bible teach? What names, other than Persia, may be used to describe Iran? There is also a related YouTube video titled Iran In Prophecy.
Damascus and Syria in Prophecy Will Bashar al-Assad hold power as he has it? Does the Bible show that Damascus, the capital of Syria, will be destroyed? What will happen to Syria? Will the Syrians support the final King of the South that the Bible tells will rise up? Which scriptures discuss the rise and fall of an Arabic confederation? Does Islamic prophecy predict the destruction of Syria. This is a YouTube video.
Mystery Babylon USA, Mecca, or Rome? The Bible tells of an end-time Mystery Babylon the Great that sits on seven hills. While Catholic and Church of God scholars have identified this as Rome, others point to other cities. Some who profess Christ have pointed to the USA. Some Protestants, like Joel Richardson, have pointed to Mecca in Saudi Arabia. Which of these places meets the biblical criteria for 'Mystery Babylon'? Is there any item of religious importance near the Caelian Hill (Cælius, Celio)? Dr. Thiel answers these questions from the Bible as well as certain historical information. This is a video.
The Gospel of the Kingdom of God This free online pdf booklet has answers many questions people have about the Gospel of the Kingdom of God and explains why it is the solution to the issues the world is facing. Here are links to three related sermons: The World's False Gospel, The Gospel of the Kingdom: From the New and Old Testaments, and The Kingdom of God is the Solution.
Is Russia the King of the North? Some claim it is. But what does the Bible teach? Here is a link to a video, also titled Is Russia the King of the North?
Ezekiel 38: For Russia & Iran in Our Day? Is Ezekiel 38 about to be fulfilled? A related video is available titled Ezekiel 38: For Russia, Ukraine, & Iran Now? Another could be Russia, Iran, Syria, & the Bible (Code).
Why Terrorism? Is Terrorism Prophesied? What does the Bible teach? Which nations may be affected? Here is a link to a related sermon: Terrorism, Christianity, and Islam.
Iraq, the King of the South, Armageddon, and Prophecy What will happen to Iraq? Is it the prophesied Mystery Babylon? What is Armageddon and how does that have to do with Iraq? Here is a related video Iraq, Armageddon, & Prophecy.
Is the Future King of the South Rising Up? Some no longer believe there needs to be a future King of the South. Might Egypt, Islam, Iran, Arabs, or Ethiopia be involved? Might this King be called the Mahdi or Caliph? What does the Bible say? A YouTube video of related interest may be: The Future King of the South is Rising.
The Prophesied 'Islamic' Confederation Where is an Islamic caliphate prophesied? Will one happen? Should you be concerned about it? A related video is Will an Arabic Calphiphate Destroy the West?
Libya, Algeria, Morocco, and Tunisia in Prophecy What is ahead for North Africa? What does the Bible teach?
How Will Middle East Peace be Brought About? Can humans bring peace to the Middle East? A related video is Middle East Peace? When?
Gaza and the Palestinians in Bible Prophecy What does the Bible teach about Gaza and the fate of the Palestinians? Here is a link to a related video: Gaza and Palestine in Prophecy.
The 'Peace Deal' of Daniel 9:27 This prophecy could give up to 3 1/2 years advance notice of the coming Great Tribulation. Will most ignore or misunderstand its fulfillment? Here is a link to a related sermon video Daniel 9:27 and the Start of the Great Tribulation.
The Arab and Islamic World In the Bible, History, and Prophecy The Bible discusses the origins of the Arab world and discusses the Middle East in prophecy. What is ahead for the Middle East and those who follow Islam? What about the Imam Mahdi? What lies ahead for Turkey, Iran, and the other non-Arabic Muslims? An item of possibly related interest in the Spanish language would be: Líderes iraníes condenan la hipocresía de Occidente y declaran que ahora es tiempo para prepararse para el Armagedón, la guerra, y el Imán Mahdi.
Donald Trump in Prophecy Prophecy, Donald Trump? Are there prophecies that Donald Trump may fulfill?  Are there any prophecies that he has already helped fulfill?  Could a Donald Trump presidency be apocalyptic?  A related video is titled: Donald: 'Trump of God' or Apocalyptic?
Trump Presidency Magic 8 Ball or Bible Prophecy? BBC reported that one might as well use a 'Magic Eight-Ball' to try to predict what will happen in the remaining time of Donald Trump's presidency. What is a 'Magic Eight-Ball'? Dr. Thiel not only explains that, but also briefly goes over 10 biblically-based warnings he wrote would happen if Donald Trump were elected that have already began to come to pass. He also goes over something he wrote back in 2008 that the Trump presidency is also helping lead to fulfillment. Should you trust Bible prophecy or not? Dr. Thiel says that Bible prophecy can be trusted, despite the view of skeptics and others that either overlook or despise the Bible. This is a video.
Donald Trump and America's Apocalypse This 188 page book is for people truly interested in prophecies related to Donald Trump and the United States, including learning about several that have already been fulfilled and those that will be fulfilled in the future. The physical book can be purchased at Amazon for $12.99 from the following link: Donald Trump and America's Apocalypse.
Donald Trump and America's Apocalypse-Kindle Edition This electronic version of the 188 page print edition is available for only US$3.99. And you do not need an actual Kindle device to read it. Why? Amazon will allow you to download it to almost any device: Please click HERE to download one of Amazon s Free Reader Apps. After you go to for your free Kindle reader and then go to Donald Trump and America's Apocalypse-Kindle Edition.
When Will the Great Tribulation Begin? 2018, 2019, or 2020? Can the Great Tribulation begin today? What happens before the Great Tribulation in the "beginning of sorrows"? What happens in the Great Tribulation and the Day of the Lord? Is this the time of the Gentiles? When is the earliest that the Great Tribulation can begin? What is the Day of the Lord? Who are the 144,000? Here is a version of the article in the Spanish language: ¿Puede comenzar la Gran Tribulación en 2018 o 2019? ¿Es el Tiempo de los Gentiles? You can also see the English language sermon videos: The Great Tribulation from the Mount of Olives and Can the Great Tribulation begin before 2020? A shorter video is: Can the Great Tribulation begin in 2018?