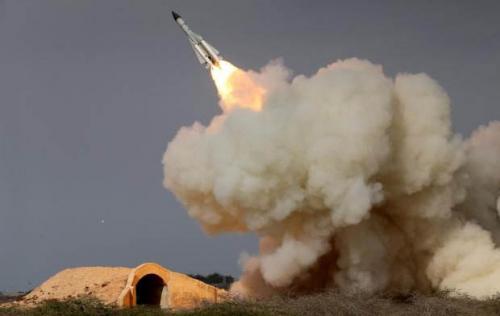 Iranian missile launch (ISNA)

Iran tested a ballistic missile and US President Donald Trump is not pleased:
February 4, 2017

In apparent defiance of the new sanctions imposed by the Trump administration, Iran held a military exercise Saturday to test missile and radar systems.

The aim of the exercise, held in Semnan province, was to "showcase the power of Iran's revolution and to dismiss the sanctions," Iran's elite Revolutionary Guards website said, according to Reuters.

During the exercise, a senior commander of Iran's Revolution Guard said the country's missiles will come down on the country's enemies if they do wrong.

"If the enemy does not walk the line, our missiles come down on them," Gen. Amir Ali Haijazadeh said.

Iranian state news agencies reported the military excercise would test home-made missile systems, radars, command and control centers and cyber warfare systems.

The drill comes a day after the White House imposed sanctions on Tehran for a recent ballistic missile test. …

Gen. Hossein Dehghan was quoted by the semi-official Tasnim news agency as saying "the recent missile test is in line with our plans and we will not let any foreigner meddle with our defense issues." http://www.foxnews.com/world/2017/02/04/iran-holds-military-exercise-in-defiance-us-sanctions.html

February 4, 2017  CAIRO —A top Iranian Revolutionary Guard commander says Tehran is conducting missile and radar tests Saturday. …

The TV channel added that Iran's vice president, Eshaq Jahangiri, denounced recent U.S. accusations against Tehran, insisting the Iranian people "do not take them seriously." U.S. Defense Secretary James Mattis called Iran the "single biggest state sponsor of terrorism in the world," while visiting Tokyo on Friday.

Mattis stressed, however, the U.S. was not contemplating raising the number of U.S. troops in the Middle East, for the moment, to respond to what he called Iran's "misbehavior."

The U.S. has, nevertheless, deployed the warship USS Cole in the strategic Bab al-Mandeb strait, off the coast of Yemen, in response to a recent attack on a Saudi naval vessel, which left several crew members dead. The USS Cole itself was attacked by al-Qaida militants in 2000. http://www.voanews.com/a/iran-missile-radar-exercises/3706275.html
Iran is upset with the Trump Administration for blocking Iranians from visiting the USA. Iran was one of seven nations that an executive order from Donald Trump temporarily forbade access to visas (see Trump rattles international community regarding migrants, Trudeau offers Canada).
Iran's leaders must realize that Donald Trump may be willing to make Iran some type of example of his willingness to use US military might. Yet, publicly at least, Iran remains defiant.
The USA is a much stronger military power than Iran, and its leadership should strongly consider that fact (cf. Luke 14:31-32).
Iran's confidence in itself is a mistake:
18 Pride goes before destruction, And a haughty spirit before a fall. (Proverbs 16:18)
Without repentance, Iran will overplay its hand.
Over the years, Iran has made it clear that it wants to eliminate Israel and the USA. Iran's top leader clearly has personally indicated that (see also After deal, Iran's Khamenei calls USA 'arrogant' and 'the real terrorists;' he also says Iran will not change its policies in Middle East). Some believe Iran may use electromagnetic pulse weapons–including potentially using them against the USA (see Maloof: America unprepared for devastating EMP 'Black Swan').
Might Iran's attitude get it involved in military action against the Jewish state and/or the USA?
Yes.
The Bible shows that God will allow Iran to strike the nation of Israel. Notice what the Prophet Isaiah was inspired to write:
1 The burden against the Valley of Vision.

What ails you now, that you have all gone up to the housetops, 2 You who are full of noise, A tumultuous city, a joyous city? Your slain men are not slain with the sword, Nor dead in battle. 3 All your rulers have fled together; They are captured by the archers. All who are found in you are bound together; They have fled from afar. 4 Therefore I said, "Look away from me, I will weep bitterly; Do not labor to comfort me Because of the plundering of the daughter of my people."

5 For it is a day of trouble and treading down and perplexity By the Lord God of hosts In the Valley of Vision — Breaking down the walls And of crying to the mountain. 6 Elam bore the quiver With chariots of men and horsemen, And Kir uncovered the shield. 7 It shall come to pass that your choicest valleys Shall be full of chariots,And the horsemen shall set themselves in array at the gate.

8 He removed the protection of Judah. You looked in that day to the armor of the House of the Forest; 9 You also saw the damage to the city of David, That it was great; And you gathered together the waters of the lower pool. 10 You numbered the houses of Jerusalem, And the houses you broke down To fortify the wall. 11 You also made a reservoir between the two walls For the water of the old pool. But you did not look to its Maker, Nor did you have respect for Him who fashioned it long ago.

12 And in that day the Lord God of hosts Called for weeping and for mourning,For baldness and for girding with sackcloth. 13 But instead, joy and gladness, Slaying oxen and killing sheep, Eating meat and drinking wine: "Let us eat and drink, for tomorrow we die!"

14 Then it was revealed in my hearing by the Lord of hosts,"Surely for this iniquity there will be no atonement for you, Even to your death," says the Lord God of hosts. (Isaiah 22:1-14 NKJV)
The 'City of David' is Jerusalem (cf. 2 Samuel 5:6-9). Elam seems to be a reference to at least some in Iran. Kir is of interest as it has several possibilities. One is that the Bible tells that after Tiglath-Pileser king of Assyria took over Damascus, he moved Syrians to Kir. While this does not mean that Kir must (or must only) be a reference to Syria, the fact that Syria is an ally of Iran is interesting. Some believe Kir is an area in the south of Iran, while others suggest closer to the Black Sea. The Bible tells of a time when Kir will be destroyed (Isaiah 15:1b) and also says that Syria's capital Damascus will be destroyed (Isaiah 17:1).
Iran is allied with Syria. The Bible also indicates that Iran will one day suffer military defeat (Jeremiah 49:34-38).
Yet, is it any wonder that many have concerns about the nuclear deal?
Iranian leaders keep publicly stating that they are opposed to the USA and want to eliminate Israel.
Iran continues to develop its ballistic missile capability–and still is likely interested in developing nuclear bombs. Iran with various weapons, which as 'dirty boms' and/or electromagnetic pulse weapon technology, could harm Israel and even the USA.
We may well see a regional war involving Iran, Syria, and Israel. A war that would see all of them damaged according to Bible prophecy. But also a war that might lead to another 'deal'–perhaps one day the deal of Daniel 9:27 that will signal the final countdown to the end.
Iran is committed to its military agenda. One that may not end up well for Israel, nor itself (Jeremiah 49:34-38). And the USA could also be affected.
Donald Trump may well chose Iran as an example of the 'toughness' he wants to portray.
Some items of possibly related interest may include:
Iran in Prophecy Is Iran in Bible prophecy? If so, what does the Bible teach? What names, other than Persia, may be used to describe Iran? There is also a YouTube video titled Iran In Prophecy.
Is the Future King of the South Rising Up? Some no longer believe there needs to be a future King of the South. Might Egypt, Islam, Iran, Arabs, or Ethiopia be involved? Might this King be called the Mahdi or Caliph? What does the Bible say? A YouTube video of related interest may be: The Future King of the South is Rising.
The Arab and Islamic World In the Bible, History, and Prophecy The Bible discusses the origins of the Arab world and discusses the Middle East in prophecy. What is ahead for the Middle East and those who follow Islam? What about the Imam Mahdi? What lies ahead for Turkey, Iran, and the other non-Arabic Muslims? An item of possibly related interest in the Spanish language would be: Líderes iraníes condenan la hipocresía de Occidente y declaran que ahora es tiempo para prepararse para el Armagedón, la guerra, y el Imán Mahdi.
When Will the Great Tribulation Begin? 2017, 2018, or 2019? Can the Great Tribulation begin today? What happens before the Great Tribulation in the "beginning of sorrows"? What happens in the Great Tribulation and the Day of the Lord? Is this the time of the Gentiles? When is the earliest that the Great Tribulation can begin? What is the Day of the Lord? Who are the 144,000? Here is a version of the article in the Spanish language: ¿Puede comenzar la Gran Tribulación en 2016 o 2017? ¿Es el Tiempo de los Gentiles? You can also see the English language sermon videos: The Great Tribulation from the Mount of Olives and Can the Great Tribulation begin before 2020? A shorter video is: Will the Great Tribulation Start in 2017?
The Prophesied 'Islamic' Confederation Where is an Islamic caliphate prophesied? Will one happen? Should you be concerned about it? A related video is Will an Arabic Calphiphate Destroy the West?
The 'Peace Deal' of Daniel 9:27 This prophecy could give up to 3 1/2 years advance notice of the coming Great Tribulation. Will most ignore or misunderstand its fulfillment? Here is a link to a related sermon video Daniel 9:27 and the Start of the Great Tribulation.
How Will Middle East Peace be Brought About? Can humans bring peace to the Middle East? Here is a link to a related video: Middle East Peace? When?
Anglo – America in Prophecy & the Lost Tribes of Israel Are the Americans, Canadians, English, Scottish, Welsh, Australians, Anglo-Saxon (non-Dutch) Southern Africans, and New Zealanders descendants of Joseph? Where are the lost ten-tribes of Israel? Who are the lost tribes of Israel? What will happen to Jerusalem and the Jews in Israel? Will God punish the U.S.A., Canada, United Kingdom, and other Anglo-Saxon nations? Why might God allow them to be punished first? Here is a link to the Spanish version of this article: Anglo-América & las Tribus Perdidas de Israel. Information is also in the YouTube sermons titled Where are the Ten Lost Tribes? Why does it matter? and British are the Covenant People. A short YouTube of prophetic interest may be Barack Obama and the State of the Apocalypse.
Will the Anglo-Saxon Nations be Divided and Have People Taken as Slaves? Will the lands of the United States, United Kingdom, Canada, Australia, and New Zealand be divided? What about Jerusalem? What does Bible prophecy teach? Are there non-biblical prophecies that support this idea? Who will divide those lands? Who will end up with the lands and the people? Here is a link to a video titled Will the USA and other Anglo-nations be Divided and Their People Made Slaves? Here is a related item in the Spanish language ¿Serán divididas las naciones anglosajonas?
Donald Trump in Prophecy Prophecy, Donald Trump? Are there prophecies that Donald Trump may fulfill? Are there any prophecies that he has already helped fulfill? Could a Donald Trump presidency be apocalyptic? A related video is titled: Donald: 'Trump of God' or Apocalyptic?
Donald Trump and America's Apocalypse This 188 page book is for people truly interested in prophecies related to Donald Trump and the United States, including learning about several that have already been fulfilled and those that will be fulfilled in the future. The physical book can be purchased at Amazon for $12.99 from the following link: Donald Trump and America's Apocalypse.
Donald Trump and America's Apocalypse-Kindle Edition This electronic version of the 188 page print edition is available for only US$3.99. And you do not need an actual Kindle device to read it. Why? Amazon will allow you to download it to almost any device: Please click HERE to download one of Amazon s Free Reader Apps. After you go to for your free Kindle reader and then go to Donald Trump and America's Apocalypse-Kindle Edition.