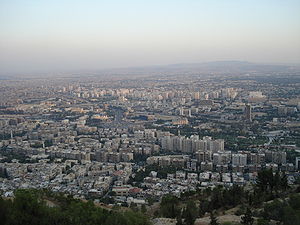 Damascus, Capital of Syria
Israel shot down a drone, from Lebanon, which may have ties to Syria today:
April 25, 2013
The Israeli Air Force shot down a drone over the Mediterranean Sea on Thursday off the coast of Haifa which had flown south from Lebanon…
It was not immediately clear whether the drone was armed or not. The IDF was searching for the remains of the drone in the Mediterranean.

Prime Minister Binyamin Netanyahu on Thursday said that "Israel is prepared to deal with any threat posed from Syria or Lebanon in the air, land or sea."  http://www.jpost.com/Defense/IAF-shoots-down-drone-which-flew-south-from-Lebanon-311098
This is happening at the same time that the Syrian opposition is accusing some in Lebanon of supporting Syria's President Assad against them:
April 25, 2013

Syria's opposition is accusing the Lebanese Hezbollah movement of declaring war on the Syrian people amid reports the Shi'ite militia's fighters have joined government forces in a battle against rebels in the central province of Homs.

Anti-government activists in the Syrian town of al-Qusayr, outside Homs, have reported mounting Hezbollah casualties in the last week as fighting heats up in the strategic pocket along the Lebanese border.

The opposition Syrian Revolution General Commission said Free Syrian Army forces killed 18 Hezbollah fighters in clashes earlier this week.

An activist who uses the pseudonym Abo Emad said that Hezbollah has been firing rockets into the area from the hills above Lebanon's northern Bekaa Valley for months.  He said FSA fighters retook two villages in the fighting, capturing 10 Hezbollah militiamen and killing a commander.

"We took some prisoners and have their [identification cards]," said Abo Emad.  "Because of the clashes and the battle we now have 10 prisoners and a lot of [additional Hezbollah fighters] were killed," he said.  http://www.voanews.com/content/syria-opposition-accuses-hezbollah-of-widening-war/1648619.html
Hezbollah has denied sending the drone, but obviously someone did:
JERUSALEM – After Israel's military shot down a drone Thursday, suspicion quickly fell on Hezbollah, which denied sending the unmanned aircraft.

The militant Lebanese Hezbollah group denied responsibility for sending the drone in a one-line statement that flashed as an urgent news bar on the group's Al Manar TV.

Israeli Prime Minister Netanyahu, whose helicopter was temporarily grounded as a result of the situation, called the drone — the second one shot down by Israel in the past six months — "a very serious issue" and said he viewed the infiltration attempt with "utmost gravity."  http://www.usatoday.com/story/news/world/2013/04/25/israel-hezbollah-drone/2112127/
Between Israel's contention that Syria is using chemical weapons and hence crossed the "red line" that is to lead to war (Iran's nuclear program crossed red line? Syria's chemical weapons crossed red line? Karl zu Guttenberg: 'Germany must have Israel's back'), troops coming from Lebanon, and now a drone shot down from apparently somewhere in Lebanon, the drum beats of war in this area appear to be increasing.
While Israel will end up with problems, it should be pointed out that both biblical and Islamic prophecy tell of the destruction of at least parts of Syria, such as its capital Damascus. Here is some of what Bible prophecies teaches:
7 thus says the Lord God: "It shall not stand, Nor shall it come to pass. 8 For the head of Syria is Damascus (Isaiah 7:7-8)

3 Thus says the Lord: "For three transgressions of Damascus, and for four, I will not turn away its punishment, Because they have threshed Gilead with implements of iron. (Amos 1:3)

1 The burden against Damascus. "Behold, Damascus will cease from being a city, And it will be a ruinous heap. (Isaiah 17:1)

23 Against Damascus. "Hamath and Arpad are shamed, For they have heard bad news. They are fainthearted; There is trouble on the sea; It cannot be quiet. 24 Damascus has grown feeble; She turns to flee, And fear has seized her. Anguish and sorrows have taken her like a woman in labor. 25 Why is the city of praise not deserted, the city of My joy? 26 Therefore her young men shall fall in her streets, And all the men of war shall be cut off in that day," says the Lord of hosts. 27 "I will kindle a fire in the wall of Damascus, And it shall consume the palaces of Ben-Hadad." (Jeremiah 49:23-27)
This destruction could come as the result of the current civil war. And if the Assad regime becomes more engaged in a conflict with Israel, that could also fulfill the above.
Furthermore, because the Bible suggests that Syria will be involved in a confederation of North African and Middle Eastern nations (Ezekiel 30:1-8; Psalm 83:4-8) who will support a leader that the Bible refers to as the final King of the South (Daniel 11:40-43), this likely means that the Assad regime will have to at least change, if not completely fall, and that whatever regime replaces it, it will most likely agree to be in this prophesied confederation. A confederation that is also prophesied to fail. The Muslim Brotherhood has long pushed for the type of confederation that the Bible warns will involve many Arabic nations.
As I have long written, partially because of the internal civil war in Syria, Syria's President Assad may decide that attacking Israel, probably in conjunction with support from Iran and/or other allies, is his best carnal option (which could include supporting Iran if it attacks Israel or Israel attacks it). Attacking Israel in more direct ways, however, will not be his best option (he should repent and probably leave office), though he may do that. Since the Bible suggests that Syria will support the coming final King of the South it will come to pass.
More trouble is coming to Damascus as it will be destroyed (Isaiah 17:1). An Islamic confederation that will include the land of Syria is coming (Daniel 11:40-43; Ezekiel 30:1-8; Psalm 83:4-8) is coming.
"And what I say to you, I say to all: Watch!" (Mark 13:37).
Some articles of possibly related interest may include:
Damascus and Syria in Prophecy Will Bashar Assad hold power as he has it? Does the Bible show that Damascus, the capital of Syria, will be destroyed? What will happen to Syria? Will the Syrians support the final King of the South that the Bible tells will rise up? Which scriptures discuss the rise and fall of an Arabic confederation? Does Islamic prophecy predict the destruction of Syria. This is a YouTube video.
Is There A Future King of the South? Some no longer believe there needs to be. Might Egypt, Islam, Iran, Arabs, or Ethiopia be involved? Might this King be called the Mahdi? What does the Bible say?
The Arab and Islamic World In the Bible, History, and Prophecy The Bible discusses the origins of the Arab world and discusses the Middle East in prophecy. What is ahead for the Middle East and those who follow Islam? What about the Imam Mahdi? What lies ahead for Turkey, Iran, and the other non-Arabic Muslims?
Is There an Islamic Antichrist? Is Joel Richardson correct that the final Antichrist will be Islamic and not European? Find out.
The Muslim Brotherhood and the Rise of the King of the South The Bible tells of the formation of a power of nations that are in the Middle East and North Africa that are part of the final "King of the South" (Daniel 11:40-43) The Muslim Brotherhood wishes to have an Islamic empire with basically the same nations. This YouTube video explains what to expect from such a confederation.
Barack Obama in Islamic Prophecy? There is actually a 17th century Shiite prophecy that some believe that Barack Obama will fulfill that will lead to a rising up of Islam.