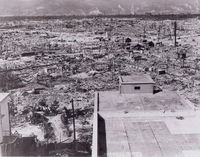 Hiroshima
If Israel was looking for another reason to attack Iran soon, it may have found just one:

Bombs target Israeli diplomats in India, Georgia; 2 injured

NEW DELHI — Israeli Prime Minister Benjamin Netanyahu blamed Iran on Monday for twin attempts to bomb people affiliated with the Israeli embassies in New Delhi and Tbilisi, Georgia…

Netanyahu accused Iran of orchestrating Monday's plots and called the government in Tehran "the greatest exporter of terror in the world."

"In all these cases, the elements behind the attacks were Iran and its proxy, Hezbollah," Netanyahu said. "We will continue to act with a strong hand, systematically and patiently, against international terrorism, whose source is Iran."  http://www.washingtonpost.com/world/bombs-target-israeli-diplomats-in-india-georgia-2-injured/2012/02/13/gIQA2kDlAR_print.html
As regular readers of the COGwriter news page are aware, I have been warning for some time that a regional war involving Iran and Israel seems likely.  This would also likely involve allies of Iran such as Hezbollah, Hamas, and/or Syria.
If Iran is directly or indirectly involved, it would appear that Israel would use this as part of its justification to the world for an attack against Iran.
If Iran truly is behind this, it may feel that it is stronger militarily than many in the West believe it is.  But it may have underestimated the military power of Israel to hit back very hard.
The situation in the Middle East is tense. Since Iran, however, is NOT really south of Jerusalem, we in the Living Church of God do not believe that it will be the final King of the South of Bible prophecy (cf. Daniel 11:4-43).  Because of that, I have tended to believe that Iran may somehow get "neutralized" before this final king rises up. A serious attack by Israel may neutralize Iran and neutralize much of its influence. It also may take a regional war for the seven-year confirmation of the deal in Daniel 9:27 to come about.
My reading and re-reading of Bible prophecy simply does not show that Iran will be a major player in Daniel 11:21-44 nor the deal of Psalm 83:4-8. Since Iran does not seem to be identified in those particular passages, and Iran has a loud voice now, those facts have somewhat led me to conclude that Iran will somehow be "neutralized."
"Neutralizing" Iran would allow most of the other Islamic states (like Saudi Arabia and Egypt) to continue to exist (Syria might not do well per Isaiah 17:1) and allow for the rising of the prophesied leader (revolution in Iran, is also another possibility, for its "neutralization").
We will watch and see (Mark 13:37).
Some articles (and books) of possibly related interest may include:
Is There A Future King of the South? Some no longer believe there needs to be. Might Egypt, Islam, Iran, Arabs, or Ethiopia be involved? What does the Bible say?
The Arab World In the Bible, History, and Prophecy The Bible discusses the origins of the Arab world and discusses the Middle East in prophecy. What is ahead for the Middle East and those who follow Islam?
India, Its Biblical Past and Future: Any Witness? The Bible discusses the origins of those of Indian heritage and discusses some of the witness to them (including those in Bangladesh, Pakistan, and Sri Lanka).
When Will the Great Tribulation Begin? 2012, 2013, or 2014? Can the Great Tribulation begin today? What happens before the Great Tribulation in the "beginning of sorrows"? What is the seven-year deal? What happens in the Great Tribulation and the Day of the Lord? Is this the time of the Gentiles? When is the earliest that the Great Tribulation can begin? What is the Day of the Lord? Who are the 144,000?
End of Mayan Calendar 2012–Might 2012 Mean Something? Are there Mayan calendar predictions for change in 2012? Changes were centuries ago predicted by the Hopi Native Americans. Do Mayan/Hindu/Hopi/Buddhist/New Age/Nostradamus prophecies have any value here? Why might Satan have inspired this date? Does the Dresden codex show destruction of the earth by flood? Can the great tribulation start before 2012? How might Barack Obama be involved in 2012?
2012 and the Rise of the Secret Sect This is a link related to a book by Bob Thiel (COGwriter). This link also has YouTube videos. This book documents and explains hundreds of prophecies. And since it was published, world events have aligned with at least 20 predictions in the book and many more will to come to pass.