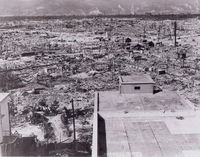 Hiroshima After the Atomic Bomb Was Detonated
Voice of America reported the following from Jerusalem:

Monday, 06 February 2012

Israeli Cabinet Mulls Response to Iran Threat
Robert Berger — Jerusalem
Growing tensions between Israel and Iran topped the agenda at the weekly Cabinet meeting in Jerusalem.

Israeli Prime Minister Benjamin Netanyahu opened the Cabinet meeting by referring to a statement last week by Iran's supreme leader Ayatollah Ali Khamenei, who described Israel as "a cancerous tumor that must be cut off."

Netanyahu said the only way to ensure Israel's survival in a region where Iran's ruler talks "about destroying Israel," is to continue to develop the nation's military might…

Israel has said time and again that if international sanctions against Iran fail, it is prepared to take military action on its own…Jerusalem Post defense analyst Yaakov Katz says time for a diplomatic solution is running out.

"The window is definitely closing," he said.

Katz says Israel has the firepower to back up the threat.

"Israel has created over the years a viable military option, that is in place potentially, if it decides to take unilateral military action to stop Iran's nuclear program,"

Many analysts question how effective an Israeli attack would be, considering that Iran is 1,200 kilometers from Israel and its nuclear facilities are spread out and fortified deep underground. But last week, Israel's Deputy Premier Moshe Ya'alon, a former army chief, said that all of Iran's nuclear sites are "vulnerable" to military strikes.  http://www.voanews.com/tibetan-english/news/Israeli-Cabinet-Mulls-Response-to-Iran-Threat-138775264.html
As regular readers of the COGwriter news page are aware, I have been warning for some time that a regional war involving Iran, Israel, and Syria seems likely.
Based upon various Israeli reports (e.g. Iran Denies Israeli Involvement in Bomb Blast, But 2012 May Be a Different Matter) and recent comments from the US Defense Secretary (for details, see Panetta Believes Israel Will Attack Iran in April, May, or June 2012), a 2012 attack is certainly possible.
Also notice the following from the news yesterday:
'Eshel will prepare perfect attack plan'

Incoming IAF chiefwill be tasked with planning possible strike in Iran, possible confrontation with in Syria, but a former colleague says 'He'll put all cards on the table – good or bad'…

Referring to the possibility that Eshel would be the one overseeing an IAF military strike on Iranian nuclear facilities, the officer said: "He'll know how to prepare the forces in the most meticulous and perfect manner, and lay out all the possible scenarios and chances of success."
The situation in the Middle East is tense. Since Iran, however, is NOT really south of Jerusalem, we in the Living Church of God do not believe that it will be the final King of the South of Bible prophecy (cf. Daniel 11:4-43). Because of that, I have tended to believe that Iran may somehow get "neutralized" before this final king rises up.  A serious attack by Israel may neutralize Iran and much of its influence.  It also may take a regional war for the seven-year confirmation of the deal in Daniel 9:27 to come about.
My reading and re-reading of Bible prophecy simply does not show that Iran will be a major player in Daniel 11:21-44 nor the deal of Psalm 83:4-8.  Since Iran does not seem to be identified in those particular passages, and Iran has a loud voice now, those facts have somewhat led me to conclude that Iran will somehow be "neutralized."
"Neutralizing" Iran would allow most of the other Islamic states (like Saudi Arabia and Egypt) to continue to exist (Syria might not do well per Isaiah 17:1) and allow for the rising of the prophesied leader (revolution in Iran, is also another possibility, for its "neutralization").
We will watch and see (Mark 13:37).
Some articles (and books) of possibly related interest may include:
Is There A Future King of the South? Some no longer believe there needs to be. Might Egypt, Islam, Iran, Arabs, or Ethiopia be involved? What does the Bible say?
The Arab World In the Bible, History, and Prophecy The Bible discusses the origins of the Arab world and discusses the Middle East in prophecy. What is ahead for the Middle East and those who follow Islam?
When Will the Great Tribulation Begin? 2012, 2013, or 2014? Can the Great Tribulation begin today? What happens before the Great Tribulation in the "beginning of sorrows"? What is the seven-year deal? What happens in the Great Tribulation and the Day of the Lord? Is this the time of the Gentiles? When is the earliest that the Great Tribulation can begin? What is the Day of the Lord? Who are the 144,000?
End of Mayan Calendar 2012–Might 2012 Mean Something? Are there Mayan calendar predictions for change in 2012? Changes were centuries ago predicted by the Hopi Native Americans. Do Mayan/Hindu/Hopi/Buddhist/New Age/Nostradamus prophecies have any value here? Why might Satan have inspired this date? Does the Dresden codex show destruction of the earth by flood? Can the great tribulation start before 2012? How might Barack Obama be involved in 2012?
2012 and the Rise of the Secret Sect This is a link related to a book by Bob Thiel (COGwriter). This link also has YouTube videos. This book documents and explains hundreds of prophecies. And since it was published, world events have aligned with at least 20 predictions in the book and many more will to come to pass.