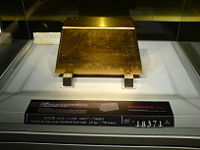 The 220 kg Gold brick displayed in Taiwan
Here is today's commentary from the Living Church of God (LCG):
By Wyatt Ciesielka | Thursday, September 01, 2011

Fears of a "double-dip" recession, or an economic depression are growing. Some financial experts now urge: "Buy gold. Buy silver. Get as far away as you can from U.S. currency and the U.S. economy" (YahooFinance.com, August 4, 2011). Considering recent stock-market trauma, and recent record gold highs approaching $1,850/oz., many are turning to gold. So, what is a Christian's best investment strategy?

While gold has always been precious, its rapid price gains are a recent phenomenon. Only in the last 40 years has gold been a high-yield investment—one that some believe may now be the only "safe-haven" (CNBC.com, August 18, 2011). For example, a $5,000 investment in gold in 1810 would have still been worth about $5,000 an entire century later! The price of gold gradually increased to about $35-$40/oz. during World War I and World War II, and it basically remained at that level until 1971—the year when the post-war "Bretton Woods system" of international financial relations was dismantled, and the U.S. dollar became in effect the world's reserve currency.

If you had purchased $5,000 in gold in 1971, at about $35/oz., you would as of August 30 have an investment worth approximately $250,000 (assuming a price of $1,750/oz.). Had you purchased $5,000 worth of gold in 2005 (at about $445/oz.) your investment would be worth about $20,000 today. That sounds like an excellent return. So, is gold really our best investment strategy? The biblical account of the gold used in the Ark of the Covenant and in Solomon's Temple reveals an important lesson.

The Ark of the Covenant and the "mercy seat" were beautiful. They were plated inside and out with pure gold. They were covered by solid gold cherubim (Exodus 25:10-11; 18-20). The ark was transported by two gold-covered poles running through gold rings (25:15; 17). Beyond that, the Temple that Solomon would build would contain a phenomenal amount of gold and would be of unsurpassed beauty!

King David alone contributed 3,000 talents of gold (about 90 metric tons, or 2,893,500 troy ounces) and 7,000 talents of silver (about 210 tons) to the Temple project. At a conservative $1,750/oz., this would be $5.064 billion in gold alone! Scripture reveals that Solomon greatly added to this wealth. The Queen of Sheba (1 Kings 10; 2 Chronicles 9) brought Solomon another 120 talents of gold (3.599 metric tons, or more than $202 million at August 2011 prices)! Solomon accumulated additional vast amounts of gold through extensive trade and mining operations (1 Kings 9:11; 14; 10:22), much of which was put into the Temple of the Lord (1 Kings 6:18, 30; 7:48-49; 2 Chronicles 3:5).

God certainly was honored by this beautiful Temple. Yet, ultimately, gold or riches will not save us, and do not impress the Creator. Remember, because of Israel's sins, God eventually allowed the Temple to be plundered (2 Chronicles 36:18-19; 2 Kings 25). Gold can be stolen or debased. A fortune based on gold can vanish in an instant. Even a diversified portfolio can crash, and may be lost or confiscated in times of war or national collapse.

But there is a resource that can last even when gold fails. Faith can withstand war, or famine, or national collapse. Moreover, it can yield immortality in the Kingdom of God (1 Peter 1:7-9)! Scripture warns us that, at the very end of this present age, gold will be worthless, because it will not be able to deliver suffering humanity from the Great Tribulation or the Day of the Lord (Ezekiel 7:19; Zephaniah 1:18)!

Moreover, no amount of gold, silver, euros, dollars or yuan can purchase entry into the Kingdom of God. A Christian's best investment strategy is to develop a spiritual investment portfolio rich in the fruits of the spirit (Galatians 5:22-23), humble in God's word (Isaiah 66:1-2), and full of "spiritual oil"—the oil of deep faith through Christ living in us. This investment strategy will survive the collapse of nations, and will yield as its dividend immortality in the Kingdom of God (Matthew 25:1-12)!

For more about the wonderful future that awaits faithful Christians who keep their lamps full of spiritual oil, please read our article, "The Promises of God" or our inspiring booklet, The World Ahead: What Will It Be Like?
The price of gold will fluctuate (for more current gold quotes, check out the Financial Information link, which also has links to stocks, currencies, and other financial valuations). Many are going for gold as a type of reserve currency.  The idea of gold could be accumulated to support a new currency, while the US dollar tanks, is discussed on page 333 of my book 2012 and the Rise of the Secret Sect. And this appears to be what will happen, as well is what is we see sometimes happening now.
Of course, gold will not save humanity, only Jesus can do that, but it may be prudent for people to consider the signs of the times.
For additional information, check out the following articles:
The Plain Truth About Gold in Prophecy. How Should a Christian View Gold? What do economists and the Bible teach about gold? Gold and silver may drop in value. Inflation/deflation? What do Christians need to know about gold?
Are You Saved? Do You Love Jesus? What is a True Christian? What is the Gospel? Evangelist Richard Ames answers those important questions.
Can the Great Tribulation Begin in 2011, 2012, or 2013? Can the Great Tribulation begin today? What happens before the Great Tribulation in the "beginning of sorrows"? What happens in the Great Tribulation and the Day of the Lord? When is the earliest that the Great Tribulation can begin? What is the Day of the Lord?
Prophecies of Barack Obama? This article has eight reasons why Barack Obama is apocalyptic and eight reasons why Barack Obama is not the Antichrist. It includes many biblical and non-biblical prophecies, from around the world, that seem to discuss Barack Obama. Did Nostradamus predict Barack Obama dealing with the Antichrist? Might Barack Obama set the stage for the kings of the North and South as at least one Shiite prophecy suggests? This is the longest and most complete article at the COGwriter website on Barack Obama prophecies. Read it and decide for yourself if President Obama seems to be fulfilling various prophecies.
Anglo – America in Prophecy & the Lost Tribes of Israel Are the Americans, Canadians, British, Scottish, Welsh, Australians, Anglo-Southern Africans, and New Zealanders descendants of Joseph? Where are the lost ten-tribes of Israel? Who are the lost tribes of Israel? What will happen to the Jews in Israel? Will God punish the U.S.A., Canada, United Kingdom, and other Anglo nations? Why might God allow them to be punished first?
Will the Anglo-Nations be Divided? Will the lands of the United States, United Kingdom, Canada, Australia, and New Zealand be divided? What does Bible prophecy teach? Are there non-biblical prophecies that support this idea? Who will divide those lands? Who will end up with the lands and the people?
2012 and the Rise of the Secret Sect This is a link related to a book by Bob Thiel (COGwriter). This also has YouTube videos. This book documents and explains hundreds of prophecies. And since it was published, many have already started to come to pass.
2012 y el surgimiento de la secta secreta 2012 libro del Dr. Thiel en Español.
2012 und das Auftreten der geheimen Sekte (German Edition) 2012 Buch von Dr. Thiel in deutscher Sprache.
2012 e o Surgimento da Seita Secreta (Portuguese Edition) 2012 livro do Dr. Thiel em português. Este livro documenta e explica centenas de profecias. E desde que foi publicado pela primeira vez, pelo menos 14 já começaram a acontecer.
2012 e o Surgimento da Seita Secreta (Brazilian Portuguese Edition) 2012 livro do Dr. Thiel. Edição em português do Brasil. Este livro documenta e explica centenas de profecias. E desde que foi publicado pela primeira vez, pelo menos 16 já começaram a acontecer.