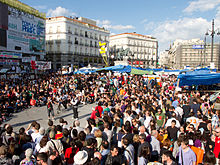 Occupy Madrid, May 20, 2011 (Kadellar)

Spain and Portugal had major protests:
29 September 2012Tens of thousands of Spaniards and Portuguese rallied in the streets of their countries' capitals Saturday to protest enduring deep economic pain from austerity measure, and the demonstration in Madrid turned violent after Spaniards enraged over a long-lasting recession and sky-high unemployment clashed with riot police for the third time in less than a week near Parliament.

The latest violence came after thousands of Spaniards who had marched close to the Parliament building in downtown Madrid protested peacefully for hours. Police with batons later moved in just before midnight to clear out those who remained late because no permission had been obtained from authorities to hold the demonstration.
Some protesters responded by throwing bottles and rocks.  http://www.google.com/hostednews/ap/article/ALeqM5iHLCe3WY5murGGymeA0BR0Y0t-cQ?docId=338152d31e8d415793ba5ca81ef654c4
This is not a surprise to me. Back in 2010 (see Civil War in Greece?), I warned, "Austerity measures in Europe will likely cause civil unrest." As well later in December 2010 (see Civil Unrest in Greece (and it was predicted) where I warned:
Civil unrest in Europe is expected. Places such as France, Germany, Spain, Portugal, Italy, and Eastern Europe have potential for this occurrence. In addition to austerity measures, Islamic protests and immigration related issues will also likely be factors in flaming protests and devastating riots. Expanded civil unrest will have major impacts on the euro and on Europe itself.
And back in May 2012, I warned that more unrest was expected to come from Spain (see Over 100,000 Protest Austerity in Spain). And we are seeing that.
I expect more civil unrest in Europe, including Portugal.Notice what I wrote in my book Barack Obama, Prophecy, and the Destruction of the United States:
Revelation 13:3-4 also supports the idea that the Beast may rise up because of violent civil unrest in Europe.
Europe is prophesied to have problems (Daniel 2:41-43) and not all the problems have happened yet. Spain and other parts of Europe are likely to have even more significant civil unrest before a strong leader is granted power (cf. Revelation 17:12-13; Revelation 13:1-8).
World events are aligning with properly understood prophecy.   Europe is having unrest as well as economic issues.  There will be ups and downs in Europe until the final European beast power rises up.
Some articles of possibly related interest may include:
Who is the King of the North? Is there one? Do biblical and Roman Catholic prophecies point to the same leader? Should he be followed? Who will be the King of the North discussed in Daniel 11? Is a nuclear attack prophesied to happen to the English-speaking peoples of the United States, Great Britain, Canada, Australia, and New Zealand? When do the 1335 days, 1290 days, and 1260 days (the time, times, and half a time) of Daniel 12 begin? When does the Bible show that economic collapse will affect the United States?
Europa, the Beast, and Revelation Where did Europe get its name? What might Europe have to do with the Book of Revelation? What about "the Beast"? Is an emerging European power "the daughter of Babylon"? What is ahead for Europe?
Barack Obama, Prophecy, and the Destruction of the United States This is a 160 page book for people truly interested in prophecies related to Barack Obama and the United States, including learning about many that have already been fulfilled (which the book documents in detail) and those that will be fulfilled in the future. It also has a chapter about Mitt Romney. This book is available to order at www.barackobamaprophecy.com. The physical book can also be purchased at Amazon from the following link:  Barack Obama, Prophecy, and the Destruction of the United States: Is Barack Obama Fulfilling Biblical, Islamic, Catholic, Kenyan, and other America-Related Prophecies? What About Mitt Romney?
Barack Obama, Prophecy, and the Destruction of the United States–Amazon Kindle edition. This electronic version is available for only US$2.99. And you do not need an actual Kindle device to read it. Why? Amazon will allow you to download it to almost any device: Please click HERE to download one of Amazon's Free Reader Apps.  After you go to for your free Kindle reader and then go to Barack Obama, Prophecy, and the Destruction of the United States–Amazon Kindle edition.)