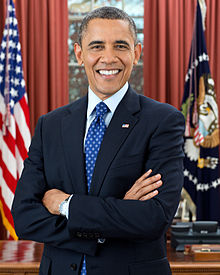 Barack Obama (Official Whitehouse Photograph)
Notice the following related to the situation with the Islamic State (AKA ISIS):
June 8, 2015

The U.S.-led coalition fighting Islamic State militants is without a "complete strategy," President Barack Obama said Monday, pointing to what he categorized as a shortfall of security forces recruited in Iraq as a primary obstacle.

"We don't yet have a complete strategy, because it requires commitments on the part of the Iraqis as well," Obama said following the G7 summit in Germany, during which he also held talks with Iraq's Prime Minister Haider al-Abadi.

"All the countries in the international coalition are prepared to do more to train Iraqi security forces if they feel that additional work is being taken advantage of. What we're seeing is places where we've got more training capacity that recruits," Obama added.

The talks come less than a week after Abadi appealed for more help from members of a U.S.-led coalition that has conducted nearly a year of airstrikes in support of the Iraqi military. He reiterated the request Monday, telling the U.S. president, "Iraq cannot do it alone. It does not have the resources."  http://www.voanews.com/content/abadi-obama-to-discuss-battle-against-islamic-state-in-iraq/2811739.html

June 8, 2015

Obama told a news conference.

"We don't yet have a complete strategy because it requires commitments on the part of the Iraqis as well about how recruitment takes place, how that training takes place and so the details of that are not yet worked out."

Obama was flayed by domestic critics last September after saying "we don't have a strategy yet" to combat IS fighters in Syria after they beheaded a U.S. journalist on camera.

Western strategy in Iraq has come under fire again in recent weeks after Islamic State militants captured the city of Ramadi despite coalition air strikes designed to halt their advance and reverse their gains. Witnesses said Iraqi government forces abandoned their arms and fled.

However Obama and Abadi both said at their meeting they were confident that Islamic State's success in Ramadi would be just a short-term tactical gain.

Abadi said Iraq and its allies had won many rounds against IS and the loss in Ramadi was only temporary. He urged the international community to help prevent the militants from profiting from oil smuggling.

Obama deflected questions about sending U.S. ground troops back into Iraq, focusing instead on training Iraqi forces. Iranian Revolutionary Guards and Iraqi Shi'ite militias trained and supported by Tehran have joined Iraqi government forces in the fight against the militants. http://www.reuters.com/article/2015/06/08/us-g7-summit-obama-iraq-idUSKBN0OO1PE20150608
This is not the first time that Barack Obama has admitted this. And thus far, the Islamic State has made far more progress than certain statements from US government officials indicated that it would.
The Bible shows that terrorism is prophesied:
14 'But if you do not obey Me, and do not observe all these commandments, 15 and if you despise My statutes, or if your soul abhors My judgments, so that you do not perform all My commandments, but break My covenant, 16 I also will do this to you: I will even appoint terror over you, wasting disease and fever which shall consume the eyes and cause sorrow of heart. And you shall sow your seed in vain, for your enemies shall eat it. 17 I will set My face against you, and you shall be defeated by your enemies. Those who hate you shall reign over you, and you shall flee when no one pursues you. (Leviticus 26:14-17)

25 The sword shall destroy outside; There shall be terror within (Deuteronomy 32:25)

12 "Cry and wail, son of man; For it will be against My people, Against all the princes of Israel. Terrors including the sword will be against My people; Therefore strike your thigh. (Ezekiel 21:12)

12 Behold, these are the ungodly,Who are always at ease; They increase in riches…19 Oh, how they are brought to desolation, as in a moment! They are utterly consumed with terrors. (Psalms 73:12,19)

25 Because you disdained all my counsel, And would have none of my rebuke, 26 I also will laugh at your calamity; I will mock when your terror comes, 27 When your terror comes like a storm, And your destruction comes like a whirlwind, When distress and anguish come upon you. (Proverbs 1:25-27)

5 Also they are afraid of height, And of terrors in the way (Ecclesiastes 12:5).
Jihadist gains in various parts of the world are a prelude to more terrorism and change.
In the 83rd Psalm, the Bible also shows that a confederation will form against the USA, its Anglo-Saxon allies, and Israel involving Arab and European forces (see also the article Anglo – America in Prophecy).  And I have long believed that terrorism will have to be part of this. The USA, its Anglo-Saxon allies, and Israel will end up being hit by massive terrorism combined with destruction (Deuteronomy 32:25) from the King of the North (Daniel 11:39).
The warnings are consistent with the rise of terrorist organizations, including (but not limited to) the so-called Islamic State.
The USA will be hit with more terrorism in the future.
That being said, the Islamic State per se will not lead the prophesied King of the South (Daniel 11:40-43).  I believe, however, that the existence of ISIS is helping both many in Islam and many in the West encourage the rise of that power.  But, according to the Bible (Daniel 11:39-43), that will not turn out well for the USA nor the currently Islamic nations that will support/be part of, the final prophesied King of the South (Daniel 11:40-43; see also Ezekiel 30:1-8).
Some items of possibly related interest may include:
Iraq, the King of the South, Armageddon, and Prophecy What will happen to Iraq? Is it the prophesied Mystery Babylon? What is Armageddon and how does that have to do with Iraq? Here is a related video Iraq, Armageddon, & Prophecy.
How Will Middle East Peace be Brought About? Can humans bring peace to the Middle East? Here is a link to a related video: Middle East Peace? When?
Blood Moons and Prophecy There are four 'blood moons' expected in 2014 and 2015. Do they signal the Day of the Lord or the return of Jesus Christ? A related YouTube video is also available: Blood Moons, Prophecy, 2014, and 2015.
Anglo – America in Prophecy & the Lost Tribes of Israel Are the Americans, Canadians, English, Scottish, Welsh, Australians, Anglo-Saxon (non-Dutch) Southern Africans, and New Zealanders descendants of Joseph? Where are the lost ten-tribes of Israel? Who are the lost tribes of Israel? What will happen to Jerusalem and the Jews in Israel? Will God punish the U.S.A., Canada, United Kingdom, and other Anglo-Saxon nations? Why might God allow them to be punished first? Here is a link to the Spanish version of this article: Anglo-América & las Tribus Perdidas de Israel. Information is also in the YouTube sermons titled Where are the Ten Lost Tribes? Why does it matter? and British are the Covenant People. A short YouTube of prophetic interest may be Barack Obama and the State of the Apocalypse.
Will the Anglo-Saxon Nations be Divided and Have People Taken as Slaves? Will the lands of the United States, United Kingdom, Canada, Australia, and New Zealand be divided? What about Jerusalem? What does Bible prophecy teach? Are there non-biblical prophecies that support this idea? Who will divide those lands? Who will end up with the lands and the people? Here is a link to a video titled Will the USA and other Anglo-nations be Divided and Their People Made Slaves? Here is a related item in the Spanish language ¿Serán divididas las naciones anglosajonas?
Barack Obama, Prophecy, and the Destruction of the United States-Second Edition for Second Obama Term This is a 160 page book for people truly interested in prophecies related to Barack Obama and the United States, including learning about many that have already been fulfilled (which the book documents in detail) and those that will be fulfilled in the future. It also has a chapter about a Republican choice. This book is available to order at www.barackobamaprophecy.com. The physical book can also be purchased at Amazon from the following link: Barack Obama, Prophecy, and the Destruction of the United States: Is Barack Obama Fulfilling Biblical, Islamic Catholic, Kenyan, and other America-Related Prophecies? What About Republican Leaders? Second Edition for Second Obama Term.
Barack Obama, Prophecy, and the Destruction of the United States-Second Term-Amazon Kindle edition. This electronic version is available for only US$2.99. And you do not need an actual Kindle device to read it. Why? Amazon will allow you to download it to almost any device: Please click HERE to download one of Amazon s Free Reader Apps. After you go to for your free Kindle reader and then go to Barack Obama, Prophecy, and the Destruction of the United States-Second Term-Amazon Kindle edition.