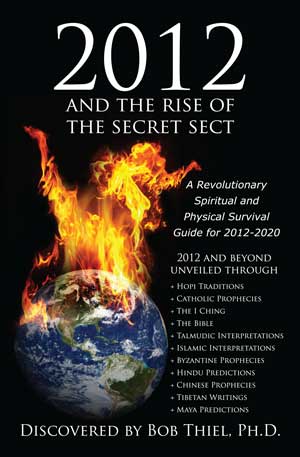 Oil is expected to become a problem fairly soon:
Oil crunch by 2012, say military experts

The Courier-Mail, Australia – April 16, 2010   by Paul Syvret
Everyone should realize that a growing population will use up too much oil quite soon unless something else replaces oil quickly (and that does not appear to be that likely–though possible).
I would like to add for those who have not read my book yet, that my book mainly focuses on what will happen after 2012.  And while the world will not end in a flood in 2012, it may be a chaotic year, but the time shortly thereafter will be the greatest time of tribulation that the world has ever seen.
Some items of related interest may include:
Does God Have a 6,000 Year Plan? What Year Does the 6,000 Years End? Was a 6000 year time allowed for humans to rule followed by a literal thousand year reign of Christ on Earth taught by the early Christians? When does the six thousand years of human rule end?
Can the Great Tribulation Begin in 2010, 2011, or 2012? Can the Great Tribulation begin today? When is the earliest that the Great Tribulation can begin? What is the Day of the Lord? What is "the beginning of sorrows"?  Have we begun or are we about ready for "the beginning of sorrows" to begin.
2012 and the Rise of the Secret Sect This is a link related to a book by Bob Thiel (COGwriter). This also has YouTube videos related to 2012.  A book for those who want the facts about what will happen in the next few years.
2012 y el surgimiento de la secta secreta Nuevo libro del Dr. Thiel en Español.
2012 und das Auftreten der geheimen Sekte (German Edition) 2012 Buch von Dr. Thiel in deutscher Sprache.