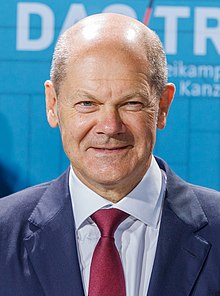 Olaf Scholz (Steffen Prößdorf)
The Associated Press reported the following:
December 8, 2021
BERLIN (AP) — Center-left leader Olaf Scholz became Germany's ninth post-World War II chancellor Wednesday, opening a new era for the European Union's most populous nation and largest economy after Angela Merkel's 16-year tenure.

Scholz's government takes office with high hopes of modernizing Germany …

Scholz, 63, Germany's vice chancellor and finance minister since 2018, brings a wealth of experience and discipline to an untried coalition of his center-left Social Democrats, the environmentalist Greens and the pro-business Free Democrats. The three parties are portraying the combination of former rivals as a progressive alliance that will bring new energy to the country after Merkel's near-record time in office.

"We are venturing a new departure, one that takes up the major challenges of this decade and well beyond that," Scholz said Tuesday. If the parties succeed, he added, "that is a mandate to be reelected together at the next election."

Scholz, an unflappable and supremely self-confident figure who in the past has displayed an ability to put aside setbacks quickly, cracked a smile as he was elected and as he was formally appointed by President Frank-Walter Steinmeier.

The new chancellor then returned to parliament to be sworn in. Scholz, who has no religious affiliation, omitted the optional phrase "so help me God" from his oath of office, as did Merkel's predecessor, Gerhard Schroeder. https://apnews.com/article/climate-elections-europe-angela-merkel-european-union-675ee26e99ce6e7f57d0f61989b05a16
Here is something from the German press last evening:
Germany's Olaf Scholz pushes for stronger EU, issues warning to Russia

7 December 2021

Germany's incoming government, led by the center-left Social Democrats (SPD), were pressed to clarify their foreign policy priorities at a press conference on Tuesday.

Having officially signed a three-party coalition agreement, Chancellor-designate Olaf Scholz and the rest of his Cabinet members are expected to take office on Wednesday after a vote and swearing-in ceremony in the German parliament.

Scholz put Europe in focus as he fielded questions on Russia, China and the United States alongside Greens co-leader and incoming vice chancellor Robert Habeck as well as Free Democrat (FDP) chief and incoming Finance Minister Christian Lindner.

On Europe

Strengthening the European Union on the global stage — and making sure Germany is part of that process — was of the utmost priority, Scholz said.

For his first trip outside of Germany as chancellor, Scholz said he would honor recent tradition and travel to Paris, France — followed by a trip to Brussels for meetings with EU heads. https://www.dw.com/en/germanys-olaf-scholz-pushes-for-stronger-eu-issues-warning-to-russia/a-60042721
Olaf Scholz and others in this German coalition favor what has been called the "United States of Europe."
Related to that, we made the following video, which is our Bible News Prophecy YouTube channel:
Is the incoming coalition German government pushing for something called a 'United States of Europe'? Is this consistent with recent comments from German leaders such as incoming chancellor Olaf Schulz, incoming foreign minister Annalena Bierbock, European Union President Ursula con der Leyen, SDP spokesman Udo Bullmann, politician Martin Schultz, and others? What about warnings dating back to 1948 from the old Radio Church of God? Is Europe prophesied to reorganize? Could the Lisbon Treaty be changed or replaced? Will there be a coming European power that is militaristic? How might this affect the USA and its British-descended allies? What is the only hope for our lives? Dr. Thiel provides quotes and other information on these matters.
Here is a link to the sermonette video: German push for a 'United States of Europe'.
But could Olaf Scholz be the prophesied Beast of Revelation 13:1-10 and 17:13?
No, not unless he were to change.
When he was sworn in office today, the Associated Press noted that he did NOT include the "optional" phrase "so help me God" in his oath of office. He reportedly has no religious affiliation.
Since the Beast will at least feign ties to a religion he wants to change, which likely will be called "Catholic," a leader who does not claim any religion is not likely to be the Beast.
That being said, the fact that Olaf Scholz wants a stronger European Union will help set the stage for the Beast to rise up.
And, it may very well be that Olaf Scholz will be a supporter of the coming European Beast power (not all the supporters of the Beast will be religious and some will turn against the Church of Rome, cf. Revelation 17:16-18).
Some items of possibly related interest may include:
Must the Ten Kings of Revelation 17:12 Rule over Ten Currently Existing Nations? Some claim that these passages refer to a gathering of 10 currently existing nations together, while one group teaches that this is referring to 11 nations getting together. Is that what Revelation 17:12-13 refers to? The ramifications of misunderstanding this are enormous. A related sermon is titled Ten Kings of Revelation and the Great Tribulation.
Europa, the Beast, and Revelation Where did Europe get its name? What might Europe have to do with the Book of Revelation? What about "the Beast"? Is an emerging European power "the daughter of Babylon"? What is ahead for Europe? Here is a link to a video titled: Can You Prove that the Beast to Come is European?
European Technology and the Beast of Revelation Will the coming European Beast power would use and develop technology that will result in the taking over of the USA and its Anglo-Saxon allies? Is this possible? What does the Bible teach? Here is a related YouTube video: Military Technology and the Beast of Revelation.
PESCO and a Great European Army In November 2018, French President Macron called for a "true European army" because of China, Russia, and the USA. Some others in Europe have echoed that sentiment. On November 9, 2018, US President Donald Trump called that an insult, but the next day said that the USA wanted "a very strong Europe." Emmanuel Macron referred to Donald Trump as "my friend" and indicated a desire to strengthen Europe's military spending. In December 2017, 25 European nations agreed to be part of a military alliance called PESCO. Europe also has NATO and IEI. Will Europe end up with "a great army"? Has Donald Trump's announcement to withdraw from the 1987 Intermediate-Range Nuclear Forces Treaty gotten some to say that Europe must rebel against the USA? Is the idea of a United States of Europe and a European army a "paranoid fantasy" or a biblical reality? Will the USA regret Europe becoming a stronger military power? Will the USA be betrayed by "friends" such as its continental European allies? Does the Bible teach any or all of this? Are there connections to the Beast of Revelation or the King of the North of Daniel 11?
Might German Baron Karl-Theodor zu Guttenberg become the King of the North? Is the former German Defense Minister (who is also the former German Minister for Economics and Technology) one to watch? What do Catholic, Byzantine, and biblical prophecies suggest?
Germany's Assyrian Roots Throughout History Are the Germanic peoples descended from Asshur of the Bible? Have there been real Christians in Germanic history? What about the "Holy Roman Empire"? There is also a You-Tube video sermon on this titled Germany's Biblical Origins.
Germany in Biblical and Catholic Prophecy Does Assyria in the Bible equate to an end time power inhabiting the area of the old Roman Empire? What does prophecy say Germany will do and what does it say will happen to most of the German people?
Can You Prove that the Beast to Come is European? The Book of Revelation tells of a beast power that will rise up. Some think that this must be Russia or could be Islamic, while others say that this power is European. The Book of Daniel tells of the rise of an end time King of the North that some think must be referring to a Russian leader, while others say that this power is European. How can you be sure? This YouTube video has all the scriptural proofs that you should need to prove that this power must be a European one.
The 'Peace Deal' of Daniel 9:27 This prophecy could give up to 3 1/2 years advance notice of the coming Great Tribulation. Will most ignore or misunderstand its fulfillment? Here is a link to a related sermon video Daniel 9:27 and the Start of the Great Tribulation.
Is the Future King of the South Rising Up? Some no longer believe there needs to be a future King of the South. Might Egypt, Islam, Iran, Arabs, or Ethiopia be involved? Might this King be called the Mahdi or Caliph? What does the Bible say? A YouTube video of related interest may be: The Future King of the South is Rising.
USA in Prophecy: The Strongest Fortresses Can you point to scriptures, like Daniel 11:39, that point to the USA in the 21st century? This article does. Two related sermon are available: Identifying the USA and its Destruction in Prophecy and Do these 7 prophesies point to the end of the USA?
Who is the King of the West? Why is there no Final End-Time King of the West in Bible Prophecy? Is the United States the King of the West? Here is a version in the Spanish language: ¿Quién es el Rey del Occidente? ¿Por qué no hay un Rey del Occidente en la profecía del tiempo del fin? A related sermon is also available: The Bible, the USA, and the King of the West.
Does God Have a 6,000 Year Plan? What Year Does the 6,000 Years End? Was a 6000 year time allowed for humans to rule followed by a literal thousand year reign of Christ on Earth taught by the early Christians? Does God have 7,000 year plan? What year may the six thousand years of human rule end? When will Jesus return? 2029 or or 2031 or 20xx? There is also a video titled 6000 Years: When will God's Kingdom Come? Here is a link to the article in Spanish: ¿Tiene Dios un plan de 6,000 años?
Who is the King of the North? Is there one? Do biblical and Roman Catholic prophecies for the Great Monarch point to the same leader? Should he be followed? Who will be the King of the North discussed in Daniel 11? Is a nuclear attack prophesied to happen to the English-speaking peoples of the United States, Great Britain, Canada, Australia, and New Zealand? When do the 1335 days, 1290 days, and 1260 days (the time, times, and half a time) of Daniel 12 begin? When does the Bible show that economic collapse will affect the United States? In the Spanish language check out ¿Quién es el Rey del Norte? Here are links to two related videos: The King of the North is Alive: What to Look Out For and The Future King of the North.
The Great Monarch: Biblical and Catholic Prophecies Is the 'Great Monarch' of Catholic prophecies endorsed or condemned by the Bible? Two sermons of related interest are also available: Great Monarch: Messiah or False Christ? and Great Monarch in 50+ Beast Prophecies.