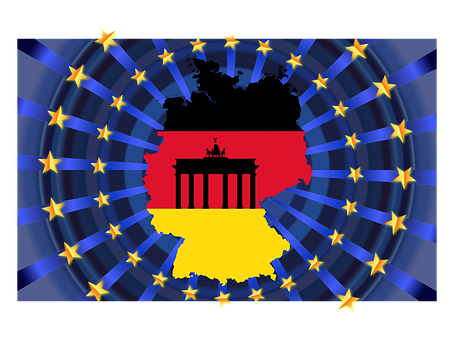 (Pixabay picture)
A reader sent me links to the following:
Germany proposes joint European air defense system

August 29, 2022

German Chancellor Olaf Scholz …

"We have a lot of catching up to do in Europe when it comes to defense against airborne and space-based threats. That is why we in Germany will be investing very significantly in our air defense over the years ahead," Scholz said in a speech at Charles University in Prague on Monday.

"At the same time, Germany will from the very start design future air defense in a way that our European neighbors can be involved in, if [they] desire," he added.

The chancellor stated that maintaining a joint air defense shield would be "more efficient and cost effective" than if each European country continued to develop its own defense solutions. …

In the past, EU leaders have called for joint defense efforts in order to make the bloc more resilient. In 2018, French President Emmanuel Macron and former German chancellor Angela Merkel proposed creating a "real" European army that would supplement NATO. https://www.rt.com/news/561740-germany-joint-air-defense/

Germany wants EU to cancel national vetoes

August 29, 2022

German Chancellor Olaf Scholz on Monday called on EU members to abandon the right to veto in favor of majority voting in a number of key areas. Such a move could facilitate the bloc's future expansion.

Speaking at the Charles University in Prague, Scholz argued that changing voting practices may help to grow the EU, given that currently any bloc member can veto the accession of a candidate country. He also suggested introducing majority voting on a number of pressing matters, including sanctions and human rights.

"Where unanimity is required today, the risk of an individual country using its veto and preventing all the others from forging ahead increases with each additional member state," the German chancellor said. https://www.rt.com/news/561744-eu-veto-scholz-voting/
The above is not a surprise.
Biblically, we know Europe will end up with a "great army" (Daniel 11:25) and many ships (Daniel 11:40)–and perhaps some of those ships will be air ships.
Biblically, we also know that Europe will reorganize (Revelation 17:12) to become a dictatorship ruled by one the Bible calls the Beast (Revelation 17:13).
What Olaf Scholz has proposed is not that–yet, major reorganization in Europe will happen.
Chancellor Scholz has called for the Balkans to be in the EU (see Scholz pushing for the Balkans to be in the European Union)–and making EU expansion is one of the reasons he has proposed changing the rules.
As far as some of Olaf Scholz's other stated plans, last month German-Foreign-Policy.com posted the following:
19 July 2022

German Chancellor Olaf Scholz wants the EU to play a "geopolitical role."

BERLIN/BRUSSELS (Own report) – The EU should play a "geopolitical role" and therefore "close ranks" and step up its militarization, German Chancellor Olaf Scholz demands in an op-ed published in the Frankfurter Allgemeinen Zeitung. He promises "concrete proposals" in the next few months and is already demanding the abolition of the right to veto on foreign policy issues, which enables smaller states to protect their vital interests against the pressure of the powerful member states. A similar view was recently expressed by SPD Chair Lars Klingbeil. "After nearly 80 years" of alleged "restraint," Germany should claim "the role of a leading power," the SPD-Chair demanded. This would "require tough decisions by Berlin." Klingbeil also called for massive rearmament of the Bundeswehr. Scholz and Klingbeil are worried because the developing and emerging countries are refusing, to a growing extent, to follow the old West and are pursuing their own independent policy. …

The Language of Power

By demanding that the EU "play a geopolitical role,"[1] Chancellor Olaf Scholz is reiterating similar statements leading German politicians have made in previous years. In 2017, Foreign Minister at the time, Sigmar Gabriel, complained that the EU is not yet "a real factor in the world" and that it lacks "power projection." It is, therefore, all the more "urgent" that Europe "defines its own interests and projects its power."[2] If a "politico-strategic way of thinking" were to take hold in Berlin and Brussels in the future, the "jousting for power" will begin, "which will not be pleasant," according to Gabriel. In February 2018, the Minister reiterated that the EU needs to project its power in the world – on military level, as well. "In a world full of carnivores, vegetarians have a very tough time of it."[3] In November 2019, designated EU Commission President Ursula von der Leyen chimed in. On the one hand, "this means building our own muscles in security policy." On the other, the Union must become "more strategic, in light of Europe's external interests." "Europe must learn the language of power," declared von der Leyen.[4]

Close Ranks

To finally have the EU play a "geopolitical role" Chancellor Scholz calls for political "cohesiveness." "Permanent disunity, permanent dissent among the member countries weaken us." Therefore, there must be "an end to the egotistical blockages by individual countries of European decisions." https://www.german-foreign-policy.com/en/news/detail/8981
Olaf Scholz has, on a couple of recent occasions, basically called for Europe to reorganize. The Bible shows that it will in Revelation 17:12-13:
12 "The ten horns which you saw are ten kings who have received no kingdom as yet, but they receive authority for one hour as kings with the beast. 13 These are of one mind, and they will give their power and authority to the beast.  (Revelation 17:12-13)
(More on the reorganization is discussed in the article: Must the Ten Kings of Revelation 17:12 Rule over Ten Currently Existing Nations?)
As far as the military goes, Olaf Scholz has pledged to spend more than any country, other than the USA (and perhaps China). Related to that, the Continuing Church of God (CCOG) put together the following video on our Bible News Prophecy YouTube channel::
Does the conflict between Russia and Ukraine have prophetic ramifications? What about Ezekiel 38? Are we seeing a 'historic shift' in Europe to move towards more unity? What about non-EU nations like Sweden and Switzerland? Is Germany's announcement to double its military spending to 100 million euros a big deal? Does the Bible tell of changes coming to Europe for it to rise up as a Babylonian unity successful military power? What about the United States of America and its British-descended allies? Could USA sanctions against Russia, including SWIFT restrictions, decrease international demand for USA dollars and cause inflation? Dr. Thiel addresses these issues and more in this video.
Here is a link to our video: Is the European Beast Growing Horns?
UPDATE 08/30/22: A reader sent the following:
https://ip-quarterly.com/en/europes-emerging-vulnerability-secure-europe-needs-greater-german-defense-efforts

A Secure Europe Needs Greater German Defense Efforts

The United States cannot handle all of the world's potential conflicts on its own, and certainly not simultaneously. It should concentrate on Asia and enable Europe to bolster its own defenses against the threat from Russia. And it is Germany that has to play the central role.

CURRENT ISSUE

The basic upshot is that the United States does not have the power to handle China in Asia while also maintaining such a dominant military position in other theaters, particularly Europe and the Middle East. The clear consequence of this is that there is and will be a deficit of American military power somewhere. And this will leave vulnerabilities—vulnerabilities which countries like China, Russia, Iran, and North Korea may very well seek to exploit.

So how should the United States and its allies handle this divergence between America's military capacity on the one hand and the challenges to the alliance network on the other? …


Germany

'

s Contribution Is Central

In this context, a cohesive and effective defense of NATO would benefit greatly from a single actor taking a leading role in this effort. The only plausible candidate in Europe for this role today is Germany. Germany alone has the population, economic scale and sophistication, political relations, and geographic position at the center of Europe to play this leading role.

In this model, Berlin would tightly focus on rapidly fielding the capable ground, tactical air, and logistics forces sized and shaped for a defense of Eastern NATO and Scandinavia, using the defense of the Baltics, Poland, and Finland as planning scenarios. This core German force would enable other states, such as the United Kingdom, France, Poland, and the Scandinavian countries, to complement or even integrate their forces into an effective whole. Such a conventional military would be well within Germany's capacity to build, given the country's economic strength, and also its proud postwar traditions as part of an integrated NATO collective defense. And while Germany would muster these forces, they would fall within the rubric of allied collective defense, relieving concerns about a rearmed Germany.

Fortunately, Berlin seems to have already taken a major step in this direction with its "Zeitenwende" commitments, including the new €100 billion fund to beef up its military capability, which should enable Germany to being pursuing this course. 
The Bible shows that the European beast leader, also called the King of the North, will arise promising peace.
21 And in his place shall arise a vile person, to whom they will not give the honor of royalty; but he shall come in peaceably, and seize the kingdom by intrigue. 22 With the force of a flood they shall be swept away from before him and be broken, and also the prince of the covenant. 23 And after the league is made with him he shall act deceitfully, for he shall come up and become strong with a small number of people. (Daniel 11:21-23, NKJV)

25 And through his policy also he shall cause craft to prosper in his hand; and he shall magnify himself in his heart, and by peace shall destroy many: he shall also stand up against the Prince of princes; but he shall be broken without hand. (Daniel 8:25, KJV).
(To prove this leader will be European, please watch the video: Can You Prove that the Beast to Come is European?)
Prior to Daniel 11:39-43, Europe will one day support a dictatorial strongman. The Bible calls him the Beast of the Sea (Revelation 13:1-10) and the King of the North (Daniel 11:40).
As far as Germany leading Europe, last month the Continuing Church of God (CCOG) put together the following Bible News Prophecy video on our Bible News Prophecy YouTube channel, the audio portion of which was sent for broadcast on the European Gospel Radio station AM 1323 kHz for Monday 25 July 2022 at 21:30-21:45 (9:30-9:45 PM) European Central Time:
Various leaders in German have pointed to a more unified, militaristic, and German-led Europe. After Russia's 'special military operation' into Ukraine, Germany declared it would increase its military spending to the third highest level of any nation on the planet? German-Foreign-Policy.com reported that German Chancellor Olaf Scholz wants the European Union to play a powerful and more unified geopolitical role. Does what he is stating consistent with prophecies in the Book of Revelation about Europe reorganizing and turning power over to one called the Beast? Are some in Poland and Hungary (like Peter G. Feher) concerned about the domination of Europe by Germany? Is a European/German leader prophesied as the "King of the North" to make some type of a deal with a leader of nations in the Middle East and North Africa called the "King of the South"? Is that King of the North prophesied to have a great army and many ships? Could the Beast/King of the North be German? Did the old Worldwide Church of God warn back in 1980 that, in the future, the German people be concerned enough about Russia that it would call for a Bavarian strongman to lead them? Does the Bible point to such a leader rising promising peace? Steve Dupuie and Dr. Thiel address those issues.
Here is a link to our video: Germany wants to lead a united Europe.
Germans and other Europeans will get sufficiently frustrated with democracy that (along with pushing coming from the Vatican) they will support a dictatorial leader over Europe.
We are getting closer and closer to that time.
Some items of possibly related interest may also include:
Europa, the Beast, and Revelation Where did Europe get its name? What might Europe have to do with the Book of Revelation? What about "the Beast"? Is an emerging European power "the daughter of Babylon"? What is ahead for Europe? Here is a link to a video titled: Can You Prove that the Beast to Come is European?
European Technology and the Beast of Revelation Will the coming European Beast power would use and develop technology that will result in the taking over of the USA and its Anglo-Saxon allies? Is this possible? What does the Bible teach? Here is a related YouTube video: Military Technology and the Beast of Revelation.
Must the Ten Kings of Revelation 17:12 Rule over Ten Currently Existing Nations? Some claim that these passages refer to a gathering of 10 currently existing nations together, while one group teaches that this is referring to 11 nations getting together. Is that what Revelation 17:12-13 refers to? The ramifications of misunderstanding this are enormous. A related sermon is titled Ten Kings of Revelation and the Great Tribulation.
Germany's Assyrian Roots Throughout History Are the Germanic peoples descended from Asshur of the Bible? Have there been real Christians in Germanic history? What about the "Holy Roman Empire"? There is also a You-Tube video sermon on this titled Germany's Biblical Origins.
Germany in Biblical Prophecy Does Assyria in the Bible equate to an end time power inhabiting the area of the old Roman Empire? What does prophecy say Germany will do and what does it say will happen to most of the German people? Here are links to two sermon videos Germany in Bible Prophecy and The Rise of the Germanic Beast Power of Prophecy.
Might German Baron Karl-Theodor zu Guttenberg become the King of the North? Is the former German Defense Minister (who is also the former German Minister for Economics and Technology) one to watch? What do Catholic, Byzantine, and biblical prophecies suggest? A video of related interest would be: Karl-Theodor zu Guttenberg and Europe's Future.
Anglo – America in Prophecy & the Lost Tribes of Israel Are the Americans, Canadians, English, Scottish, Welsh, Australians, Anglo-Saxon (non-Dutch) Southern Africans, and New Zealanders descendants of Joseph? Where are the lost ten-tribes of Israel? Who are the lost tribes of Israel? What will happen to Jerusalem and the Jews in Israel? Will God punish the U.S.A., Canada, United Kingdom, and other Anglo-Saxon nations? Why might God allow them to be punished first? Here is a link to the Spanish version of this article: Anglo-América & las Tribus Perdidas de Israel. Information is also in the YouTube sermons titled Where are the Ten Lost Tribes? Why does it matter? and British are the Covenant People. A short YouTube of prophetic interest may be: Are Chinese threats against Australia for real?
Will the Anglo-Saxon Nations be Divided and Have People Taken as Slaves? Will the lands of the United States, United Kingdom, Canada, Australia, and New Zealand be divided? What about Jerusalem? What does Bible prophecy teach? Are there non-biblical prophecies that support this idea? Who will divide those lands? Who will end up with the lands and the people? Here is a link to a video titled Will the USA and other Anglo-nations be Divided and Their People Made Slaves? Here is a related item in the Spanish language ¿Serán divididas las naciones anglosajonas?
USA in Prophecy: The Strongest Fortresses Can you point to scriptures, like Daniel 11:39, that point to the USA in the 21st century? This article does. Two related sermon are available: Identifying the USA and its Destruction in Prophecy and Do these 7 prophesies point to the end of the USA?
Who is the King of the West? Why is there no Final End-Time King of the West in Bible Prophecy? Is the United States the King of the West? Here is a version in the Spanish language: ¿Quién es el Rey del Occidente? ¿Por qué no hay un Rey del Occidente en la profecía del tiempo del fin? A related sermon is also available: The Bible, the USA, and the King of the West.
Who is the King of the North? Is there one? Do biblical and Roman Catholic prophecies for the Great Monarch point to the same leader? Should he be followed? Who will be the King of the North discussed in Daniel 11? Is a nuclear attack prophesied to happen to the English-speaking peoples of the United States, Great Britain, Canada, Australia, and New Zealand? When do the 1335 days, 1290 days, and 1260 days (the time, times, and half a time) of Daniel 12 begin? When does the Bible show that economic collapse will affect the United States? In the Spanish language check out ¿Quién es el Rey del Norte? Here are links to two related videos: The King of the North is Alive: What to Look Out For and The Future King of the North.
The Great Monarch: Biblical and Catholic Prophecies Is the 'Great Monarch' of Catholic prophecies endorsed or condemned by the Bible? Two sermons of related interest are also available: Great Monarch: Messiah or False Christ? and Great Monarch in 50+ Beast Prophecies.
Does God Have a 6,000 Year Plan? What Year Does the 6,000 Years End? Was a 6000 year time allowed for humans to rule followed by a literal thousand year reign of Christ on Earth taught by the early Christians? Does God have 7,000 year plan? What year may the six thousand years of human rule end? When will Jesus return? 2030 or 20xx? There is also a video titled 6000 Years: When will God's Kingdom Come? Here is a link to the article in Spanish: ¿Tiene Dios un plan de 6,000 años?
The Times of the Gentiles Has there been more than one time of the Gentiles? Are we in it now or in the time of Anglo-America? What will the final time of the Gentiles be like? A related sermon is available and is titled: The Times of the Gentiles.
World War III: Steps in Progress Are there surprising actions going on now that are leading to WWIII? Might a nuclear attack be expected? Does the Bible promise protection to all or only some Christians? How can you be part of those that will be protected? A related video would be Is World War III About to Begin? Can You Escape?