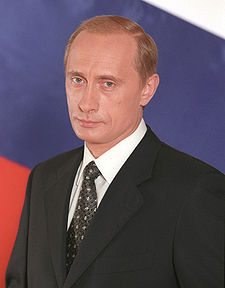 Vladimir Putin, Official Photograph
In its latest TW News & Prophecy, the Living Church of God reported::
Russian Prime Minister Vladimir Putin, Deputy Prime Minister Sergei Ivanov and Defense Minister Anatoly Serdyukov are spending two days in Paris shortly after Moscow and Paris signed a deal for Russia to purchase two French Mistral-class amphibious assault ships." This follows a deal where Germany has agreed to build a military training center in Russia, to train Russian troops.According to a recent report, "The Russian officials' visit is a chance to very publicly emphasize the Mistral deal [worth $1.7 billion], a boon for the Kremlin that wants to signal the rest of Europe that it has a strong security relationship with France (part of its ongoing campaign to unsettle the Central Europeans and make them doubt the commitment of their West European NATO allies)" (Stratfor, June 21, 2011). The actions of Russia, France and Germany appear to be severing a long-time European reliance on the United States and the West.

Bible prophecy indicates that Russia will ultimately join an Asian coalition that will come against a European Beast power (Daniel 11:44-45; Revelation 16:12-16). However, prior to that event, this European power will bring a type of "peace" and economic prosperity to the earth–for a short time (Revelation 18:9-15). Bible prophecies also clearly state that as America and Britain (Israelite peoples) turn away from God, their former allies would begin to move away from them and eventually turn against them (Jeremiah 4:30; Ezekiel 23:5, 9, 22).

We appear to be watching these ancient prophecies being fulfilled right in front of our eyes today!

If you received this E-Zine from a friend and would like to begin receiving your own copy click here to sign up for free.
World events continue to align with end-time Bible prophecy.  A new world order is emerging, and since the USA and the UK were on top of the old one, this means a change for both of them that is not going to be positive.
As I reported back in November 2010, Russia is also trying to link its currency with the Euro (Russia expects to share a currency with Europe) and previous to that made a currency related deal with China (Russia and China dropping US dollar for their trade).  Both of these Russian moves are apparently directed at breaking the hold of the US dollar as the world's reserve currency.  And while those moves have not yet been completely successful, there is a major trend in the world away from the US dollar.  And there may soon be an escalating trend against the US military (partially because the USA will likely begin to make major cuts in its defense spending, which seems to be the opposite of what is now going on in Russia).
Some articles of possibly related interest may include:
Russia: Its Origins and Prophesied Future Where do the Russians come from? What about those in the Ukraine? What is prophesied for Russia and its allies? What will they do to the Europeans that supported the Beast in the end?Is Russia the King of the North? Some claim it is. But what does the Bible teach?
Europa, the Beast, and Revelation Where did Europe get its name? What might Europe have to do with the Book of Revelation? What about "the Beast"? Is an emerging European power "the daughter of Babylon"? What is ahead for Europe?
Might German Baron Karl-Theodor zu Guttenberg become the King of the North? Is the German Defense Minister one to watch? What do Catholic, Byzantine, and biblical prophecies suggest?
Anglo – America in Prophecy & the Lost Tribes of Israel Are the Americans, Canadians, British, Scottish, Welsh, Australians, Anglo-Southern Africans, and New Zealanders descendants of Joseph? Where are the lost ten-tribes of Israel? Who are the lost tribes of Israel? Will God punish the U.S.A., Canada, United Kingdom, and other Anglo nations? Why might God allow them to be punished first?
Will the Anglo-Nations be Divided? Will the lands of the United States, United Kingdom, Canada, Australia, and New Zealand be divided? What does Bible prophecy teach? Are there non-biblical prophecies that support this idea? Who will divide those lands? Who will end up with the lands and the people?